We're following the story of Anne, mother of six boys who is building a home for her family and one for the grandparents on the same site. They used the Right to Build to help them escape the private rental sector, acting as pioneers for the legislation, which even the council was unsure about at the time.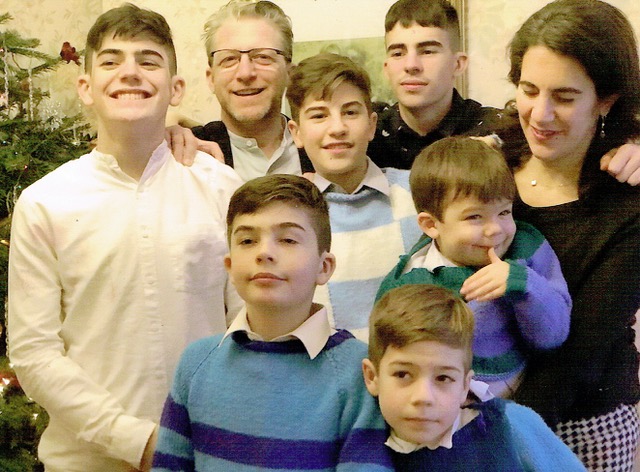 Part 9: The Affordability Question
A quick recap: 
Edged out by a new discourse between church and state, we tried to counter the market intentions of the Church's property dept with community ideas, which secured an appointment to make a pitch to the Bishop of Edmonton. Meanwhile, we tried to reach someone in the council who might share a similar vision for Community Housing.
Local policy support
Having secured a meeting with the Bishop it seemed pragmatic to try and get support from Enfield Council so that any proposal using the combined church and council land would carry more weight.
While looking for supportive policy we stumbled across a document "Custom & Self Build in Enfield" (now removed, but see this meeting), which put forward a strategy for delivering custom and self build homes on small-scale council-owned sites. Based on a leasehold model, it reduced upfront costs for purchasers in return for long- term ground rental income for the council.
It seemed perfect – the ideas were very much in tune with parts of what we had been proposing (See Part Three: The Land Value Idea) but much more developed in terms of implementation. The report hoped its pioneering lead might encourage other public landowners to follow.
The report was by the Regeneration department at Enfield Council and its leader was Peter George, who in the words of 'Naked House' (Blog 7) was a forward thinking man, looking at innovative ways to solve the housing crisis. The Naked House idea put forward a plan as an alternative custom building service provider trying genuinely to provide affordable homes on a not-for-profit basis.
We thought we could position ourselves as the 'self build' service provider with a similar offering. Unfortunately getting to meet or even speak to Mr George was a challenge that even my persistent efforts failed to achieve. I was passed from one department to another until I ended up back to square one at the door of the property disposals manager!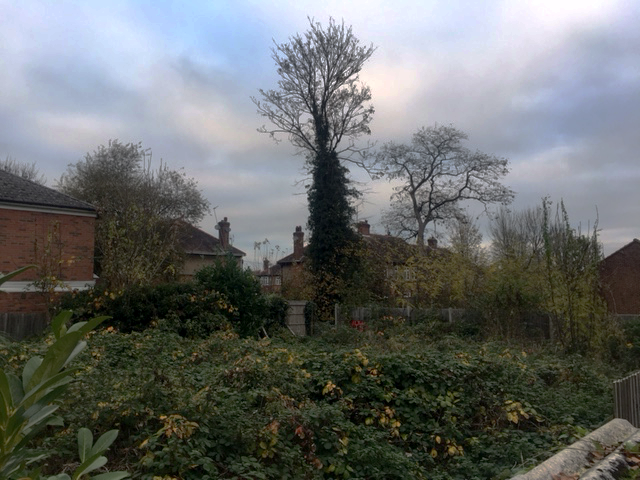 Universal challenges
We reconnected with Naked House and found we both had two major challenges:
The government was trying to ban 'ground rents' on the basis that some have been misused. Some larger developers had sold leasehold houses with clauses enabling ground rents to double every 10 years so making the homes expensive and unsaleable. Community Land Trust groups were campaigning to include exemptions for community groups but these clauses needed careful working out. (In the end they were successful and CLTs are exempt from such charges.)
The issue of how to make the model affordable, as buying land is a significant upfront cost. For a family buying, using the ground rent model they get a house at say 1/3rd below market price (1/3 being value of land). You could call it a 'shared equity' model as they own the house and have a mortgage for that but pay rent for the land – or like owning a flat.
Creating our prospectus for affordability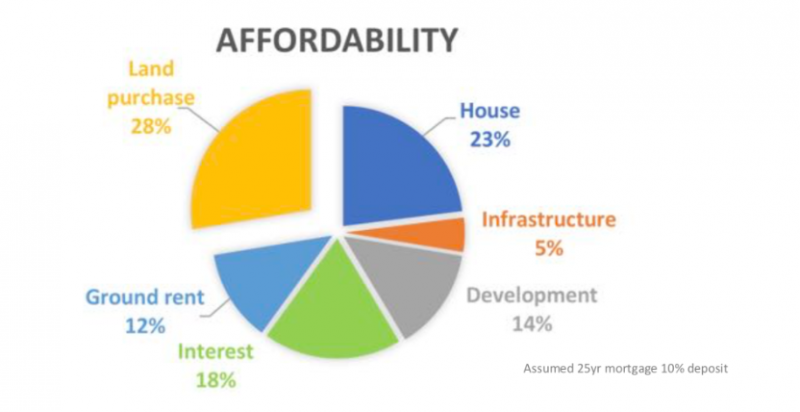 We based our workings on the following:
For a house price of £450k (average for Enfield, although many houses are more than this), excluding say 1/3 for the land value, an average family could get a mortgage 5 x their joint incomes.
This could equate to around £300k and, assuming they could find 10% deposit, a mortgage at 3.5% apr would cost around £1,300/month, based on a 25 year product.
The land value would be converted to a ground rent which they intended would be an annual charge calculated as 5% of the land value (if, for example, this was £150k).
Worked out in this way, the land proposition would be a good deal for the local Treasury, as it promised to recover the sale value of the land in a roughly 20 year period, and then would continue to deliver non-tax revenue to the local authority for the long term.
However, it is no longer affordable for the families if, on top of the mortgage, they have to pay 5% of £150k = £7,500 per year (or £625 month). We felt that this additional cost meant that 5% was clearly too high.
There is a similar scheme in Canberra, Australia, which was founded on Garden City principles. There the government land rent scheme was 4% with a discounted rate of 2% for families on low to middle incomes. The Government land rent is calculated on the unimproved value of land and lessees are required to construct a house on the land within two years of the lease being granted. So 2% is probably the level that Naked House would need and they subsequently were looking at that sort of level in the interest of affordability.
We hoped we could deliver affordable housing at 75% market price. 80% market price was the magic number picked by the Coalition government as a definition of 'affordable housing', although this still unaffordable to many families.
This would be achieved in three ways:
The church would keep the land and charge a ground rent;
The scheme would be a mixed community with higher income families paying closer to market price, while an element of bursary could be available for those on lower incomes, on a needs basis;
As a community scheme some sales risk, finance cost and developer profits could be reduced to deliver a further affordability factor – perhaps 10%.
Our prospectus was coming together! We were ready to offer the church a 'fresh revolution in housing', just as the Archbishop of Canterbury had called for, one that was values led and offered a vision of better affordability.
Find your self and custom build register on the Right to Build Portal.
Read the other parts of the Self Build Family Build Blog.
Part One: Deciding to Self Build, the Turning Point
Part Two: Looking for Land in London
Part Three: The Land Value Idea
Part Four: A Small Matter of Access
Part Five: The Mystery of the Road Unravelled
Part Seven: Best Consideration Pursuing our Community Building Idea
Part Eight: Calling on Higher Parts
Photo: printed with permission of Fiona Hanson 2020©
Anyone wanting an owner-commissioned home within commuting distance of London will be pleased to learn that Ebbsfleet Garden City has got the green light for a new custom build community, Alkerden Gateway.
Over the summer, Ebbsfleet Development Corporation's planning committee granted planning permission for new development, made up of 67 homes, 17 of which are affordable. Purchasers at the site can select from a choice of layouts, materials and fixtures and fittings on each home. Other options include choices around parking spaces, solar PV panels, trees and bird or bat boxes.
Designed by award-winning architect BPTW, construction on the homes has started already, with developer Westerhill Homes building the homes.
Alkerden Gateway is the first key development parcel in Alkerden Village, and is surrounded by parkland, an education campus and other residential developments. In time, Ebbsfleet Garden City will have 15,000 homes
What is a garden city?
Garden communities, which include Ebbsflett, garden towns and villages, have their roots in the Garden City movement that originated at the end of the Victorian era. They were originally envisioned as a new, self sustaining communities that were carefully planned, often like a cartwheel, with concentric circles of housing, gardens and allotments and work spaces radiating from a central hub.
The idea was to capture the best of the city and countryside, while avoiding the worst of both. At their best they were designed to be local, and largely walkable, although the principles involved in the originals at Welwyn and Letchworth Garden Cities were not always applied. There are now many garden towns and cities planned across the country, as the idea has once again come into fashion.
Julian Moat, Planning Director at Westerhill Homes said: "As a Kent-based housebuilder, we are delighted to have secured planning permission from Ebbsfleet Development Corporation for the delivery of our exciting, bespoke custom build homes at Ebbsfleet Garden City.
"By working with an outstanding project team – including BPTW Architecture, LUC landscape design and Knapp Hicks engineers – we have developed an innovative six stage customisation process for all private market homes. This will allow individual purchasers to make a series of external and internal choices to their homes at the point of reservation, meaning the homes can be tailored to suit their design preferences and lifestyle choices.
"We anticipate a strong market demand for customisation in the new build market, and coupled with the strong pull of Garden City living, we fully expect these new homes to prove popular as we now commence on the marketing and delivery aspects of the site."
Chris Bath, Partner, Architecture at BPTW, said: "Marking the only custom-build phase in the wider Whitecliffe masterplan, for us, Alkerden Gateway, presents an exciting opportunity to design an innovative community that both speaks of its setting, and embraces the full potential of a homeowner-led, organic variety across the scheme.
"Over the past few years, we've been proud to be involved in projects at Ebbsfleet Garden City and across the South East, and this development demonstrates our continued commitment to delivering high-quality new homes and transformative new places for the area. We're delighted to see Alkerden approved at committee and look forward to seeing the next stages of the project come together."
NaCSBA spokesperson Duncan Hayes said: "As large-scale planned communities, garden communities have the scope to include a diverse range of routes to housing, and NaCSBA would like to see custom and self build included in all garden towns and villages. Alkerden Gateway is a welcome addition to Ebbsfleet Garden Village, and addresses the lack of supply of custom build homes in the market locally."
Trinity Mews is a new custom build development of nine 3 to 5-bedroom bespoke homes in Durham's most desirable DH1 postcode. Brought on by Custom Build Homes (CBH), in partnership with Durham City Council (DCC), the development offers homeowners the chance to have input into the design and layout of their new home, to suit their needs. Each home is detached, and comes with a garage, and plots come with all services on site. Prices start from £180,000.
Custom Build Homes has organised viewing days on Friday 6 August, 2pm to 4pm, and Saturday 7 August, 9am to 11am. This gives would-be builders the chance to explore the area and discuss their plans with custom build experts, to help them understand the technical process of building their own customised home, covering everything from the design and planning packages to finance.
Homes at Trinity Mews
As part of the process, CBH takes buyers on a design discovery process to help them understand what they need to consider to create a home that works for them. As part of the process the homes are created digitally for a fixed cost, which includes design, planning and technical design.
Purchasers have the opportunity to design their house with award-winning Chartered Architect and Homebuilding & Renovating Magazine Expert, CBH Head of Architecture, Allan Corfield, working to create designs that meet their aspirations, such as an environmentally-friendly home.
CBH supported Durham City Council (DCC) to help it understand the demand in their area, drawing on data from DCC's self build register and CBH's dedicated self build register, as well as wider demand data.
Tom Connor, Founder of Custom Build Homes, said: "We're really excited to launch the development to market. Trinity Mews offers people in Durham the unique opportunity of creating a new home exactly as they wish it to be while being supported by the experts at Custom Build Homes."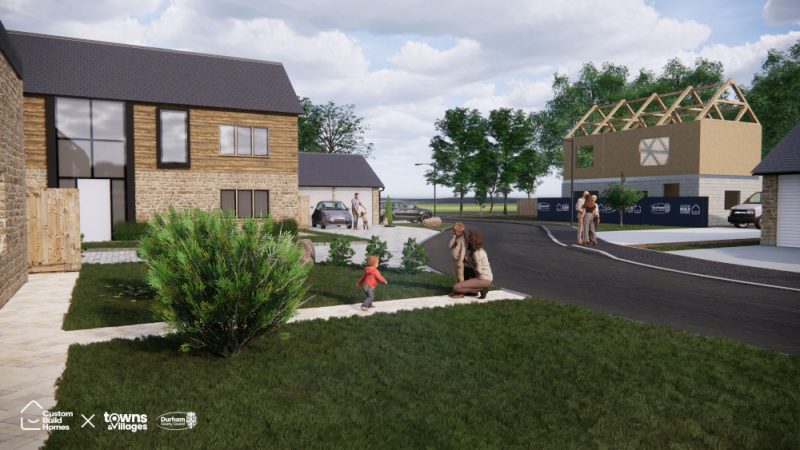 We're following the story of Anne, mother of six boys who is building a home for her family and one for the grandparents on the same site. They used the Right to Build to help them escape the private rental sector, acting as pioneers for the legislation, which even the council was unsure about at the time.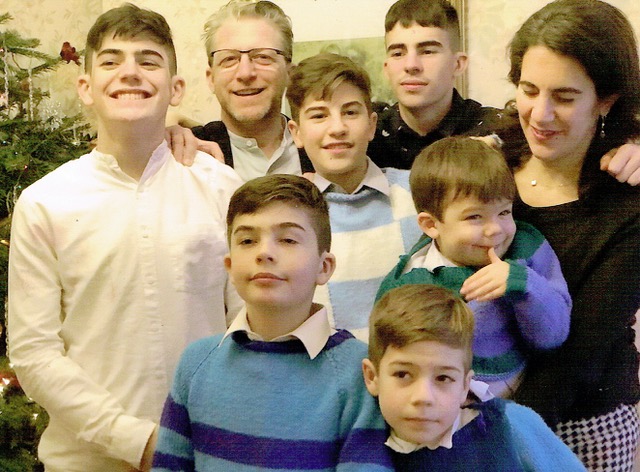 Part 8: Calling on higher support
A quick recap: 
Our offer for the Vicarage garden (with our partner family) had been overtaken as Council and Diocese got into dialogue. Against that disappointment things were picking up on the community building idea.
Maximising the opportunity for homes
It was 2018 and the beginning of a new year. My husband Peter spent Christmas working up a scheme for the two sites to house 5-7 units, to make the most of the site.
He was also formulating a proposal to convince the church that, rather than sell off the 'family silver' to fund philanthropic 'mission', community housing was, in fact, a mission purpose in itself, and could even be framed to support the work of the church locally.
At this point the Diocese was in the process of drawing up a scheme for maximising the number of units on both sites. It would obtain a valuation and then take the site to auction. We knew that any private sale bid would have to be 10% above the valuation,  as before, but this time for the combined sites.
Only a registered charity, the Diocese Development Manager pointed out, would have a chance of bidding below market value. I could feel his discomfort, as he was trying to tell me we no longer stood a chance.
However, for some reason I did not feel uncomfortable, saying that, "Nothing is impossible…."
I had further conversations with the Council Property Disposals manager who was happy to share the plans being drawn up with the Church, but his position was similar: 'best price' needed to be achieved. We would have the same chance as others to compete for the scheme.
Setting our vision
It was clear that we had got as far as we could with the property departments. We needed to reach visionaries.
Consequently, we came up with a prospectus which we called, 'Reimagining Community: a pilot scheme in N14'. This was inspired by the Archbishop of Canterbury's 'Reimagining Britain' in which he challenged 'the purpose of housing should be understood as creating communities and not merely building accommodation".
'The housing crisis', we wrote, 'presents an opportunity that creative, dynamic and devoted families wanting to establish a secure base and build community need help to get started…'
My first port of call was the vicar's wife who was encouraging. I talked through some of our ideas and she recommended that we approach the area Bishop (Bishop of Edmonton) who was interested in affordable housing and Father Edd said he would put in a good word and introduce us by email.
This turned out be very timely. I followed up our contact at Faith in Affordable Housing (see Blog 5) who informed me that the Bishop of Edmonton had recently become a trustee of Housing Justice.
He also gave me the contact for the Diocese Strategic Development Manager. Community housing was of interest, but the Diocese had no policy to date and although a ground rent model was a sensible business model for the church it was one that was not recognised yet.
Father Edd was as good as his word and immediately wrote to the Bishop saying he had seen our proposals which were very interesting and should be seriously considered.
We then wrote our letter in our custom way – I draft the letter, Peter puts red lines all over it and re-writes it. We were not sure how to address a bishop but in the end decided on the old fashioned formal form:
"My Lord, … we are looking for support within the Church for our small community led housing proposal… The development would pioneer a new form of affordable housing made possible because the Church would retain ownership of the land.
Families would be able to own their own homes but not have to buy the land and instead pay a ground rent to the Church. In that respect it is like buying a flat.
The Church maintains a steady income stream and has helped create a community invested in the school and church. The houses would remain affordable in perpetuity…
The development explores the idea of intergenerational living with some of the characteristics of an extended family in which the old can provide some childcare and the young can help the elderly in various ways. The scheme also looks at how students or those starting work or just married can find their feet.
…Currently Council and Diocese are looking to marry the two sites which back onto each other and dispose of them at auction for development for luxury houses and apartments. The Council site is landlocked and the Diocese owns the access and so has the controlling interest.
Our proposal offers an alternative model which while it will not furnish a Best Price lump sum up front it will deliver value in terms of Mission, for families and the community and almost certainly achieve better overall cash value in the long run…
The approach is a new and practical application of some of the principles recently promoted by the Archbishop and by the Mayor, and would help London Borough Enfield to deliver on their new obligations on Self Build. Indeed we believe Enfield will welcome the opportunity.
They are already taking some quite brave steps on 'custom build' ahead of other boroughs and so this is an opportunity to give some encouragement that the great moral authority of the established church can lend.

This site offers a curiously unique symbol of cooperation of the two great pillars of Church and State to bring forward fresh answers to the biggest questions for families in Britain today…"
I received a call back a couple of weeks later to say the Bishop was happy to meet us and a meeting was set for a month's time. It was exciting.
Our task now was to seek a similar visionary in Enfield Council, we knew there was one, he was working with Naked House, but could we reach him?
Find your self and custom build register on the Right to Build Portal.
Read the other parts of the Self Build Family Build Blog.
Part One: Deciding to Self Build, the Turning Point
Part Two: Looking for Land in London
Part Three: The Land Value Idea
Part Four: A Small Matter of Access
Part Five: The Mystery of the Road Unravelled
Part Seven: Best Consideration Pursuing our Community Building Idea
Part Eight: Calling on Higher Parts
Photo: printed with permission of Fiona Hanson 2020©
Graven Hill has revealed that one in three of the self-built homes completed between 2018 – 2021 used modern methods of construction (MMC), reflecting that self build leads the way in the adoption of innovative methods. MMC refers to non-traditional methods of building, which includes both off-site manufacturing and innovative on-site techniques, such as insulated concrete formwork (ICF).
MMC is high on the government's agenda, and it announced the launch of an MMC taskforce in the most recent Budget to examine the ways in which uptake of MMC can be improved. Graven Hill hopes to be part of this research as it feeds into the wider debate.
In 2021 a specialist supplier at Graven Hill is aiming to complete 25 prefabricated homes on site, and since 2018, there have been 34 self and custom build projects built using MMC.
Typically, these houses take 2-3 days to assemble to the watertight stage, with a further 6-7 weeks to finish on site. This is faster than the average bricks and block home, and the builds meet or exceed the high-quality building standards set by Graven Hill.
Building at Graven Hill
Each self build at Graven Hill comes with a 'Plot Passport' that sets the parameters and guidelines for that specific plot, all of which is pre-approved by the council. Working within this framework, self builders can get planning permission in just 28 days, as opposed to the usual 8-13 weeks. Choosing to build with MMC further increases the speed of completion.
Off-site methods in general are popular with Graven Hill builders, as they offer quick and simple route to construction, with minimal disruption on site.
Karen Curtin, managing director at Graven Hill, said: "The announcement of the MMC taskforce was positive news. All of our Plot Passports allow for the use of MMC techniques, and we believe it will play an important role in the future of housing developments.
"With the help of our specialist suppliers, we have proven that prefabricated homes can be just as high quality and aesthetically beautiful as traditional homes. Offering both speed and affordability, MMC certainly looks to be the way forward for housing and we're proud to be part of the revolution."
Not only do the site's self-build homes benefit from MMC, but so do its custom build new homes. A range of 'move in ready' new build homes are available to buy now, with many eligible for Help to Buy. From two- and three-bed terraces to five-bed detached homes, accessibility is at the core of Graven Hill. The flexibility and affordability of MMC ensures this can be achieved without having to compromise on quality.
For more information, get in contact with the Graven Hill team.
We're following the story of Anne, mother of six boys who is building a home for her family and one for the grandparents on the same site. They used the Right to Build to help them escape the private rental sector, acting as pioneers for the legislation, which even the council was unsure about at the time.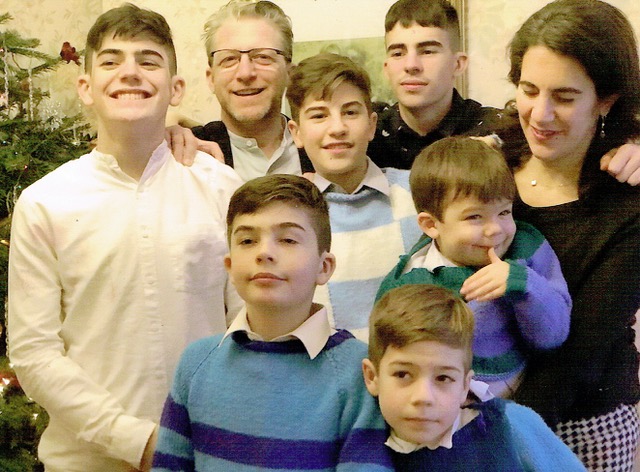 Part 7: Best consideration – pursuing our community building idea
A quick recap: 
We made an offer on the Vicarage plot, partnered with a family who were a great fit with us and had got as far as Heads of Terms with the Church. But at the last minute the Council contacted the Diocese to look at a commercial scheme marrying the two sites.
Building a home or a community?
"Pick yourself up, brush yourself off and start all over again," my old philosophy tutor used to say. I was deeply disappointed. When I rang the Diocese development manager a few days later his manner was cooler than it had been (at least I imagined so).
When I asked where we stood he confirmed the strength of our offer lay in the fact that at a future date we might work with the Council to develop their site but events had changed and the Council and Diocese were now talking about marrying the two sites themselves.
Our chance of building two homes was now slim. The conversation ended in an awkward silence. The reality was that we would not be able to compete with a better financed developer to develop both sites.
A year's work…
I put down the phone and the tears poured out! We had been so close. We had not only built up our own hopes but our friends' too. It had been almost a year since I came across the Right to Build Legislation, and eight months since we started pursuing the Council plot.
The obvious question was: 'Should we now give up?" Peter and I held the view that we should pursue something until every door and window was shut in front of us. The door had obviously and firmly been shut but there was a small window open.
Community led holds the key
About the same time I received an email from the Community Land Trust Network that our application for first stage funding had been successful (see blog 5) and I could chose an advisor to work with us for our first scoping day. They also approved my application for a bursary ticket for the National Community Led Housing Conference later that month.
We began to pick up where we had left off with our ideas of community building. If the Church and Council were looking at marrying the two sites for a larger housing development, then being both public mission landowners surely they should at least consider a community scheme for local families committed to the local area and local church?
We met with Stephen Hill, then Chair of UK Cohousing Network and Trustee of Community Land Trust Network. Stephen set out our current position and set out two or three different routes of community led housing we could look at.
At the present time we were two families looking to house ourselves with the potential to help other families along the way. As such, we did not represent a community benefit organisation.
Community Land Trusts steward land for the community, with the community having a say in the organisation, and members have a vote. There is quite a formal governance and legal structure, and those who set up the CLT do not necessarily get to live in it. Cohousing is slightly different and perhaps closer to what we were envisaging. Cohousing groups are intentional communities run by the residents. The initial group have a significant role in designing and creating the community.
Family first approach
Stephen likened our approach to a not-for profit Community Interest Company called Naked House. They were part of the Urban Community Land Trust family and, like us, were responding to the need of families who don't qualify for social housing but are unable to afford a home on the open market.
In 2015 they won a competition by New London Architecture partnering with Enfield Council to produce a scheme as one way of solving the housing crisis. Their scheme involved repurposing Enfield Council land to create 22 new units across three sites.
They would be a developer led custom build initiative providing 'naked' homes, houses stripped back to bare essentials: habitable with electricity, heating and a basic bathroom but also planning and building regulation compliant and purchasable with a high street mortgage.
Challenges of the model
We had heard of Naked House and in fact earlier in the year invited the founders over to dinner. At the time they helped us understand some of the challenges they were facing.
To make the houses affordable (apart from the 'naked' element) they were looking at a leasehold/ground rent model with Enfield Council. This was proving difficult not least because the Government were planning to ban ground rents due to abuses of the system.
They have since been enormously successful and are currently building the 22 homes in Enfield and are working with Lewisham and Croydon Councils to do something similar. They were the first community led housing group to receive funding from City Hall.
Homes will be delivered as an affordable discounted market sale product (anticipated between 25-30%) and the discount will be locked in to keep the property affordable in perpetuity for allocation to those priced out of the market. The lowest cost homes will be genuinely affordable to those on London median wage, whilst those with an income up to £90k are eligible to apply.
The regeneration team at Enfield, they told us, was headed by a pioneering and visionary leader. Perhaps we could make contact and look to do something on a smaller scale as a self build community initiative?
The benefit of having a similar narrative, Stephen said, was that decision makers feel more comfortable working with ideas that have already been given official political endorsement.
Stephen suggested we work up an outline viability appraisal for the site and our priority should be to establish with both landowners the basis on which they would engage with us directly, and still satisfy their legal requirements to obtain the 'best consideration reasonably obtainable'.
This does not mean the most money in either case. "The church as a charity can use its land to achieve its ministry objectives," Stephen said, "and the Archbishop's pronouncement [in 2017] that the church should use its land holdings to promote affordable housing, should be helpful to us."
So as the year drew to an end here lay our challenge: could we find a way of presenting to the church and council that 'best consideration reasonably obtainable' for their site was not the highest price but a local community led initiative supporting the local area and local church?
Find your self and custom build register on the Right to Build Portal.
Read the other parts of the Self Build Family Build Blog.
Part One: Deciding to Self Build, the Turning Point
Part Two: Looking for Land in London
Part Three: The Land Value Idea
Part Four: A Small Matter of Access
Part Five: The Mystery of the Road Unravelled
Part Seven: Best Consideration Pursuing our Community Building Idea
Part Eight: Calling on Higher Parts
Photo: printed with permission of Fiona Hanson 2020©