We're following the story of Anne, mother of six boys who is building a home for her family and one for the grandparents on the same site. They used the Right to Build to help them escape the private rental sector. We pick up from Anne's decision to contemplate the possibility of building her own home.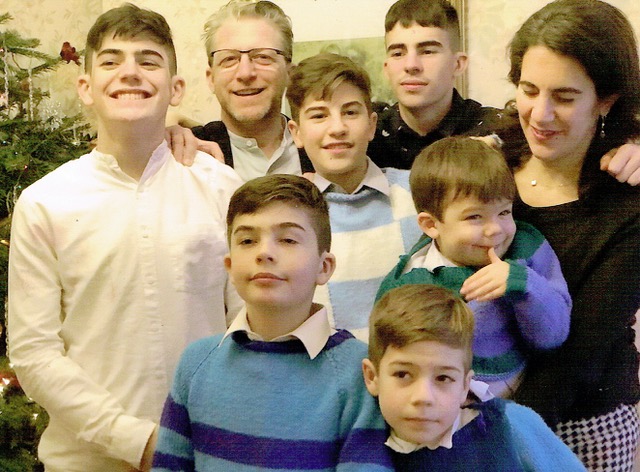 Part 2: Looking for Land in London!?
Having decided to research the possibility of using the Right to Build as a route to solving our housing needs (read Part 1, here), I enlisted some help to find out more.
David Burrowes, my local MP, said he did not know a lot about the Right to Build legislation but would try to find out how it could be effective. He believed the local authority would be unlikely to want to help and would want to sell any Council land at the highest price for maximum profit. However he gave me the contact details of Enfield's Head of Development Management – their chief planning officer – so that I could make some headway with the council.
Meanwhile, we started our own detective work searching for local land in the area, with Google maps proving a great tool. It was interesting to look at maps with a different eye, spotting little pockets of land that just might be plots and checking them out at the Land Registry. If you have an address this is simple to do online and costs only £3 per result.*
One plot that was of interest turned out to be made up of two triangles one private and the other Council owned. We also Googled "land owned by Enfield Council" and surprisingly they provide a full list. It had 2,300 lines and in a tiny entry amongst playgrounds, schools and car parks we found a couple of corner plots listed as "vacant land", so it was time to talk to the council.
Since 2015 the government obliged local authorities to publish this information and introduced a 'Right to Contest'.  They estimate that 40% of developable land is in public hands and if you think that any piece could be put to more productive use you can challenge them to sell.
Persistence pays
Getting to speak to Enfield's Head of Development Management was no easy task. I left several messages and emails. No response. I took encouragement from listening to how Jamie Oliver got his breakthrough into the River Cafe. He rang every day trying to speak to Ruth Rogers leaving messages until one day he got through and was invited to an interview.
It became part of my routine. Every day I rang and left a message. I resolved to make each call as if it were the first time until one day he happened to pick up the phone. He was friendly enough and gave me an appointment for the next week.
The meeting however was rather disappointing as he was unaware of the Right to Build legislation and the Registers. However he did mention that our timing was good, as the council had to work out its approach to the legislation and how to incorporate it into the local plan.
During the meeting we tried to establish if he was the right contact for the Right to Build, but he didn't know at that point. On a positive note, he looked at the plots of land we had identified and thought they had potential for planning but we would need to speak to the Property department about the possibility of purchasing them. Who knew that there was Planning, Property, and Housing departments and you would have to trek from one to the next!
Meeting the Self Build community
Meanwhile, my father in law had taken interest in our project and had subscribed to Homebuilding and Renovating Magazine. One of the Homebuilding & Renovating shows was coming up at Birmingham in March 2017 and he suggested we go. A train journey spent planning and we had a full day mapped out, starting with 'A Beginner's Guide to Building Your Own Home' by expert self builder David Snell.
His practical overview dealt with finding plots, budgeting and finance, which was crucial as up to that point I had believed it was financially difficult, but he gave us hope and inspiration. When we met him later in in the Experts Area he congratulated us on our entrepreneurial work in searching for plots!
We also visited BuildStore's self build mortgage stand, where they confirmed that our self build was viable from a financial perspective, with a mortgage financing the building in stages, including the purchase of land. Things were looking up!
Our last lecture was with Michael Holmes of Homebuilding & Renovating about the Right to Build, who was also on the board at the National Custom and Self Build Association (NaCSBA). He had been at the forefront of the new legislation and encouraging local authorities to release council land for self builders. He stressed how the Right to Build Act offers hope for residents wanting to build and live in an area where they have grown up in. The lecture was dynamic, inspiring, but did the legislation really have the teeth to force the local authorities to help self builders?
While chatting to Michael afterwards he advised us to push the local authority as much as we could. This is because they have to grant permission for the number of plots reflected by the numbers who have signed up to the register (in one base period) within 3 years. However, he also explained that this would not necessarily be to us. Our challenge would be to see if we could get them to release land to us, as we were pioneers!
Anne will be sharing regular updates on her journey to build her family a home.
Find your self and custom build register on the Right to Build Portal. 
*It's hit and miss. Land is only registered if it has changed hands in the last 20 years and finding a piece that may not have a straightforward address – like a patch of land between two houses or a bit of private road – is more difficult. Also beware! If you Google "land registry" half of the sites are 'services' simply reselling land registry search at inflated prices. I paid £12 the first time before discovering this!
Read the other parts of the Self Build Family Build Blog.
Part One: Deciding to Self Build, the Turning Point
Part Two: Looking for Land in London
Part Three: The Land Value Idea
Part Four: A Small Matter of Access
Part Five: The Mystery of the Road Unravelled
Part Seven: Best Consideration Pursuing our Community Building Idea
Part Eight: Calling on Higher Parts