We're following the story of Anne, mother of six boys who is building a home for her family and one for the grandparents on the same site. They used the Right to Build to help them escape the private rental sector, acting as pioneers for the legislation, which even the council was unsure about at the time.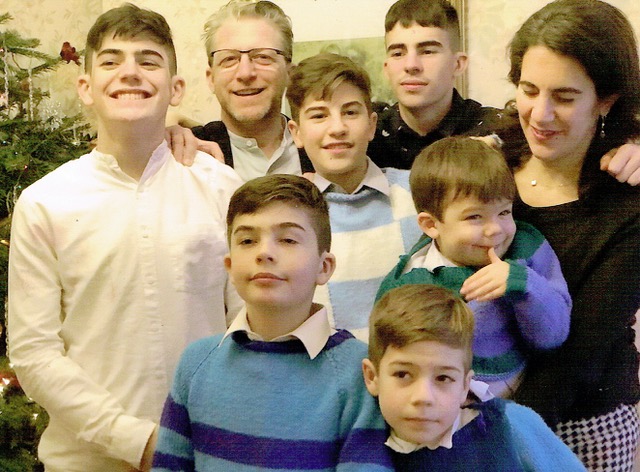 Part 5: The mystery of the road unravelled
A quick recap: 
We had found adjoining plots both owned by public service mission landowners – church and state – and both landlocked. We probably could not afford either but could we bring other values to the table? Could we find the owner of the private road and unlock access? And could we appeal to their mission interest in helping build local communities?
Could we build a community?
My visit to the first Right to Build Expo* had got off to a good start with NaCSBA Chair Michael Holmes explaining the public service mission aspect in 'Best Value' (blog 4).
From there it became an investigation into community building. My husband Peter, who is an architect, had already worked out that it was feasible to build two houses on the vicarage plot (managed by the Diocese of London) and a further 4-5 units on the Enfield Council-owned plot, so a small community project was plausible.
The breakout group session led by Tom Chance, Director of the National Community Land Trust Network helped to affirm some of our ideas. Community Land Trust is a way of holding land that embodies the sort of idea for affordability that we had been thinking about, where it is secured in perpetuity (see Blog 3).
It was developed in 1969 inspired by the earlier Garden Cities movement. How you get the land is another question, but in some cases it has been gifted or sold at a below market price by some philanthropic owner, and occasionally by a council. The Community Land Trust provides a legal form to put the land into a Trust for the benefit of the community and a lot of work has been done to develop a route map for interested groups and a governance model.
We were not expecting anyone to gift us anything, and we thought either the church or the council should retain the land. But we were starting to think that if we could make something work in terms of a self build, then we should be able to make it work for others too and it could be a community. I mentioned the idea to Tom and he encouraged me to apply for their 'first stage funding' that would fund one of their consultants to help us develop the idea. I did this the very next day.
Michael Holmes also gave me the contact details for 'Faith in Affordable Housing' (aka Housing Justice) an organisation working to promote housing justice and advise the church on disposal of land for affordable housing. I wrote to them too.
New facts change the playing field
But before we had much time to develop these ideas I heard from the vicar that the Diocese intended to proceed with the sale by November, so we decided to call to say we were still interested.
However, we had little idea how to negotiate, some ideas about persuading them not to sell the land but keep their 'family silver', an idea of working with the Council to develop both sites for a vague community housing scheme and another idea of adding value by unlocking the access road. With these ideas in mind I picked up the phone.
I had never got through to the Diocese Development Manager before, only his answer machine, but this time I did. He was friendly and I felt at ease, and to my surprise he informed me that the Diocese already owned the access road and they had bought it some time ago!
This was news indeed. Our idea of adding value looked a little naïve and now there was no mileage in it. I mentioned that I was pursuing the Right to Build both as an individual and as a community enterprise with the Council and would he be interested in combining the plots for such a venture.
He said they had been trying to purchase the plot from the Council but had not got anywhere for over two years and so the decision had been made to sell now.
At the outset the Diocese had previously obtained outline planning permission for a large vicarage. This consent was due to expire in 6 months, which meant that there was a glimmer of possibility for us.
He advised that Charity Commission rules permitted them to make an 'off-market' sale (eg. to us!) provided that they could show that they had achieved 10% above a market price. The market valuation was provided by auctioneers. He encouraged us to make an offer.
The plot was due to go to auction in November but we could potentially make a deal where we purchased the church land and access road for an initial sum now, but a further sum later if we managed to develop the Council site. He believed we might have more luck in the future with the Council than he had done to date.
A game of nerves
Could we possibly do it? We knew could not buy the land on our own. The rough auctioneers' valuation was considerably beyond our means but the plot was big enough for two houses, so would we be able to get planning permission for two houses and find someone to partner with?
And even if we could what about our idealistic economic justice ideas of land not being owned… housing for benefit of community… which we were beginning to develop? Then there was the question of the Council. I had hassled them over the summer months to find out who owned the access road. Would it change everything if they did now find out who owned it?
Find your self and custom build register on the Right to Build Portal.
Read the other parts of the Self Build Family Build Blog.
Part One: Deciding to Self Build, the Turning Point
Part Two: Looking for Land in London
Part Three: The Land Value Idea
Part Four: A Small Matter of Access
Part Five: The Mystery of the Road Unravelled
Part Seven: Best Consideration Pursuing our Community Building Idea
Part Eight: Calling on Higher Parts
Photo: printed with permission of Fiona Hanson 2020©
*The Right to Build Expos were professional focussed training events sharing best practice, delivered by the Right to Build Task Force