We're following the story of Anne, mother of six boys who is building a home for her family and one for the grandparents on the same site. They used the Right to Build to help them escape the private rental sector, acting as pioneers for the legislation, which even the council was unsure about at the time.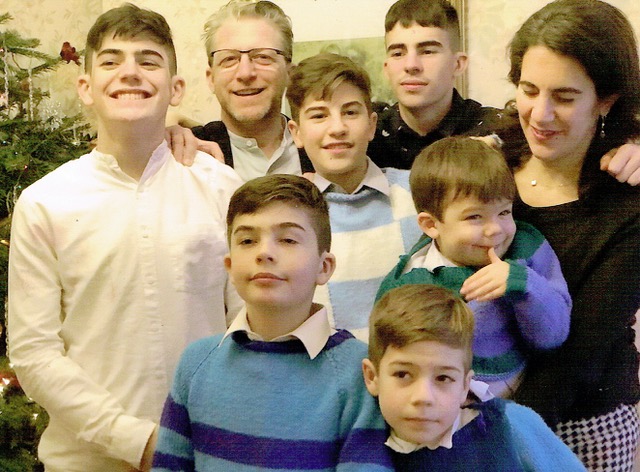 Part 9: The Affordability Question
A quick recap: 
Edged out by a new discourse between church and state, we tried to counter the market intentions of the Church's property dept with community ideas, which secured an appointment to make a pitch to the Bishop of Edmonton. Meanwhile, we tried to reach someone in the council who might share a similar vision for Community Housing.
Local policy support
Having secured a meeting with the Bishop it seemed pragmatic to try and get support from Enfield Council so that any proposal using the combined church and council land would carry more weight.
While looking for supportive policy we stumbled across a document "Custom & Self Build in Enfield" (now removed, but see this meeting), which put forward a strategy for delivering custom and self build homes on small-scale council-owned sites. Based on a leasehold model, it reduced upfront costs for purchasers in return for long- term ground rental income for the council.
It seemed perfect – the ideas were very much in tune with parts of what we had been proposing (See Part Three: The Land Value Idea) but much more developed in terms of implementation. The report hoped its pioneering lead might encourage other public landowners to follow.
The report was by the Regeneration department at Enfield Council and its leader was Peter George, who in the words of 'Naked House' (Blog 7) was a forward thinking man, looking at innovative ways to solve the housing crisis. The Naked House idea put forward a plan as an alternative custom building service provider trying genuinely to provide affordable homes on a not-for-profit basis.
We thought we could position ourselves as the 'self build' service provider with a similar offering. Unfortunately getting to meet or even speak to Mr George was a challenge that even my persistent efforts failed to achieve. I was passed from one department to another until I ended up back to square one at the door of the property disposals manager!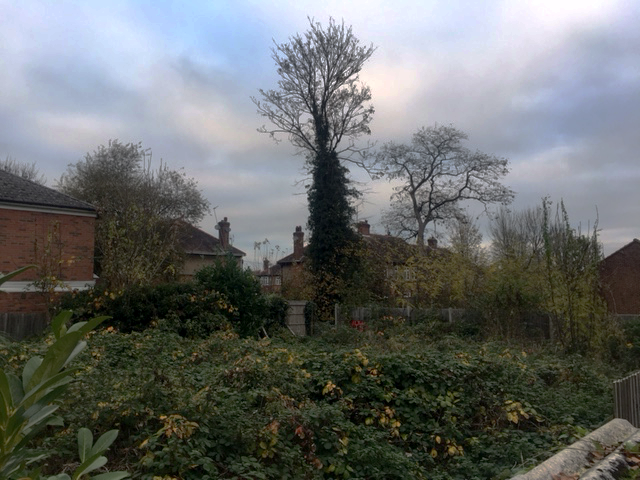 Universal challenges
We reconnected with Naked House and found we both had two major challenges:
The government was trying to ban 'ground rents' on the basis that some have been misused. Some larger developers had sold leasehold houses with clauses enabling ground rents to double every 10 years so making the homes expensive and unsaleable. Community Land Trust groups were campaigning to include exemptions for community groups but these clauses needed careful working out. (In the end they were successful and CLTs are exempt from such charges.)
The issue of how to make the model affordable, as buying land is a significant upfront cost. For a family buying, using the ground rent model they get a house at say 1/3rd below market price (1/3 being value of land). You could call it a 'shared equity' model as they own the house and have a mortgage for that but pay rent for the land – or like owning a flat.
Creating our prospectus for affordability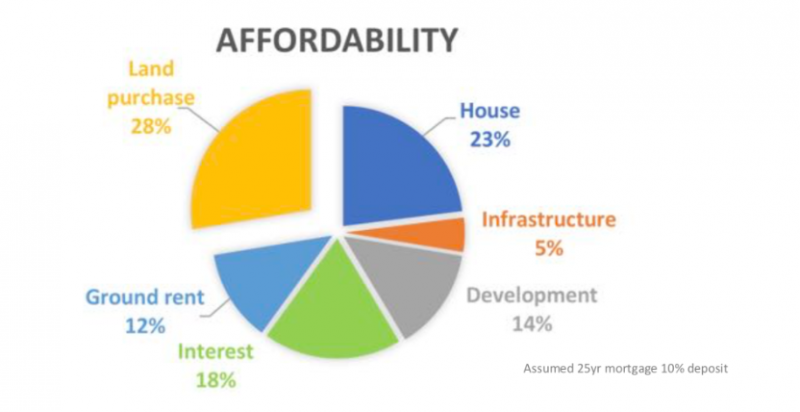 We based our workings on the following:
For a house price of £450k (average for Enfield, although many houses are more than this), excluding say 1/3 for the land value, an average family could get a mortgage 5 x their joint incomes.
This could equate to around £300k and, assuming they could find 10% deposit, a mortgage at 3.5% apr would cost around £1,300/month, based on a 25 year product.
The land value would be converted to a ground rent which they intended would be an annual charge calculated as 5% of the land value (if, for example, this was £150k).
Worked out in this way, the land proposition would be a good deal for the local Treasury, as it promised to recover the sale value of the land in a roughly 20 year period, and then would continue to deliver non-tax revenue to the local authority for the long term.
However, it is no longer affordable for the families if, on top of the mortgage, they have to pay 5% of £150k = £7,500 per year (or £625 month). We felt that this additional cost meant that 5% was clearly too high.
There is a similar scheme in Canberra, Australia, which was founded on Garden City principles. There the government land rent scheme was 4% with a discounted rate of 2% for families on low to middle incomes. The Government land rent is calculated on the unimproved value of land and lessees are required to construct a house on the land within two years of the lease being granted. So 2% is probably the level that Naked House would need and they subsequently were looking at that sort of level in the interest of affordability.
We hoped we could deliver affordable housing at 75% market price. 80% market price was the magic number picked by the Coalition government as a definition of 'affordable housing', although this still unaffordable to many families.
This would be achieved in three ways:
The church would keep the land and charge a ground rent;
The scheme would be a mixed community with higher income families paying closer to market price, while an element of bursary could be available for those on lower incomes, on a needs basis;
As a community scheme some sales risk, finance cost and developer profits could be reduced to deliver a further affordability factor – perhaps 10%.
Our prospectus was coming together! We were ready to offer the church a 'fresh revolution in housing', just as the Archbishop of Canterbury had called for, one that was values led and offered a vision of better affordability.
Find your self and custom build register on the Right to Build Portal.
Read the other parts of the Self Build Family Build Blog.
Part One: Deciding to Self Build, the Turning Point
Part Two: Looking for Land in London
Part Three: The Land Value Idea
Part Four: A Small Matter of Access
Part Five: The Mystery of the Road Unravelled
Part Seven: Best Consideration Pursuing our Community Building Idea
Part Eight: Calling on Higher Parts
Photo: printed with permission of Fiona Hanson 2020©
With the planned decrease in the usage of gas as a fuel source, government recently launched the Boiler Upgrade Scheme, a new scheme that will give homeowners up to £6,000 towards the cost of an upgrade to low-carbon heating systems. The Business, Energy and Industrial Strategy (BEIS) has released its Heat and Buildings Strategy with £450million in funding for heat pumps, both ground source and – more realistic for most people – air source heat pumps.
The Boiler Upgrade Scheme is designed to transform our energy usage in homes, although government has stopped short from requiring the banning of fossil-fuel boilers. The expectation is that by 2030 heat pumps, and other cleaner technology, will cost the same to run and buy as current gas systems. The other major alternative is hydrogen, which could power some existing systems, but the technology is still in its experimental stage, with products not yet available to buy.
Essentially Boiler Upgrade Scheme is a boiler upgrade scheme, which comes with many associated challenges around upping the spec in existing houses to make them compatible with these heat sources. This is because heat pumps work best in houses with high levels of energy efficiency and insulation.
Fortunately most self built houses are built to a far higher spec than to Building Regulations, which is a set of minimum standards. The Boiler Upgrade Scheme, which is a renaming of the Clean Heat Grant, is available in England and Wales, and is part of a wider £3.9bn funding pot set out in the Heat and Buildings Strategy.
How does this affect self builders?
While homeowners in new builds are not able to apply, self builders are eligible, and will have a three month period in which to apply. In addition, self builders won't need an Energy Performance Certificate, which is a requirement for existing home owners.
Eligible homeowners will be able to receive government grants for the purchase of low carbon heating systems, with applications running between April 2022 and April 2025. This will replace the Domestic Renewable Heat Incentive, which officially closes next March.
The funding allows for either £5,000 for Air Source Heat Pumps (ASHP) or £6,000 for Ground Source Heat Pumps (including the rarer Water Source Heat Pumps), with more funding allocated for ASHPs as these are more compatible with most homes, due to space limitations.
In addition, biomass boilers in rural areas with low populations should also qualify for support.
It looks like grants will be on a voucher system that are applied for in advance of installations, with the vouchers – which have a usage date – being redeemed on completion. The scheme will also work on a first-come-first-served availability basis.
Scotland-based Allan Corfield Architects is expanding its national coverage with a permanent presence at the National Self Build and Renovation Centre (NSBRC) in Swindon, and the launch of its first seminar for self builders wanting to develop their skills.
Architect Jenny Chandela has joined ACA, working out of its brand new NSBRC stand three days a week, and is able to answer questions or chat to you about your project. Alternatively, if you cannot get to Swindon ACA also offers a free initial online consultation.
In line with ACA's ethos of supporting self builders, as seen in its online Learning Centre, it has launched its first self build seminar at the NSBRC, How to Self-build Successfully*.
The one day event runs from 8:30 – 4:30, and is repeated on the Wednesday 27 and Thursday 28 October, and costs £80 per person, and is designed to educate novice builders all the key elements of the self build journey.
Topics covered include:
The NSBRC and how it can help with your project.
Finding and Assessing Land
Funding and protecting your project
Your project team and the design process
Project Management and cost control with CLPM
Future Homes Standards and Construction Systems
Renewable Heating Design 
MVHR design 
Speakers at the event:
Allan Corfield, AC Architects, Self Build and Low Energy Expert
Tom McSherry, BuildStore, Finance Expert
Brian Singleton, ADM Systems, MVHR Expert
David Gallagher, AC Structures, Structural Engineer
James Bryden, CLPM, Project Management and QS
David Hilton, Heat & Energy, Renewable Heating Expert
To find out more visit Allan Corfield Architects website and register your interest for the event, or get in touch with your questions to Kim via email or call 03333444217
* The How to Self-build Successfully seminar is not suitable if you are already working with an architect.
We're following the story of Anne, mother of six boys who is building a home for her family and one for the grandparents on the same site. They used the Right to Build to help them escape the private rental sector, acting as pioneers for the legislation, which even the council was unsure about at the time.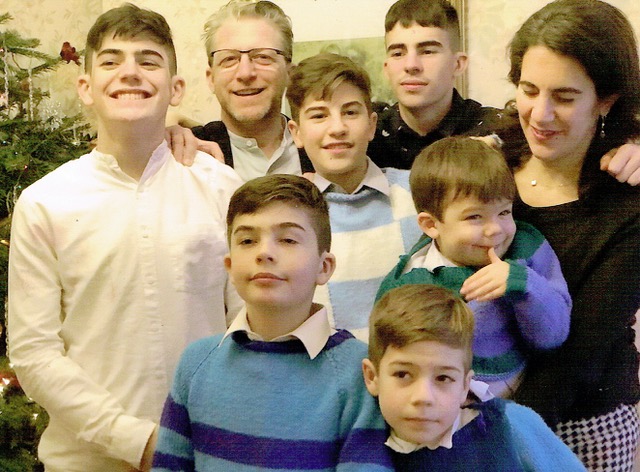 Part 8: Calling on higher support
A quick recap: 
Our offer for the Vicarage garden (with our partner family) had been overtaken as Council and Diocese got into dialogue. Against that disappointment things were picking up on the community building idea.
Maximising the opportunity for homes
It was 2018 and the beginning of a new year. My husband Peter spent Christmas working up a scheme for the two sites to house 5-7 units, to make the most of the site.
He was also formulating a proposal to convince the church that, rather than sell off the 'family silver' to fund philanthropic 'mission', community housing was, in fact, a mission purpose in itself, and could even be framed to support the work of the church locally.
At this point the Diocese was in the process of drawing up a scheme for maximising the number of units on both sites. It would obtain a valuation and then take the site to auction. We knew that any private sale bid would have to be 10% above the valuation,  as before, but this time for the combined sites.
Only a registered charity, the Diocese Development Manager pointed out, would have a chance of bidding below market value. I could feel his discomfort, as he was trying to tell me we no longer stood a chance.
However, for some reason I did not feel uncomfortable, saying that, "Nothing is impossible…."
I had further conversations with the Council Property Disposals manager who was happy to share the plans being drawn up with the Church, but his position was similar: 'best price' needed to be achieved. We would have the same chance as others to compete for the scheme.
Setting our vision
It was clear that we had got as far as we could with the property departments. We needed to reach visionaries.
Consequently, we came up with a prospectus which we called, 'Reimagining Community: a pilot scheme in N14'. This was inspired by the Archbishop of Canterbury's 'Reimagining Britain' in which he challenged 'the purpose of housing should be understood as creating communities and not merely building accommodation".
'The housing crisis', we wrote, 'presents an opportunity that creative, dynamic and devoted families wanting to establish a secure base and build community need help to get started…'
My first port of call was the vicar's wife who was encouraging. I talked through some of our ideas and she recommended that we approach the area Bishop (Bishop of Edmonton) who was interested in affordable housing and Father Edd said he would put in a good word and introduce us by email.
This turned out be very timely. I followed up our contact at Faith in Affordable Housing (see Blog 5) who informed me that the Bishop of Edmonton had recently become a trustee of Housing Justice.
He also gave me the contact for the Diocese Strategic Development Manager. Community housing was of interest, but the Diocese had no policy to date and although a ground rent model was a sensible business model for the church it was one that was not recognised yet.
Father Edd was as good as his word and immediately wrote to the Bishop saying he had seen our proposals which were very interesting and should be seriously considered.
We then wrote our letter in our custom way – I draft the letter, Peter puts red lines all over it and re-writes it. We were not sure how to address a bishop but in the end decided on the old fashioned formal form:
"My Lord, … we are looking for support within the Church for our small community led housing proposal… The development would pioneer a new form of affordable housing made possible because the Church would retain ownership of the land.
Families would be able to own their own homes but not have to buy the land and instead pay a ground rent to the Church. In that respect it is like buying a flat.
The Church maintains a steady income stream and has helped create a community invested in the school and church. The houses would remain affordable in perpetuity…
The development explores the idea of intergenerational living with some of the characteristics of an extended family in which the old can provide some childcare and the young can help the elderly in various ways. The scheme also looks at how students or those starting work or just married can find their feet.
…Currently Council and Diocese are looking to marry the two sites which back onto each other and dispose of them at auction for development for luxury houses and apartments. The Council site is landlocked and the Diocese owns the access and so has the controlling interest.
Our proposal offers an alternative model which while it will not furnish a Best Price lump sum up front it will deliver value in terms of Mission, for families and the community and almost certainly achieve better overall cash value in the long run…
The approach is a new and practical application of some of the principles recently promoted by the Archbishop and by the Mayor, and would help London Borough Enfield to deliver on their new obligations on Self Build. Indeed we believe Enfield will welcome the opportunity.
They are already taking some quite brave steps on 'custom build' ahead of other boroughs and so this is an opportunity to give some encouragement that the great moral authority of the established church can lend.

This site offers a curiously unique symbol of cooperation of the two great pillars of Church and State to bring forward fresh answers to the biggest questions for families in Britain today…"
I received a call back a couple of weeks later to say the Bishop was happy to meet us and a meeting was set for a month's time. It was exciting.
Our task now was to seek a similar visionary in Enfield Council, we knew there was one, he was working with Naked House, but could we reach him?
Find your self and custom build register on the Right to Build Portal.
Read the other parts of the Self Build Family Build Blog.
Part One: Deciding to Self Build, the Turning Point
Part Two: Looking for Land in London
Part Three: The Land Value Idea
Part Four: A Small Matter of Access
Part Five: The Mystery of the Road Unravelled
Part Seven: Best Consideration Pursuing our Community Building Idea
Part Eight: Calling on Higher Parts
Photo: printed with permission of Fiona Hanson 2020©
According to specialist lender Together, a third of Brits would sacrifice part of their garden if it meant they could self build on the land. Based on a new survey, the data indicates that over 34% would take on a major self-build, with a mix of motivations. Of those surveyed, 14% said this would create a home for a family member, 10% would build a house they would sell and 8% would move in themselves.
According to the survey, 26% of respondees were interested in creating a standalone 'granny annexe' for visiting friends or family, if they had the space. Many attributed this desire due to the way in which the pandemic forced us to reconsider how we interact with our extended families.
One in ten also said that the boom in popularity for staycations offered an opportunity to rent such a garden build out as a short-term holiday let, while 8% said they were interested in long-term lets.
But it's not just big builds that people wanted in their garden, with a fifth (20%) of respondents saying they'd be keen to build a summerhouse or workshop to create their perfect space.
Scott Clay, distribution development manager at Together, said: "Our survey highlights homeowners' ambitions as we begin to return to a different kind of normality.
"People are thinking more creatively about how they could use their outside space, whether that is providing a standalone home office, a home for themselves to live or sell, or a specially-designed home for elderly or disabled relatives.
"It's important that homeowners have enough space and get any required building consent, including planning permission, before they take on a self-build. They will also need a lot of planning, determination, and the right finance in place before they start their project.
"However, as well as Help to Build, there are other options of funding your own build, depending on the borrower's ability to repay the loan. This could be through an advance from an existing lender, a self-build mortgage, or a remortgage, bridging loan or other types of property finance from a specialist lender."
Building in the garden
Duncan Hayes, a spokesperson for the National Custom and Self-Build Association (NaCSBA) said: "When considering options for garden plots it is important to understand the approach of the local planning authority. The right proposals in the right areas can help with the delivery of better and more sustainable homes that we urgently need.
"Care is needed as many will have specific policies to prevent inappropriate development of gardens that may cause harm to the local area. NaCSBA recommends that anyone wanting to build should sign their local self-build register and check out the planning policies on their local council's website in regard to creating new dwellings in a garden."
Andrew Baggot, managing partner and chartered accountant at Clarke Nicklin, adds: "As far as tax is concerned there are a few matters to bear in mind with a self-build project. As well as the tax benefits, there shouldn't be any Stamp Duty Land Tax (SDLT) to pay on the self-build, on the basis that it is being built in the owner's own garden.
"However, one tax that might need to be considered in more detail is Capital Gains Tax ("CGT"). Your primary home is exempt from CGT. Although, as soon as you've acquired a self-build home you then have two properties, only one of which can be exempt from CGT. It's therefore important to plan ahead if you're then thinking of selling one of the properties so that you minimise any tax that might become payable".
Find out more about tax on our advice pages.