The National Custom and Self Build Association (NaCSBA) has partnered with UK Cohousing Network, National Community Land Trust Network and the Federation of Master Builders to create a new group called Housing Diversification. It's aim is to persuade Government to create more opportunities for more people to live in custom build, self build and community-led housing. These are houses are typically built by small- to medium-enterprise (SME) housebuilders.
Together, the groups believe that this type of housing could result in an extra 130,000 homes being built by 2025. These homes would be additional units, in that they would be extra to the homes built by the major housebuilders in this period, and therefore help government in its ambition to build 300,000 homes a year.
Housing Diversification knows that the homes built by SME builders for self build and community-led projects are typically more sustainable, beautiful, innovative and of higher quality than many open market homes. In addition, these homes also boost the local economy, providing local jobs and training opportunities.
The number of SME housebuilders has fallen significantly since the 1980s, and halved following the last recession. These SME companies are vital for the supply of local houses, and opportunities must be created to allow them to operate on a level playing field with volume housebuilders, which have very deep pockets.
Campaigning for building back better
Housing diversification has three asks of Government:
The establishment of a high-level Housing Diversification Taskforce, with a range of items set out for consideration (see Appendix).
Commitment to a five-year renewal of the Community Housing Fund as part of the Comprehensive Spending Review.
The creation of a robust and statutory system of reporting on diversification as part of Government housing statistics, including on the NPPF requirement for 10% of homes to be delivered on small sites (one hectare or less).
Housing Diversification members:
NaCSBA, which runs the Self Build Portal, knows that 14,000 custom and self build homes are built each year, although many of these are single self builds. With greater Government support this figure could reach 73,500 by 2025, with custom build offering the scope to grow the sector with more serviced plots.
The Federation of Master Builders represents 7,500 SME firms across the UK, half of which build new homes. FMB members expect to build more than 12,000 new homes in 2021. Members of the public can source contractors using its Find a Builder database. 
Currently there are 10,780 community led homes in 'live applications' on Homes England system awaiting delivery, part of a wider pipeline of 23,000 homes. Many of these homes are reliant on the Government's Community Housing Fund – which was closed in March. Getting it reinstated is one of the main ambitions of Housing Diversification.
Community Land Trusts are a community-led housing model, where the land is held in trust, meaning that affordability is locked in for good. Cohousing refers to groups of people wishing to live together – as an 'intentional' community.
You can find out more about these community-led housing models, and others, as well as how to start a group, on the Community Led Homes website.
Andrew Baddeley-Chappell, CEO, National Custom and Self Build Association and spokesperson for the group said: "Despite the importance of houses to our lives and the scale of their cost, there is currently too little choice when it comes to new homes in this country.
"We have come together as Housing Diversification to deliver more passion, quality, and care into the new homes and the new communities that we, as a nation, need to be creating. Just like any other market, increasing diversification will improve quality, innovation, and value. We will deliver homes more people want to live in and that more welcome being built."
Head to the National Self Build and Renovation Centre for its show on Friday 16-Sunday 18 October, which is one of the few shows still running a live event.
The National Self Build and Renovation Centre is a permanent exhibition space dedicated to self building, with permanent stands and educational exhibits helping you to navigate the process of self building or renovating a home.
The show is the ideal event to meet experts and see and test products in a spacious and relaxing setting – with measures in place to ensure social distancing requirements are met.
The show offers something for everyone, no matter what stage you are at with your project – whether you are still at the early planning stage or part way through.
The centre has experts on hand with offering a range of advice, from finding a plot and arranging your finances to deciding on the best building method for you. As well as lots of information about heating systems, green building and more.
National Self Build & Renovation Show:
When: Friday 16th – Sunday 18th October
Time: Fri & Sat: 9:00am – 5:00pm; Sun: 9:00am – 4:00pm
Where: NSBRC, Just off M4 Junction 16, Swindon, SN5 8UB
Tickets: Free in advance, £12 on the door.
CREATING A COVID SAFE EVENT
Special measures have been put in place to ensure the NSBRC and show safeguard its visitors, exhibitors and staff. It is working hard to ensure it complies with current guidelines and as such this show will be a little different from previous events.
In order to maintain social distancing, the centre is reducing the capacity of the event and requires all attendees to book in advance on this occasion. Tickets are limited to a maximum of 2 adult members per household, and children must remain with their parents at all times.
Additional measures have been implemented for the safety of all, which will be explained on the day.
On 19 and 20 September, Bicester-based self and custom build development site, Graven Hill, will be talking all things self-build at Build It Live.
The event is going virtual this year, taking place entirely online. From the comfort of your own home, you'll experience a whole weekend full of inspiration, interviews and top tips from a range of experts.
Graven Hill has a long-running partnership with hosts, Build It, having opened the Build It Education Hub in November 2019. Home to the site's Marketing Suite, the Hub is a self-build project itself, giving visitors the opportunity to learn about the various aspects of building their own home, including product choice, design, and construction methods.
These are just some of the many topics Graven Hill will be exploring during the virtual event, with attendees able to book live one-to-one chats or video calls with the team throughout. Whether you want to discuss plot availability, financial options, or just have a burning question, the Graven Hill experts will point you in the right direction to making your dream home a reality.
There will be an interview with self-builders, Zakima and Sam Omotayo, as well as Graven Hill's managing director, Karen Curtin, at 1.10pm on the Saturday. They will be speaking about why Graven Hill was right for them, their self-build process, and offering advice to prospective self-builders. This will also include a live Q&A, so attendees can ask any questions they may have to people who have experienced self-building first-hand.
Zakima and Sam, said: "Being able to share our self-building journey with an audience of like-minded people is something we're really looking forward to. Our experience at Graven Hill has been so rewarding, and if we're able to inspire others to take the plunge then that's the cherry on the cake.
"Self-building is an option that people rarely consider in the UK, but we'd love to see that change. We now live in a home that reflects our style and needs, and we are very happy."
For those unsure about whether self-building is right for them, the Graven Hill team will also be able to explain the site's custom build new homes. These take the ease of a conventional new build and combine it with the personality of a self-build. Perfect for people who want a unique home without the heavy lifting.
Eligible for Help to Buy, custom build new homes are also accessible to all, including those aiming to get a foot on the housing ladder.
Karen Curtin, managing director of Graven Hill, said: "The UK has yet to fully embrace the concept of self and custom building, and Build It Live gives us the opportunity to spread the word about its potential, as well as quash certain misconceptions. At Graven Hill, our aim is to provide an accessible route to building your dream home, something that is often dismissed due to time and cost.
"This year's event may be virtual, but we're certain it'll inspire a whole new set of budding self-builders to give creating a home that fits their every need a try."
Whether you're looking to start a self-build project of your own or are just curious about what Graven Hill has to offer, make sure to book your place at Build It Live. For exclusive offers, speak to the site's sales team during the show.
The Competition and Markets Authority (CMA) is investigating four of the UK's largest housebuilders following "troubling evidence" in the way that leaseholds were sold.
The action concerns Barratt Developments, Countryside Properties, Persimmon Homes and Taylor Wimpey, following the sale of private newbuilds as leaseholds as opposed to the traditional freeholds. Buyers allege that the leaseholds are unfair in that the grounds rents due on the homes can escalate.
The housebuilders are all happy to work with the CMA to help ascertain the facts.
Andrea Coscelli, chief executive of the CMA, said: "It is unacceptable for housing developers to mislead or take advantage of homebuyers.
"Everyone involved in selling leasehold homes should take note: if our investigation demonstrates that there has been mis-selling or unfair contract terms, these will not be tolerated."
It is believed that millions of such leasehold homes were sold across the UK. As well as annual ground rent being levied, some leases charge owners for permission to extend or make improvements to their own home.
The situation has been complicated in some instances by the leaseholds being treated as a commodity, sold on to third parties to be managed, who have then increased fees.
Housing Secretary Robert Jenrick said: "Shameful practices of the kind set out by the CMA have no place in our housing market and we are going to put an end to them.
"I want to see homeowners who have been affected by crippling ground rents swiftly obtain the justice and redress they deserve.
"Developers and freeholders must rectify the problems and ensure these disgraceful practices never happen again."
What are the implications for self build?
Most self build homes are freehold properties, where the owner also owns the land the home is built on. But with the growth in custom build, more and more serviced plots will be delivered, and these should ideally be on a freehold basis.
However, for many community-led housing models, the homes are held by a body that ensures affordability or acts as a landowner for the group, such as with the Community Land Trust model. In this instance, these homes will be leasehold, which is perfectly acceptable as the body holds the land in trust, to secure the advantages.
Community-led housing bodies have, and continue to, lobby government to ensure that they are exempt from any new rules or laws that limit the sale of houses on leases, with Community Land Trusts now exempt.
If you are planning to build as a community, find out more about the National Community Land Trust Networks campaign on leasehold reform. 
Image: by Shahid Abdullah from Pixabay
In the recently published Planning for the Future White Paper, Government sent out a radical proposal for planning in England to change. NaCSBA welcomed the potential changes, saying that the ideas should improve the outlook for custom and self build.
The reforms put forward are based around a distinct change in how we deliver planning in England, relying on a simplified idea of zoning for land, combined with design codes that will frame what can be built, where.
Growth Areas – this would be land earmarked as being "suitable for substantial development",
Renewal Areas  – land in this category would be classed as "suitable for development". This could cover a range of existing land types, such as brownfield, infill opportunities and existing built development, and
Protected Areas – this would see land, such as the countryside, having far more stringent controls covering what is, and isn't allowable.
If they go ahead, the reforms would be the biggest shake up of planning nationally since the 1940s, when the present system was created.
NaCSBA welcomes the proposals, saying that change is needed, and will result in more custom build and self build homes being built.
Planning proposals for self build
Under the proposals put forward by Planning for the Future, custom build and self build will be supported by:
Allowing local planning authorities to identify areas for self- and custom-build homes for more people to build their own homes;
Exploring how public land can support self build when it is disposed;
In addition, there would remain a commitment to the Right to Build, although NaCSBA maintains that this needs to be strengthened to make it more robust and give more people access to self build. This would build on the successes made so far.
Andrew Baddeley-Chappell, NaCSBA CEO, said: "For too long our planning system and our housing market has been stuck in a rut.
"Consumer choice is the key to more and better homes that more people aspire to live in and that communities are happier to see built. There is huge potential to be unlocked. With choice comes responsibility and the local design codes will help ensure that these cherished new homes are fitting additions to their surroundings.
The message to the public is clear, the choice that you expect with every other product is now coming to the housing market – prepare to be excited and inspired."
Planning for the Future is in a consultation stage, and is inviting people to respond to its recommendations. 
The National Custom and Self Build Association (NaCSBA) has released its final analysis of the practice around local authorities and their activity. The data follows its initial announcement of the early data, released in January, that revealed that councils were restricting people from signing the Right to Build registers with a series of "dirty tricks".
The final analysis reflects the most complete set of data NaCSBA has had access to to date, which represents a 97% response, based on responses from 317 of the 327 planning authorities in England. The overall number of authorities has decreased by 9 than 2018, due to merged authorities.
Key findings
Extrapolating this data to reflect the situation across England, NaCSBA estimates that the number of new individual entries on registers to be 11,420.
This is 5% more than the 10,878, with individual entries up by 8%, while group entries are down. This is the first year-on-year increase we have seen since the registers were launched and a welcome increase against 2018. This is especially so in light of the increasing barriers to joining registers, which are suppressing demand.
NaCSBA also estimates that the overall numbers on the registers is now at 45,655. This is up by 8,499 from the 37,156 last year but is considerably less than the 11,420 new additions.
This will be largely due to the removal of existing entries from registers – a practice that NaCSBA does not accept. The cumulative impact of these changes has been to remove over 9,000 entries from registers. Without such actions it estimates the totals on registers would be over 55,000 by now

In addition the data demonstrated that:
31% of councils now impose some restriction on joining registers, up from 26% last year.
The proportion of local connection tests (30%) and charges (15%) both continue to rise, although in both cases the rate has slowed.
It was not possible to establish actual delivery as required by the legislation, due to the mixed picture of activity. To date only 58% of Councils have indicated they have complied, 23% appear not to have complied and 19% have either not responded to our request or have not answered the question.
For the first time NaCSBA tracked Community Infrastructure Levy exemptions as a source of evidence for provision of self build homes. Again using extrapolation, this found that 6,000 homes were being built across the country could quality for CIL, were it administered by every local authority.
Andrew Baddeley-Chappell, NaCSBA CEO commented, "The wider picture that is emerging of local authority activity with regards the Right to Build suggests that the 30 October 2019 deadline appears to be driving activity by some local authorities to manage registers down rather than manage delivery up.
"However, outside the registers the picture does appear more positive, as self and custom build becomes referenced in more local plans, but there is much still to do".
NaCSBA is calling on Government to act before bad practice becomes too embedded. This is especially important because the multi-year process means that there is already a large amount of manipulated information within the system already. This needs to be addressed, or allowed to work its way through.
Right to Build Background
Right to Build legislation requires all planning authorities in England (including National Parks) to maintain a register of individuals and groups seeking to acquire land on which to build their home.
Entries onto the register are recorded in annual base periods ending 30 October each year. Local authorities have 3 years after the end of the base period to provide sufficient suitable development permissions.
The first (shortened) base period ran from 1 April 2016 to 30 October 2016 meaning the obligation must have been met by permissions granted between 31 October 2016 and 30 October 2019.
Maps for the Freedom of Information and the final report can be accessed in the Statistics area of the Library.
NaCSBA members can also access the full suite of data by emailing media@nacsba.org.uk
NaCSBA urges anyone wanting to build, including groups, to sign up to use the registers, as they remain a crucial route of evidencing demand to local authorities. 
Land promoter Leaper Land has submitted an outline planning application for a 65-plot site on the edge of the village of Child Okeford. Routes to home ownership at Child Okeford include self-build, custom-build and custom-choice, with the custom-choice built to a shell stage, at which point it is handed over to the purchaser.
Routes to ownership at Child Okeford:
Self-build individuals buy a serviced plot, with details of what is allowed to be built set out in a design code and with a palette of materials to choose from. As the design code is pre-approved for planning, permission is guaranteed as long as your build meets the conditions set out in it. Buyers can also choose to project-manage themselves or commission a developer or housebuilder to build the home.
Custom-build with this model, you buy the plot, with the design code setting the context, and contract directly with a developer to build the house. On this scheme, this route offers less of flexibility as there is a choice of designs with pre-prepared layouts and specification options that are approved by planning.
Custom-choice this option involves a developer building your home to the wind-and-watertight structure shell, at which point you take over to commission the remaining jobs. Buyers will pick from a range of interior layouts and specifications.
While the self and custom build routes offer stamp duty savings and exemption from the Community Infrastructure Levy, custom choice enables people to access regular mortgages and Help to Buy. This extends the site to a greater number of buyers.
The homes are controlled by a design code, which is quite strict as it sets the context for the development, in response to the rural nature of the site. This gives the buyers choice, such as a range of materials, shown below, but by controlling this through a design code it ensure the designs are in keeping with the village.
"Design codes are really important as they offer reassurance to both the planners and the local community that something of quality will be built. So residents can choose from a palette of materials, for example, all of which could be seen on buildings in the village, helping the scheme at Child Okeford fit in," said Ben Marten, Director of Leaper Land.
What is a land promoter?
Bringing forwards land for development is costly and time consuming, which is where a land promoter comes in. They act on behalf of the landowner, using their skills and knowledge to secure a planning application.
As such, land promoters can help unlock small parcels of land that otherwise might not come forward. This may be because these sites are too small for big developers to be concerned about, but too costly or time consuming for an unexperienced landowner to bring forward by themselves.
Therefore, they are an ideal solution if you are a farmer or other small landowner who sees potential in their site, but are not sure how to proceed. Typically, their costs are based on results, which makes them a good choice for such landowners.
If you are planning to build, sign up to your local Right to Build register – you can find out the details on the Right to Build Portal.
Once planning is granted they will be in touch with more information and expected times for plots to come to market.
If you have land that you think would be suitable for custom or self build, get in touch with Leaper Land.
Images: Pollard Thomas Edwards/Leaper Land
Part 4: A small matter of access
A quick recap: 
We had found two plots of land, adjacent to one another, one owned by the Council and the other by the Diocese of London. We'd made contact with both of these public service mission landowners, but had we come any nearer to getting a plot for our family home?
Having tracked down the Disposals and Acquisitions Manager (see Part 3) at Enfield Council, I gave him a call. I am not sure what I was expecting, but to my surprise he was an accessible man, warm, friendly and straight talking.
I explained the Right to Build and our desire to remain in the local area, which he deemed reasonable enough. I mentioned that we had identified a couple of council plots and shared my fears that we could not compete with well-resourced Property Developers but he was encouraging. In fact, he reckoned would-be owner-occupiers should be able to outbid developers who have to make profits over-and-above the costs.
However, this was simply a nice way to say that the council was obliged to get full market price on the open market!
I explained that our challenge was that we just wanted to build a family home, whereas a developer might build a lot of flats and outbid us that way! Or just sit on the land waiting for it to increase in value.
I pointed out that this was a growing trend in our area; numerous 'luxury' small apartments sold as investments or 'easy commute from Eurostar and Heathrow'. These commuters would not be building communities or committing to the area long term.
The Disposals Manager got the point and said he would look at the site. He vaguely remembered talking with the church but the site was small, he was understaffed and it was landlocked. He promised to get back to me.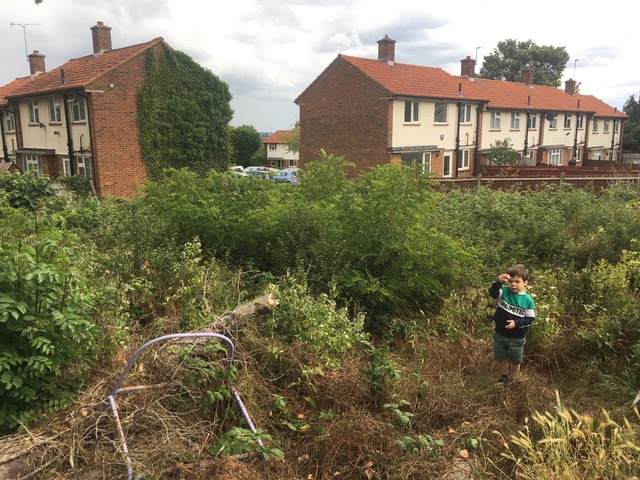 A plot with no access – or is there?
Landlocked!
This was interesting; there was a little cul-de-sac and both the church plot and council plot seemed to have access off it. However, the one catch was that it was a 'private road'.
I had not heard of such a thing or imagined it. It is a fact of life that a house needs a drive or an access to get to the front door. It may be just a strip of pavers but if one stops to reflect for a moment it is a big deal!
That connection to one unremarkable road is a connection to all roads, all houses, all shops – and in this case no development could take place without the access. How had it come about? Was all the land free and then some bits got turned into private houses and gardens? Or was it all private and some bits carved out and given to Her Majesty on our behalf?
The church plot was the unused end of a 170ft long garden. Similar garden plots of the neighbours were developed in 1990 into 3 red brick family houses and the cul-de-sac. After they sold the houses many developers would have got this road 'adopted'.
This means that it is taken into the public road network, with the developers or owners no longer responsible for the maintenance. But that had not been done in this case, meaning that both plots were landlocked.
Who owned the road? Would they refuse access? Could they demand a Queen's Ransom?
Perhaps this was our opportunity? It was too small a site for the Council to be much bothered with. But for us it was worth our while trying to unlock it, both for the Church and for the council, and perhaps creating an opportunity to use part of the site for a house for ourselves. Naive? Almost certainly, but hope springs eternal!
My husband had an idea that if the owners of the close wanted an excessive fee, then there might be an alternative solution for access through the vicarage plot – not that the church would want that but it could be a bargaining point. It was a glimmer of an idea.
I spent the next few weeks and months chasing the Disposals Manager and his assistant and looking for the owner of the close. I tried the Land Registry and Highways department but no luck. It turns out that it is far more difficult to get information from the land registry for a piece of land, like a road, that has no specific house address.
Subsequently I found that you can do a detailed map search to identify land but at the time the closest I came was to find out who the developers were of the houses on the close and get their accountant's details from Companies House. I left a message and emailed asking if I could get into contact with the Developers. The council had not fared any better finding out who owned the road.
First Right to Build Expo
It was at this time that I saw an advert for the first ever 'Right to Build Expo: Unlocking the Potential of Custom & Self Build Housing'. I immediately purchased a ticket and rather amused myself by signing as 'Director, Fennell and Sons' – true in a practical sense although it would make for interesting discussion if asked what my company did!
On the day I sat at the front and asked the first question. 'The Right to Build has given hope to families like ourselves but public bodies such as the Council or Diocese have a duty to get Best Price for their land. How can we compete with a better resourced developer for these plots?'
It was the Chair of the Conference and of National Custom and Self Build Association, Michael Holmes, who gave me the answer: 'It was not 'Best Price' that public bodies such as the Council or Diocese had to get but 'Best Value'.
This was a significant difference. Best Value was not limited to solely monetary considerations – it should take into account wider benefits to the community and longer term cost benefits beyond the initial receipt for disposal of land. The real obligation would be to deliver value in terms of the public service mission that is their reason for being.
Could we and other families prove 'best value' in our desire to build up communities and commit long term? – This was our next challenge.
Find your self and custom build register on the Right to Build Portal.
Read the other parts of the Self Build Family Build Blog.
Part One: Deciding to Self Build, the Turning Point
Part Two: Looking for Land in London
Part Three: The Land Value Idea
Photo: printed with permission of Fiona Hanson 2020©
The team behind Homebuilding & Renovating has launched a Virtual Summer Event on the 24 to 25 July, bringing you the best bits from a self build and homes show, but from the safety of your home.
Just because live events and shows are currently on hold due to the Coronavirus crisis, it doesn't mean that you have to put your project on hold. With the Homebuilding & Renovating Virtual Summer Show everything you need for your home project is just a click away.
Homebuilding and Renovating has taken the decision to transfer everything that people know and love about its Homebuilding and Renovating Shows and transfer it to the digital world.
What does a virtual event look like?
The team has worked to ensure the online event isn't just a website. Instead, the Virtual Summer Event offers you all the things you would see at a live Homebuilding & Renovating Show.
Visitors can click through and virtually browse what's available in the auditorium, then select a category of interest to be transported into the virtual exhibition hall, containing all the exhibitor stands within your chosen category.
From there you can take a look around, watch demonstration videos, download brochures, live chat and do all the things you would at a live event, but from the comfort of your own home.
One of the features our visitors love about our events are the informative seminars and masterclasses, they're always jam packed with people like you finding out information delivered by our expert panel of Builders, Architects, Planners and experienced developers.
The virtual event is no exception, you will be able to attend sessions about planning advice, kitchen and bathroom design, how to find land and much more. We will be bringing you a varied timetable across 4 theatres, where you can join as many sessions as you want, and even dip in and out over the 2 days, plus the content will be available for 4 weeks after the event.
Keep your project on track by attending the virtual event, for free, over 2 days on the 24th and 25th July.
The live show runs for two days, and the platform will stay live with videos and other content for four weeks afterwards, too.
The news that many showrooms and show houses are starting to open up is welcomed, following the closure of so offices and many businesses during the Coronavirus stay-at-home measures.
Across the country a new normal is developing of businesses and sales rooms that are opening, but with new practices to ensure that both staff and visitors stay safe.
We've brought you information about some of the first businesses to return to a new normal – but please do let us know if your business is reopening to public visits. Email us on media@nacsba.org.uk