The National Custom and Self Build Association has published a new report for professionals working in the sector, with a range of comprehensive data – make sure any developer, landowner or local authority knows about it! 
The Custom and Self Build Market Report looked at several areas, with surveys on people's aspirations about building – both those interested in the route and members of the wider public, but also examined the experiences of those that had completed a project.
This last cohort revealed that 50% of people had incorporated a sustainable heat source in their home, and over half had used Modern Methods of Construction (MMC).
In a climate that places such value on sustainability and MMC, this marks self builders out as ahead of the curve in the way we build in the UK. This sets an example of how, when given choice, people will invest in their own home above and beyond what a speculative builder would, when building a new home for an open market sale.
The report also contains industry insight on a range of topics, and an overview of the political landscape and initiatives designed to boost custom and self build activity.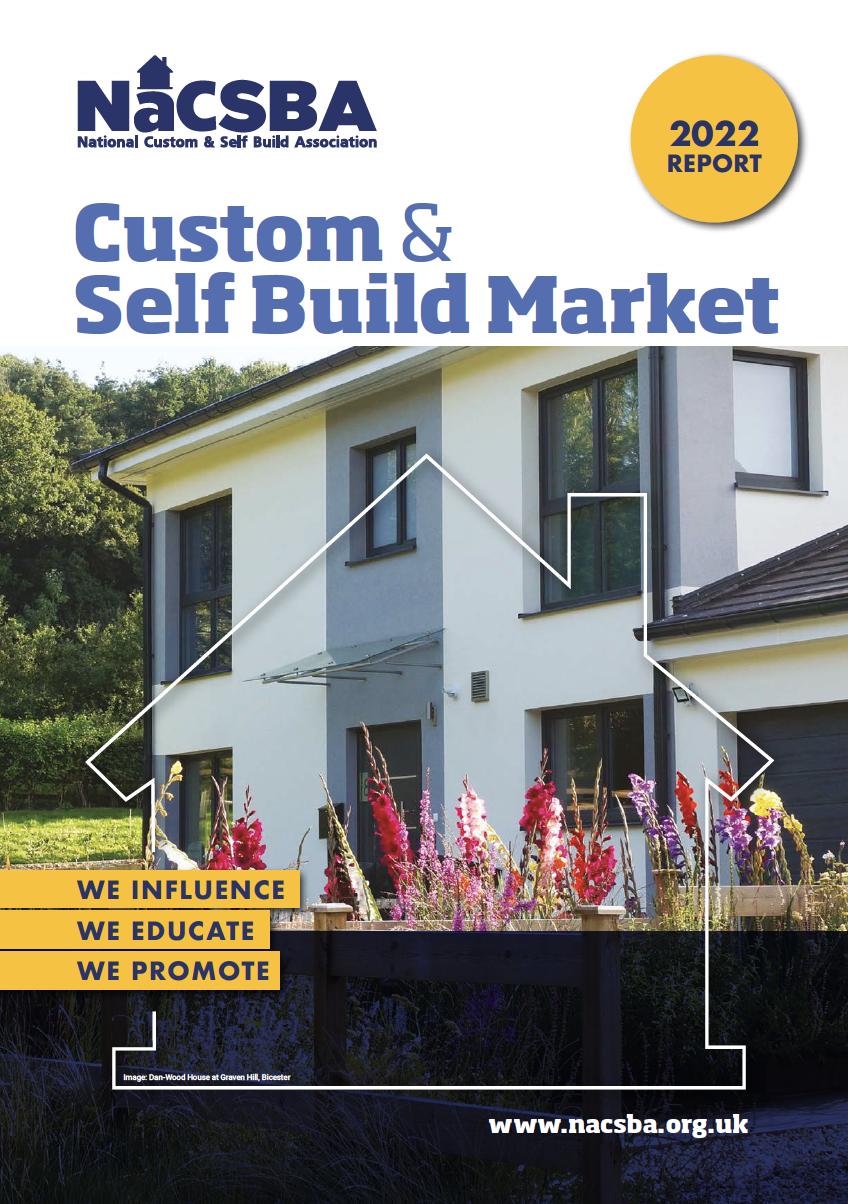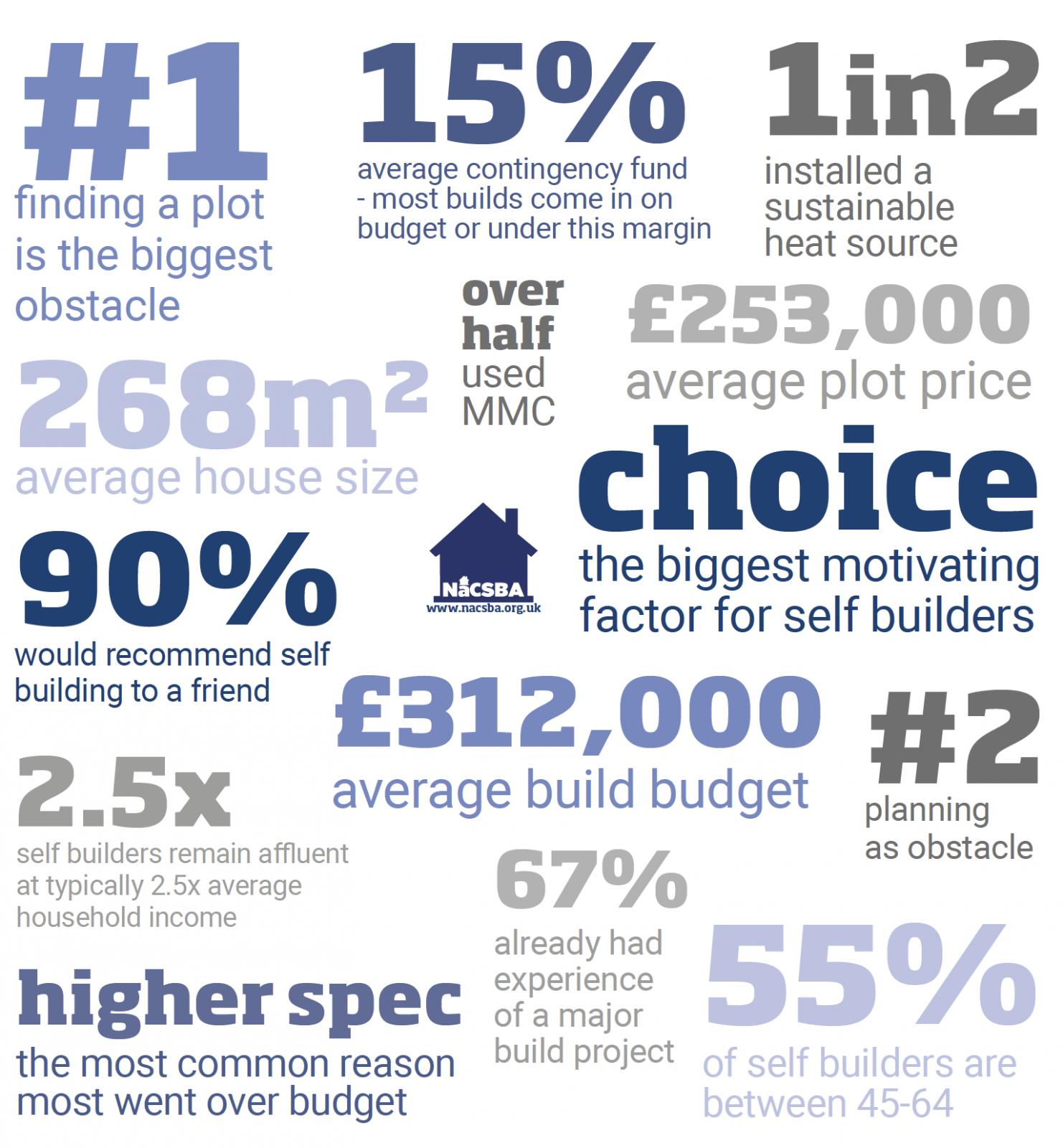 These self and custom builders are an important part of the new homes market too, as the report highlights this missing market in our new homes delivery (also identified in the Bacon Review in 2021). In fact, 94% of prospective self-builders saying they would not buy a speculatively built new home.
Perhaps unsurprisingly, the main obstacle for most self builders remained finding their plot, which has traditionally been the hardest part of self building. 
This is a pity, as despite the Right to Build legislation and the National Planning Policy Framework's requirement for Local Plans to bring forward at least 10% of their housing requirement on small sites (Par. 69), land for custom and self building remains in limited supply. This is in spite of over a third of the general public saying they would be interested in an owner-commissioned home at some point in their life. 
Despite planning reforms being on the horizon, the second most significant barrier to people building remained the planning system.
On a more positive note, over 90% of those who had built said they would recommend self building to a friend or colleague, saying it was a positive aspect of their lives.
About the report
Set out over 100 pages, the Custom and Self Build Market Report is a valuable and much needed overview on the sector that adds further insight data and analysis to support the findings of the 2021 Independent Review into Scaling up Self-build and Custom Housebuilding by Richard Bacon. It costs £295 + P&P, and is available from NaCSBA.


Andrew Baddeley-Chappell, NaCSBA CEO said: "This first ever NaCSBA annual Custom and Self Build Market Report is essential reading for all those keen to access quality insight, analysis and data on the sector and on the views and aspirations of past and current self-builders, as well as those thinking of the route. It is a stark reminder of what the new homes market could and should be about – quality, sustainability, community and value.
"NaCSBA welcomes the confirmation of past and future custom and self builders commitment to MMC and sustainability. We await the government's response to the Bacon Review's recommendations, and the upcoming opening of Help to Build to customer applications. These, together with the promised changes to improve the Right to Build legislation, make this an important time for sector."
Speaking at the House of Commons reception to launch the report, Michael Gove, Secretary of State for Levelling Up, Housing and Communities, said, "If we move all of the incentives in the right way; if you have a plan-led system that is responsive to the need to ensure that there are smaller plots, which are suitable and made available for custom and self builders; if we look at how we can support those with the initiative and the wherewithal to back Modern Methods of Construction; if we have building societies, like Ecology, that are explicitly prepared to lend to individuals, who are making sure that homes are in keeping, not just with high aesthetics, but also high environmental standards; if we create circumstances in every part of the landscape that incentivise self and custom build, then we can transform the housing market, and transform it for good."