We're following the story of Anne, mother of six boys who is building a home for her family and one for the grandparents on the same site. They used the Right to Build to help them escape the private rental sector, acting as pioneers for the legislation, which even the council was unsure about at the time.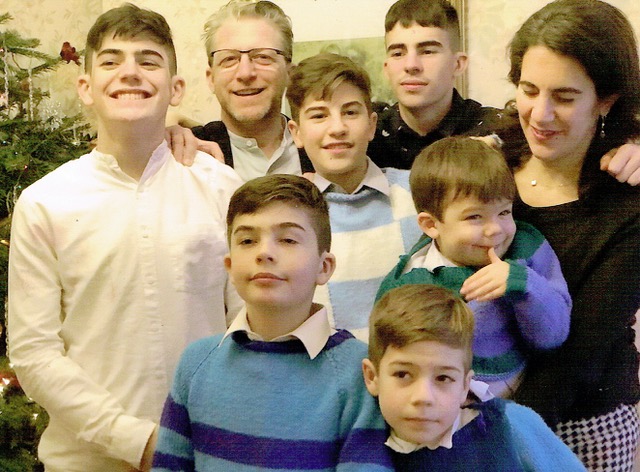 Part 3: The land value idea
Our situation had become pressing – we were due to be turned out by our landlord of 10 years, we couldn't afford to buy, and, as a family of 8, no one wanted to rent to us. So we decided to look at building our own home. In Part 2  we heard about the Right to Build, started looking for land and made contact with the Council.
So we were under way – our adventure had begun! We were stepping into the dark and I found myself enjoying the process. There was excitement in the chase, especially using a piece of legislation that neither we nor those we talked to really knew how it worked. We were making it up as we went along, and success or failure was not an issue (at least at this point), leaving us free to experiment.
Believing in the Right to Build somehow gave our aspiration life, and windows started opening. At this point we weren't even sure if we could afford to do it, after all, can you build where you can't afford to buy?
Peter (my architect husband) said there was a development rule of thumb: 1/3 for the land, 1/3 for the builder to build the house and 1/3 for the developer. We didn't really know what was in the Developer's 1/3, but knew that part of it must be wages, profit and fees, and we reckoned we could save on some of these.
But by how much remained elusive, for example, could the 33% be reduced to 13% and secure for us a house at 80% of market price? Probably not, and even 80% was beyond our budget!
We knew that most of what is referred to as 'house prices' is not about the house but about the land. So it can be argued that house price inflation in cities is actually the rise of land values over time.
Peter said that houses are like cars: they drop in value with age as they get closer to needing an MOT or the roof repaired. This is a simple and obvious truth once seen, but families miss this point, even while they feel the wrong of working hard and not being able to afford a house. Peter came across these ideas through an evening class called 'Economics With Justice'.
The course puts forward the argument that society would be more equitable if inflated land values were retained for community uses. He wondered, could there also be a fix for the affordability problem in this? What if we didn't actually have to buy the land?
Hearing about the Council's duties under Right to Build had got us thinking about Council-owned land. Surely the Council must also be interested in answers to the affordability problem?
Here was the revolutionary idea– having found a Council plot, could we persuade the Council NOT to sell it to us?
As previously explained, It had been difficult getting to meet the Enfield Development Manager in the first place, and getting a post-meeting response was not much easier.
I eventually secured one by copying in our local MP, and when it came it was a full and considered response. It included the contact for the Right to Build in the Housing Team, an acknowledgement of the Council's duty under the Right to Build Act and the information that 210 'interested parties' had signed up to Enfield's Right to Build register (at April 2017).
It was difficult trying to establish the right person to talk to about a plot, as it turns out that Housing, Property and Planning are all separate departments, something I had not realised. And naturally, they don't necessarily talk to each other!
I thus went from a contact in Planning to a Housing contact to a Property contact (none of whom had a brief on the Right to Build) until I was finally given the email of someone with the title of Property Disposal Manager. I had finally got to a contact for someone who would be able to talk to me about the plot. It had taken a while and in the meantime another possibility emerged.
Another window opens
Every so often I go to the local church toddler group, and sitting round the table with my youngest on my lap the conversation turned to our housing situation. I'd plucked up the courage to discuss our hope of building, even though I was a bit nervous about discussing looking for land in London, as it seemed so unrealistic. But to my surprise the vicar's wife said: "They are selling the land at the bottom of our garden – the Diocese have been talking about it for years".
I went home and looked up the plot, and whether it was coincidence or fate, the garden plot backed directly onto the Council plot I had already been looking at.
So there was another Development Manager to talk to – this one for the Diocese of London. I emailed and asked about the plot and got an immediate reply. His reply was gracious.
They were indeed looking to sell the plot at some point although they were also trying to acquire the Council plot and they were obliged by Charity Commission rules to get best value. We now had two plots of interest and two public service mission landowners who might be willing to not sell to us.
We had made contact with the two property departments, although we didn't want to tell them we were actually hoping not to buy; they wanted to talk to buyers!
We wanted to engage with them, and at the same time find out who might have the political mission to think about the wider issues around society and the affordability question.
Find your self and custom build register on the Right to Build Portal.
Read the other parts of the Self Build Family Build Blog.
Part One: Deciding to Self Build, the Turning Point
Part Two: Looking for Land in London
Part Three: The Land Value Idea
Part Four: A Small Matter of Access
Part Five: The Mystery of the Road Unravelled
Part Seven: Best Consideration Pursuing our Community Building Idea
Part Eight: Calling on Higher Parts
Photo: printed with permission of Fiona Hanson 2020©