We're following the story of Anne, mother of six boys who is building a home for her family and one for the grandparents on the same site. They used the Right to Build to help them escape the private rental sector, acting as pioneers for the legislation, which even the council was unsure about at the time.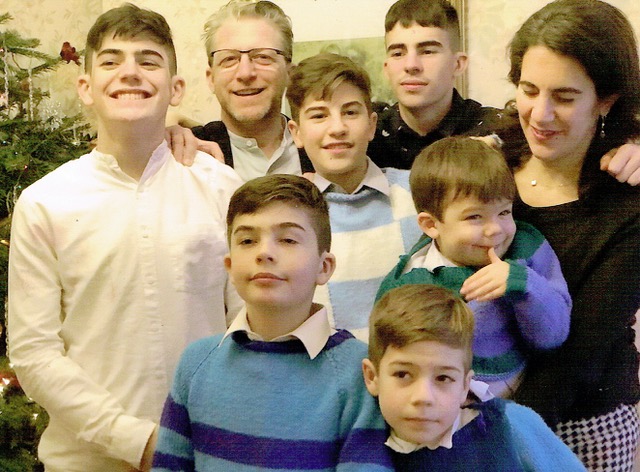 Part 7: Best consideration – pursuing our community building idea
A quick recap: 
We made an offer on the Vicarage plot, partnered with a family who were a great fit with us and had got as far as Heads of Terms with the Church. But at the last minute the Council contacted the Diocese to look at a commercial scheme marrying the two sites.
Building a home or a community?
"Pick yourself up, brush yourself off and start all over again," my old philosophy tutor used to say. I was deeply disappointed. When I rang the Diocese development manager a few days later his manner was cooler than it had been (at least I imagined so).
When I asked where we stood he confirmed the strength of our offer lay in the fact that at a future date we might work with the Council to develop their site but events had changed and the Council and Diocese were now talking about marrying the two sites themselves.
Our chance of building two homes was now slim. The conversation ended in an awkward silence. The reality was that we would not be able to compete with a better financed developer to develop both sites.
A year's work…
I put down the phone and the tears poured out! We had been so close. We had not only built up our own hopes but our friends' too. It had been almost a year since I came across the Right to Build Legislation, and eight months since we started pursuing the Council plot.
The obvious question was: 'Should we now give up?" Peter and I held the view that we should pursue something until every door and window was shut in front of us. The door had obviously and firmly been shut but there was a small window open.
Community led holds the key
About the same time I received an email from the Community Land Trust Network that our application for first stage funding had been successful (see blog 5) and I could chose an advisor to work with us for our first scoping day. They also approved my application for a bursary ticket for the National Community Led Housing Conference later that month.
We began to pick up where we had left off with our ideas of community building. If the Church and Council were looking at marrying the two sites for a larger housing development, then being both public mission landowners surely they should at least consider a community scheme for local families committed to the local area and local church?
We met with Stephen Hill, then Chair of UK Cohousing Network and Trustee of Community Land Trust Network. Stephen set out our current position and set out two or three different routes of community led housing we could look at.
At the present time we were two families looking to house ourselves with the potential to help other families along the way. As such, we did not represent a community benefit organisation.
Community Land Trusts steward land for the community, with the community having a say in the organisation, and members have a vote. There is quite a formal governance and legal structure, and those who set up the CLT do not necessarily get to live in it. Cohousing is slightly different and perhaps closer to what we were envisaging. Cohousing groups are intentional communities run by the residents. The initial group have a significant role in designing and creating the community.
Family first approach
Stephen likened our approach to a not-for profit Community Interest Company called Naked House. They were part of the Urban Community Land Trust family and, like us, were responding to the need of families who don't qualify for social housing but are unable to afford a home on the open market.
In 2015 they won a competition by New London Architecture partnering with Enfield Council to produce a scheme as one way of solving the housing crisis. Their scheme involved repurposing Enfield Council land to create 22 new units across three sites.
They would be a developer led custom build initiative providing 'naked' homes, houses stripped back to bare essentials: habitable with electricity, heating and a basic bathroom but also planning and building regulation compliant and purchasable with a high street mortgage.
Challenges of the model
We had heard of Naked House and in fact earlier in the year invited the founders over to dinner. At the time they helped us understand some of the challenges they were facing.
To make the houses affordable (apart from the 'naked' element) they were looking at a leasehold/ground rent model with Enfield Council. This was proving difficult not least because the Government were planning to ban ground rents due to abuses of the system.
They have since been enormously successful and are currently building the 22 homes in Enfield and are working with Lewisham and Croydon Councils to do something similar. They were the first community led housing group to receive funding from City Hall.
Homes will be delivered as an affordable discounted market sale product (anticipated between 25-30%) and the discount will be locked in to keep the property affordable in perpetuity for allocation to those priced out of the market. The lowest cost homes will be genuinely affordable to those on London median wage, whilst those with an income up to £90k are eligible to apply.
The regeneration team at Enfield, they told us, was headed by a pioneering and visionary leader. Perhaps we could make contact and look to do something on a smaller scale as a self build community initiative?
The benefit of having a similar narrative, Stephen said, was that decision makers feel more comfortable working with ideas that have already been given official political endorsement.
Stephen suggested we work up an outline viability appraisal for the site and our priority should be to establish with both landowners the basis on which they would engage with us directly, and still satisfy their legal requirements to obtain the 'best consideration reasonably obtainable'.
This does not mean the most money in either case. "The church as a charity can use its land to achieve its ministry objectives," Stephen said, "and the Archbishop's pronouncement [in 2017] that the church should use its land holdings to promote affordable housing, should be helpful to us."
So as the year drew to an end here lay our challenge: could we find a way of presenting to the church and council that 'best consideration reasonably obtainable' for their site was not the highest price but a local community led initiative supporting the local area and local church?
Find your self and custom build register on the Right to Build Portal.
Read the other parts of the Self Build Family Build Blog.
Part One: Deciding to Self Build, the Turning Point
Part Two: Looking for Land in London
Part Three: The Land Value Idea
Part Four: A Small Matter of Access
Part Five: The Mystery of the Road Unravelled
Part Seven: Best Consideration Pursuing our Community Building Idea
Part Eight: Calling on Higher Parts
Photo: printed with permission of Fiona Hanson 2020©