We're following the story of Anne, mother of six boys who is building a home for her family and one for the grandparents on the same site. They used the Right to Build to help them escape the private rental sector, acting as pioneers for the legislation, which even the council was unsure about at the time.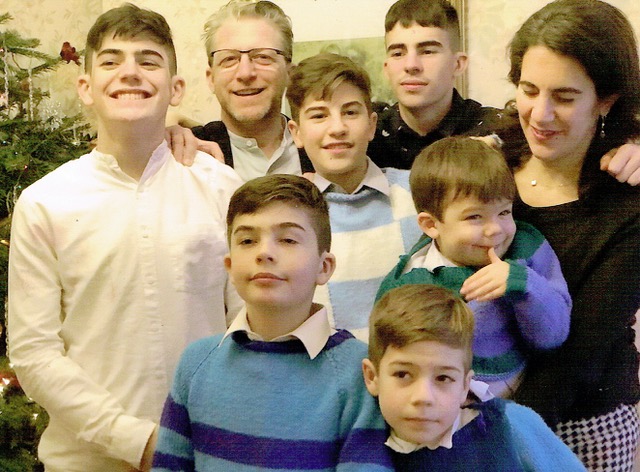 Part 10: The thorny business of government
A quick recap: 
We had secured a meeting with the Bishop to pitch the idea of a community housing scheme on the combined council and church site and developed a prospectus with an idea about what affordability might look like (blog 9).
Local policy support
The long awaited meeting seemed to hold in balance the future of the site. It turned out the Bishop of Edmonton was also a trustee of the church's Housing Justice group.
The gathering also included the Archdeacon of Hampstead (Archdeacons tend to be the person on the clerical side who make decisions about property matters), our vicar Father Edd and also the property Development Manager, who I'd not met face to face before.
Peter presented our pitch, which had at its core the idea of the church not selling the land (see Blog 8 & Blog 9). This naturally led to a debate about needs and priorities, as helping middle income families is a harder 'sell' than helping the homeless.
We argued that quite a lot of support from both state and charity sectors are targeted at those in more obvious need. But beyond this there are many ordinary families who fall outside the remit of state support and who are priced out of their own local communities by the housing market.
During the chat there was an acknowledgement of this need and the loss of local families, but the point was stressed that the Church does have programmes to help the most obviously needy.
The Almshouse model
This led Father Edd to mention Almshouses, something we knew little about but they do make an interesting example. Since Medieval times, certain philanthropic individuals who had made good in the city would endow a few cottages for 'poore widowes' of their parish.
Here in Barnet there are several examples, such as Ravenscroft and Wilbraham, and in 1931 Sir Thomas Lipton, the tea magnate, left his 60 acre estate as a hostel for retired nurses.
Originally all hospitals were almshouses, so the unification of health and social care is not a new idea! They were also a branch of the church and some had chapels to pray for the soul of the benefactor, and so got hoovered up by Henry VIII under the dissolution of the monasteries.
But many are still going strong, and there are now 2,600 almshouse charities housing 36,000 people in need. A maintenance contribution is charged well below market rent – often less than 50% – and 'poor' is now translated as 'eligible for housing benefit'. Therefore, two thirds of the residents have the rent fully- or part- funded by the state.
The case for our community
To return to our case, we argued that the challenge was to build sustainable mixed communities where families would not be driven away from their local roots by inflated house prices.
This could include professions such as teachers, nurses or artists, who may not be otherwise 'needy' but, conversely, may have a lot to give to the local community and parish.
This was a question of economic justice that the Archbishop recognised in his campaign 'Reimagining Britain' [Blog 8].
Our proposed affordability model was explored seriously. Concerns were raised over the nature of long term land leases, particularly in light of the government's intention to ban them.
This had been rumbling since 2017 and the Leasehold Reform (Ground Rent) Bill 2021-22 is at report stage now (Jan 24th 2022), which restricts ground rents to a peppercorn for newly created long lease houses and flats. However, Community Land Trusts (CLTs) are exempt.
There were other concerns. The development manager expressed caution for the scale of the task of trying to build a new legal prototype alongside a small developmental project.
The questions kept on coming: Who would manage such a project – would we take this on? (Yes) Who would live there? What would be the governance model? What happens when tenants want to move – how can they pass on the house? Does it delay them getting 'a foot on the ladder'?
This led to the issue of whether it would be more of a headache for the church than just the simple transaction of selling off the land now and using the money for mission purposes, fixing church roofs, insulating old vicarages, etc.
This was the current Diocesan policy to maximise income from property to fund mission and could be as simple as paying clergy's stipends in deprived areas.
A common reality
This was a bit of a lightbulb moment. Any piece of land or territory – from a nation down to a single dwelling – must be governed, and difficult decisions made about who gets to live there. Government and land go together and maybe land reformers overlook how thorny this can be.
Even Almshouses have that challenge. Often those in housing need have additional needs requiring specialist help. So finding eligible 'poor' may not be easy so there is the risk it descends to those who are not as poor as intended or friends of the warden. Another example is that Almshouses allowing younger people – that are typically meant to be for shorter term help – can find difficulties moving them on once they are settled.
These charities need help to 'navigate all the legislation' according to the Almshouse Association another charity set up for that purpose and itself supported by AgeUK and the Elderly Accommodation Council – more charities.
For the same sorts of reasons 50 acres of Lipton's estate were sold to fund modifications to the house to suit it for the nurses in 1935 and the remaining house and estate sold in 2015 by its trustee Friends of the Elderly. It is now a luxury private development by Yogo Group.
The discussion was sincere, intelligent and lengthy. We had not quite got our pitch 'over the line' but it was positive. There was an acknowledgement of a need to shift Diocesan policy and understand housing as primary mission material in and of itself.
In terms of the practical application for this piece of land the time was not right. There were too many unanswered questions and the land in question had already been allocated to be sold to fund mission.
The conclusion was that we were offered two possibilities:
The first was to use our own resources to acquire the combined Council & Church site at a price determined by Church Commission rules for an 'off market sale'. This would be 10% above a market valuation provided by professional valuers.
The second was that the Diocese would be willing to identify another site and engage with us to develop the principles we were proposing for potential application.
We left the meeting a little crestfallen. We had failed to persuade the church to look at an idea of affordable housing on the site and how could we finance the purchase?
However, a new dawn shed a new perspective on the offers. There was potential in both the offers and, although challenging, maybe we could rise to meet them.
We would have to speak with investors if we were to develop both sites and, although they may be more profit-motivated which might erode our affordability and community-building aims, there might be a way to preserve them in some form.
We resolved to say yes to this offer. As for the second offer we doubted our capacity to explore these issues alongside our temporal duties however it was a challenge and full of potential so we resolved to say yes to this too.
Find your self and custom build register on the Right to Build Portal.
Read the other parts of the Self Build Family Build Blog.
Part One: Deciding to Self Build, the Turning Point
Part Two: Looking for Land in London
Part Three: The Land Value Idea
Part Four: A Small Matter of Access
Part Five: The Mystery of the Road Unravelled
Part Seven: Best Consideration Pursuing our Community Building Idea
Part Eight: Calling on Higher Parts
Part Nine: The Affordability Question
Photo: printed with permission of Fiona Hanson 2020©
secured a meeting with the Bishop it seemed pragmatic to try and get support from Enfield Council so that any proposal using the combined church and council land would carry more weight.
While looking for supportive policy we stumbled across a document "Custom & Self Build in Enfield" (now removed, but see this meeting), which put forward a strategy for delivering custom and self build homes on small-scale council-owned sites. Based on a leasehold model, it reduced upfront costs for purchasers in return for long- term ground rental income for the council.
It seemed perfect – the ideas were very much in tune with parts of what we had been proposing (See Part Three: The Land Value Idea) but much more developed in terms of implementation. The report hoped its pioneering lead might encourage other public landowners to follow.
The report was by the Regeneration department at Enfield Council and its leader was Peter George, who in the words of 'Naked House' (Blog 7) was a forward thinking man, looking at innovative ways to solve the housing crisis. The Naked House idea put forward a plan as an alternative custom building service provider trying genuinely to provide affordable homes on a not-for-profit basis.
We thought we could position ourselves as the 'self build' service provider with a similar offering. Unfortunately getting to meet or even speak to Mr George was a challenge that even my persistent efforts failed to achieve. I was passed from one department to another until I ended up back to square one at the door of the property disposals manager!
Universal challenges
We reconnected with Naked House and found we both had two major challenges:
The government was trying to ban 'ground rents' on the basis that some have been misused. Some larger developers had sold leasehold houses with clauses enabling ground rents to double every 10 years so making the homes expensive and unsaleable. Community Land Trust groups were campaigning to include exemptions for community groups but these clauses needed careful working out. (In the end they were successful and CLTs are exempt from such charges.)
The issue of how to make the model affordable, as buying land is a significant upfront cost. For a family buying, using the ground rent model they get a house at say 1/3rd below market price (1/3 being value of land). You could call it a 'shared equity' model as they own the house and have a mortgage for that but pay rent for the land – or like owning a flat.
Creating our prospectus for affordability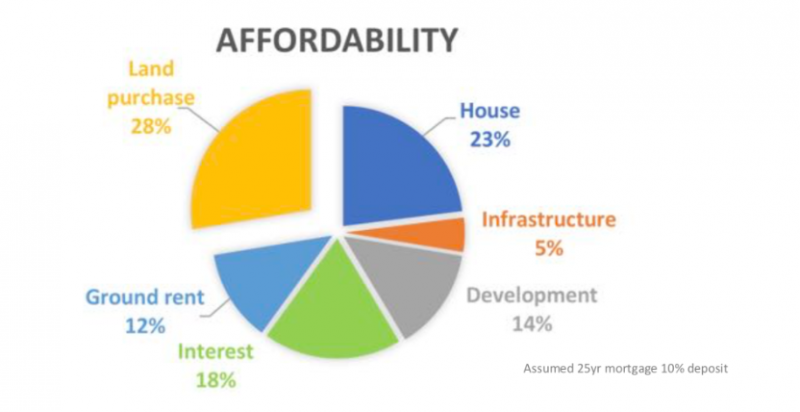 We based our workings on the following:
For a house price of £450k (average for Enfield, although many houses are more than this), excluding say 1/3 for the land value, an average family could get a mortgage 5 x their joint incomes.
This could equate to around £300k and, assuming they could find 10% deposit, a mortgage at 3.5% apr would cost around £1,300/month, based on a 25 year product.
The land value would be converted to a ground rent which they intended would be an annual charge calculated as 5% of the land value (if, for example, this was £150k).
Worked out in this way, the land proposition would be a good deal for the local Treasury, as it promised to recover the sale value of the land in a roughly 20 year period, and then would continue to deliver non-tax revenue to the local authority for the long term.
However, it is no longer affordable for the families if, on top of the mortgage, they have to pay 5% of £150k = £7,500 per year (or £625 month). We felt that this additional cost meant that 5% was clearly too high.
There is a similar scheme in Canberra, Australia, which was founded on Garden City principles. There the government land rent scheme was 4% with a discounted rate of 2% for families on low to middle incomes. The Government land rent is calculated on the unimproved value of land and lessees are required to construct a house on the land within two years of the lease being granted. So 2% is probably the level that Naked House would need and they subsequently were looking at that sort of level in the interest of affordability.
We hoped we could deliver affordable housing at 75% market price. 80% market price was the magic number picked by the Coalition government as a definition of 'affordable housing', although this still unaffordable to many families.
This would be achieved in three ways:
The church would keep the land and charge a ground rent;
The scheme would be a mixed community with higher income families paying closer to market price, while an element of bursary could be available for those on lower incomes, on a needs basis;
As a community scheme some sales risk, finance cost and developer profits could be reduced to deliver a further affordability factor – perhaps 10%.
Our prospectus was coming together! We were ready to offer the church a 'fresh revolution in housing', just as the Archbishop of Canterbury had called for, one that was values led and offered a vision of better affordability.
Find your self and custom build register on the Right to Build Portal.
Read the other parts of the Self Build Family Build Blog.
Part One: Deciding to Self Build, the Turning Point
Part Two: Looking for Land in London
Part Three: The Land Value Idea
Part Four: A Small Matter of Access
Part Five: The Mystery of the Road Unravelled
Part Seven: Best Consideration Pursuing our Community Building Idea
Part Eight: Calling on Higher Parts
Photo: printed with permission of Fiona Hanson 2020©