The Structural Timber Association has awarded Cullinan Studio the Custom and Self-Build Project of the Year category for its Push-Pull House in its Structural Timber Awards.
Run annually, Structural Timber Awards is a professional event that celebrates the best in timber frame technology, that includes a self-build category in acknowledgement of the sheer number of owner-commissioned homes that use timber frame as their construction method.
Timber frame is experiencing a boom as more and more organisation start to appreciate the benefits of offsite construction – where the entire building is precision made in a factory, ensuring efficiencies in time, quality and energy.
Push-Pull House
Cullinan Studio's Push-Pull House is on a large plot in Amersham, in an area where the Arts and Crafts style dominates. The house is a playfully creative solution to the family's brief to create a light-filled new-build, built using Cross Laminated Timber (CLT).
CLT uses layers of glued timber to create a strong and stable timber product, with the frame exposed throughout the interior. One of the advantages of CLT is that it is easily able to create long-spans, and the large house uses this to the maximum effect, creating uninterrupted roof spans and double-height walls that bring natural light deep inside the house, maximised by high clerestory windows. The exterior is clad in dark stained accoya boards that are fixed over a locally-sourced brick.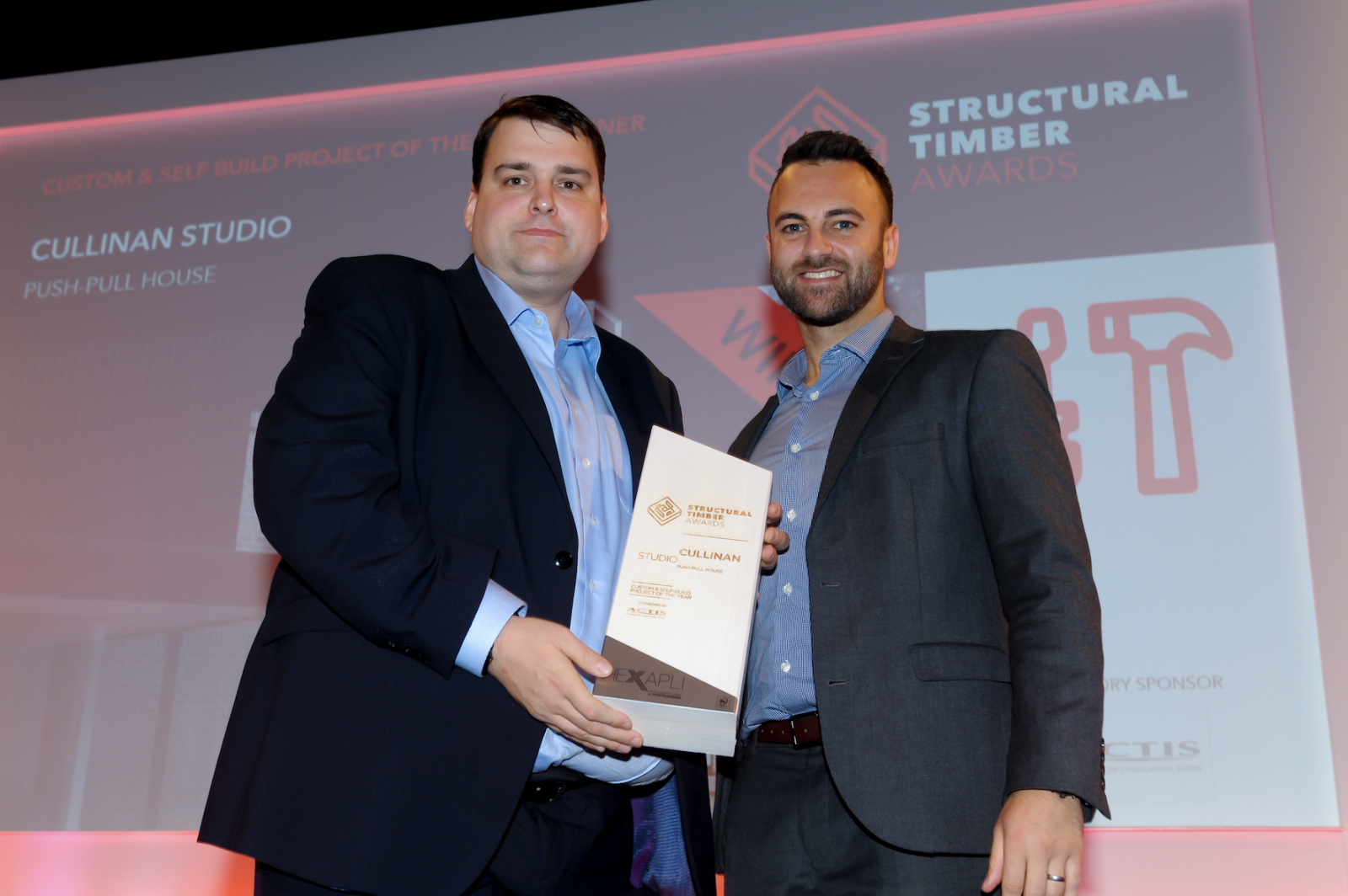 Judges' comments included:
"Form and function clearly do not need to compromise design."
"The choice of CLT delivers on not only sustainability but critically it works aesthetically."
"A great design and end product."
"This is a complex, three-dimensional design solution that manages to appear simple, elegant and appropriate to its location.
The head of the judging panel and Chief Executive of the Structural Timber Association, Andrew Carpenter said of the night: "The depth of expertise across all categories was impressive and the exceptional number of entries clearly demonstrates the upturn in the industry."
Structural Timber Association and Self Build support
For anyone considering a timber frame home, the Structural Timber Association has a self build section on its website offering advice, with links to finding members that operate in the realm of Custom and Self Build.