NaCSBA congratulates the National Self Build & Renovation Centre (NSBRC) on 15 years of supporting aspiring self builders as they plan and carry out their project. As the UK's only permanent visitor centre for self-builders, renovators, and home improvers it has numerous awards and much praise for its crucial role in the sector.
No planning for a self build is complete without a visit to the centre in Swindon, where its permanent stands and exhibits support people getting to grips with the process, where they can experience materials and processes, chat to suppliers or get tailored advice. In addition the NSBRC also runs a calendar of self build shows, training and external events that make repeat visits well worth the effort.
Launched by BuildStore, for the last six years the centre has been run as an employee-owned business, 'The Homebuilding Centre Limited', ensuring that staff are invested in the services they provide.
Over the years the centre has won several awards, not least in 2017 it won a Build It Award for 'Outstanding Contribution to Self Build', as well as several for its employee-ownership model.
To celebrate its fifteenth anniversary the team hosted a special birthday dinner in April to thank the local and national self build community and stakeholders for their support over the years.
Harvey, said, "2022 is a special year and a real achievement for NSBRC, and we've got lots of exciting plans for the future. We're hosting more events, workshops and courses than ever before to help people build better homes, including a late opening (until 9am) on select Thursdays over the coming months to give people the chance to discover self build at a time that's more convenient to them.
Late nights at the NSBRC run on 28th April, Thursday 26th May and Tuesday 28th June – visit the website for the full calendar of events.
Find out more about NSBRC's employee owned model
Stellco Homes has announced a new site in Cambridge, with a choice of five detached plots for custom builders in the village of Haslingfield.
Having operated as a housebuilder for over 20 years, Stellco Homes has diversified into custom build, with customers buying a plot at Haslingfield able to design their own home prior to Stellco obtaining planning permission.
Once achieved, Stellco will then go on to build your home for you – to your specification, removing much of the stress from the process.
The five plots come with preliminary designs (one shown above) that make the most of each plot's size and orientation. Customers then discuss options with Stellco, configuring internal layouts, external features and fixtures and fittings. Initial designs for the homes run from around 1,957 to 2,850 sq ft. To find out more email Stellco or call 07976 210 875.
Angelo Baccarella of Stellco Homes said, "Most people don't understand the difference between self-build and custom build and are not aware that they can have all the benefits of self-build and more by opting for custom build. I believe we are amongst the few companies offering this service for people who aspire to build their own home but lack the time and skill to do so and find a suitable plot."
This is a NaCSBA Member update
With many homes completed or underway, Graven Hill has released the latest nine plots for self builders at Bicester based self and custom build development. More plots will be released as the year progresses.
As well as offering a route to market for anyone wishing to build but struggling to find plots, Graven Hill is firmly establishing itself as a vibrant community of like-minded residents from first-time buyers to retirees.
Interest in the new plots is high, with prices ranging from £235,000 to £265,000, with the largest able to cater for a 6-bedroom home. They are in a character area of the site called 'Circular Railway', which incorporates features of the existing historic railway and next to green spaces.
As with most custom and self builds at Graven Hill, each plot comes with its own unique 'Plot Passport' that sets out the parameters for what can be built on that plot. This includes, for example, the maximum number of bedrooms and gross internal areas and also the choice of pre-approved building materials.
Financial support in the form of the Government's new Help to Build scheme is also available on these plots, allowing buyers to benefit from a 5% deposit, alongside a Government-backed equity loan.
Custom build options
A range of new custom build homes are also due to be launched soon, for those wanting personalisation, without having to don a hard hat.
With these homes, the earlier in the build process the homes are purchased, the more customisation options the buyers will have, including layout, fixtures and fittings. Those purchasing custom builds will also be able to take advantage of the Help to Build scheme.
Gemma Davis, customer experience director at Graven Hill said: "The UK housing market is undergoing huge change and we've seen a dramatic spike in interest in self-building. Unfortunately, in the past, plot availability, finances and planning permission have all acted as barriers, with only a small minority able to overcome them. However, we're changing this with the housing options we provide at Graven Hill.
"Our self-build plots have always been popular, getting snapped up quickly, and that doesn't look to be changing any time soon. Self-building results in a truly diverse community, which celebrates the uniqueness of its residents. This is in stark contrast to the cookie-cutter homes that have come to be associated with new build developments. The people who purchase our new plots will be adding their personality to Graven Hill, and we can't wait to see the result."
Roads and services have gone in in the innovative 12 home custom build Pound Lane site in Laindon, Essex, with plots available to buy now.
Located near to Basildon, the site is in a wooded setting, with links to Fenchurch St Station in London taking just 35 minutes, making it a fantastic choice for commuters. The homes come with private gardens and a communal garden, with an optional on-plot garage.
Buyers can choose the layout, size and fit out of their home, working to one of the three pre-designed home types, as specified in the planning permission. Each design is linked to one of the plots in the planning permission (see colour coding on plan below), so buying early ensures you have the widest choice of optoins. There are two house sizes on offer, and prices start from £445,000.
For example, Plot 6 with its S6 House design costs £235,000 for the 5,931 sqft plot, and the build price should be between £210,000 to £350,000 depending on your route and specification.
Buyers can choose two routes to ownership –
A la Carte Design – with this route you work with a Customer Coach to go through a series of choices based on a palette of materials and layouts, which are already costed out to make the process transparent when working with budgets.
DIY Design – this gives you far more freedom when it comes to designing the layout and specification, with only the position of the stairwells and utility risers being fixed. Buyers buy the weather-proof shell and can then take the house through to completion. The Customer Coach is available to support people through this process.
The project is unusual in that it is a collaboration between a team of companies, including architects, AOC, Mae and Pitman Tozer and custom build enabler Unboxed Homes and Dutch developer Steenvlinder.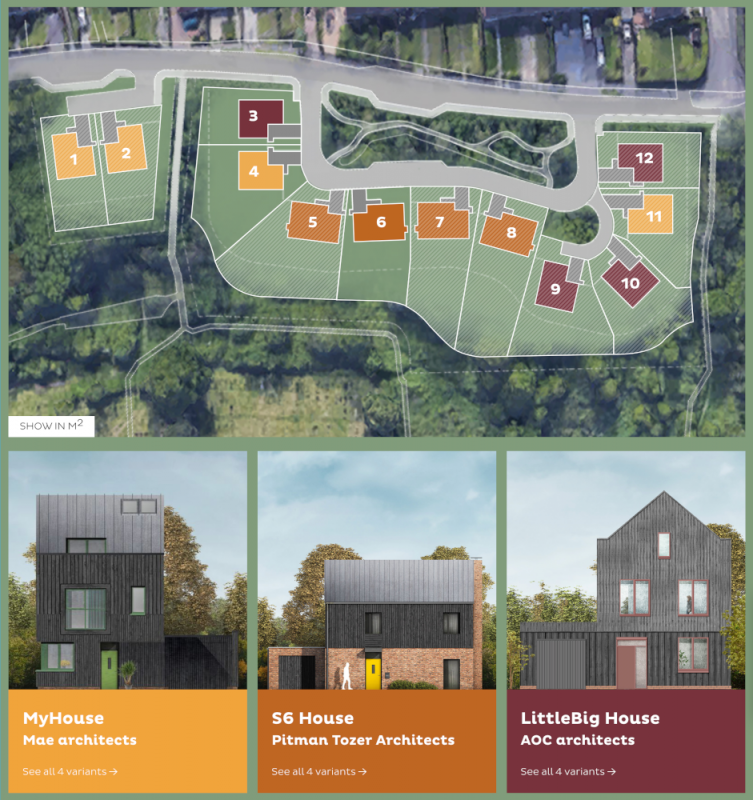 Unboxed Homes has recently completed a terrace of custom build homes in Peckham, London, Blenheim Grove, and is working on a group custom build scheme in London.
In a reflection of the buoyant market for custom and self build, Netherlands-based Steenvlinder has announced a major investment in the UK with three new sites. If they all go ahead, this could bring 150 plot opportunities to the market, centred around Ashford, Birmingham and Basildon.
NaCSBA member Steenvlinder is working with a range of partners to bring on the sites, including Czero and Unboxed Homes, and is in the process of recruiting for more staff for its UK operations.
Steenvlinder was set up by Hans Sparreboom and Marnix Norder in 2015 to create owner-commissioned custom build homes in the Netherlands, and it has delivered 2,000 homes since then, with more in the pipeline.
Netherlands has been a pioneer for initiatives to scale up the provision of self and custom build homes, which Richard Bacon MP saying in his review that, "Despite its size, the Netherlands has led the way in innovation in the housing sector, with the new town of Almere being an international model of what can be achieved at scale."
Currently, Steenvlinder's site at Pound Lane in Basildon – a collaboration with several architects – has 12 plots, available for purchase. The sites in Ashford is going through planning, with 105 plots potentially coming to the market, with the Birmingham site having scope for 30-50 plots – although the location has not yet been announced.
Why is the timing right for self build?
Owner commissioned homes are firmly on the government's agenda, with the publication earlier this year of the Custom and Self Build Action Plan and Richard Bacon's independent review to develop a plan for scaling up the sector, making it the perfect time for new and European companies to make the most of the positive environment.
Hans Sparreboom, Steenvlinder CEO, said: "With the English government supportive of the CSB methodology we need to spend less time asking how to build more houses and more about making 'how to make houses' more popular. We're excited about helping the UK build back better with homes designed and built to last."
The Rt Hon Christopher Pincher MP, Minister of State for the Department for Levelling-Up, Housing and Communities (DLUHC), said: "It is encouraging to see further investment in the customer and self-build market in the UK. It has the potential to deliver thousands more homes each year as we bring forward the recommendations in the Bacon Review to scale-up the sector and introduce the Help to Build scheme which will make home building a realistic and affordable option to many more people."
NaCSBA continues to work and support government as it considers the recommendations put forwards in the review.