Package home design and build firm Baufritz has been awarded a local Cambridgeshire business award in the category of Architectural Design Company of the Year 2020, for its Treehouse home.
For anyone looking for a company to design and build their self build home, industry awards are a great way of establishing the reputation of a company and its work, in the same way as viewing their gallery of case studies. Both offer an insight into the quality and reliability of the company.
Choosing the manufacturer and/or builder of your future project is one of the biggest decisions that you will make on a self build, with the biggest price tag. So getting it right is crucial, and awards can be a good piece of additional evidence.
Don't be afraid of asking a package manufacturer if you can visit one of their built homes, or even whether they have show houses or open houses available to visit. For example, buyers of a Baufritz can, by appointment, visit its factory in Germany, to support them with the process of choosing design elements (but buyers must either have a plan or plot first). They can even choose to stay in one of Baufritz's houses as means of trying the home, with a range of homes across the county to rent/experience.
Oliver Rehm, CEO of Baufritz in Cambridge said: "We are delighted to have won this local business award, which recognises our involvement and commitment towards the community since the arrival of Baufritz in the UK in 2006. It also proves that our approach to create prefabricated and sustainable eco houses of the highest quality are as sought after in the UK as they are in the rest of Europe."
The Cambridgeshire Prestige Awards recognise businesses located in the East of England that provide a personal approach towards their customers to maintain a high quality level of service and experience. The judging panel based their decisions upon areas such as service excellence, quality of the product/ service provided, innovative practices, value, ethical or sustainable methods of working, as well as consistency in performance.
"Baufritz built our extraordinary eco family house in Central Cambridge five years ago. Every single day we express our disbelief and grateful thanks that we live in this gorgeous space. It truly is a modern house with soul." Owner of Treehouse Cambridge
The Treehouse will be featured as part of Cambridge's Open Eco Homes event – online this year due to Covid.
Check out the timelapse video of the Cambridge Treehouse being built on site
For the first time, the company behind the successful Homebuilding & Renovating magazine and shows ran industry awards for businesses, celebrating the providers and service companies in the sector.
The Homebuilding & Renovating Industry Awards 2020 received 100s of entries, with the shortlist including a range of innovative products, reputable companies and people that set the benchmark for self build.
Anyone self building should consider the winners when researching their own project, as a short cut to a trustworthy supplier. And the National Custom and Self Build Association is thrilled that several of its members made the winning list, including Self Build Zone, Beco Products, Kloeber and Fleming Homes.
The full list of winners includes:
Lifetime Achievement: John Greene, Founder, Border Oak
Best Self-Build Insurance Provider: Self-Build Zone
Best Door Supplier: Kloeber
Best Joinery Supplier/Manufacturer: Carbon by Design
Best Renewables Supplier: Geo Green Power
Best Flooring Supplier: Karndean Designflooring
Best Heating & Plumbing Supplier: Stovax
Best Roofing Supplier: SIG Roofing
Best House Designer: PJT Design Ltd
Best ICF Supplier: Beco Products Ltd
Best Insulation Supplier: Core Conservation Ltd
Best Kitchen Supplier: deVOL Kitchens
Best Landscaping Supplier: Studio 31 Landscape Architects
Best Loft Conversion: Econoloft
Best Oak Frame Supplier: Border Oak
Best Rainwater Goods Supplier: Rainwater Harvesting
Best Render & Cladding Supplier: K Rend
Best Brick Supplier: Ibstock Brick
Best Rooflight Supplier: Korniche Aluminium Systems / Made for Trade
Best Self Build Lender: Saffron Building Society
Best SIPs Supplier: Sips Eco Panels
Best Timber Frame Supplier: Fleming Homes
Best Ventilation Supplier: Total Air Quality Ltd
Best Bathroom Supplier: Easy Bathrooms
Best Window Supplier: Kloeber
Special congratulations go to Kloeber, which was the winner of two awards!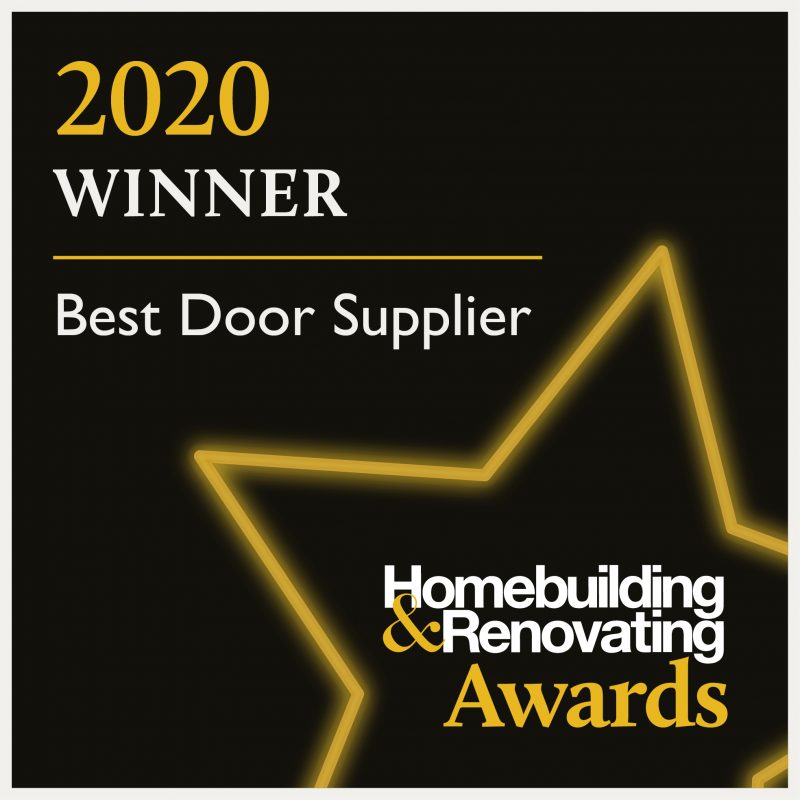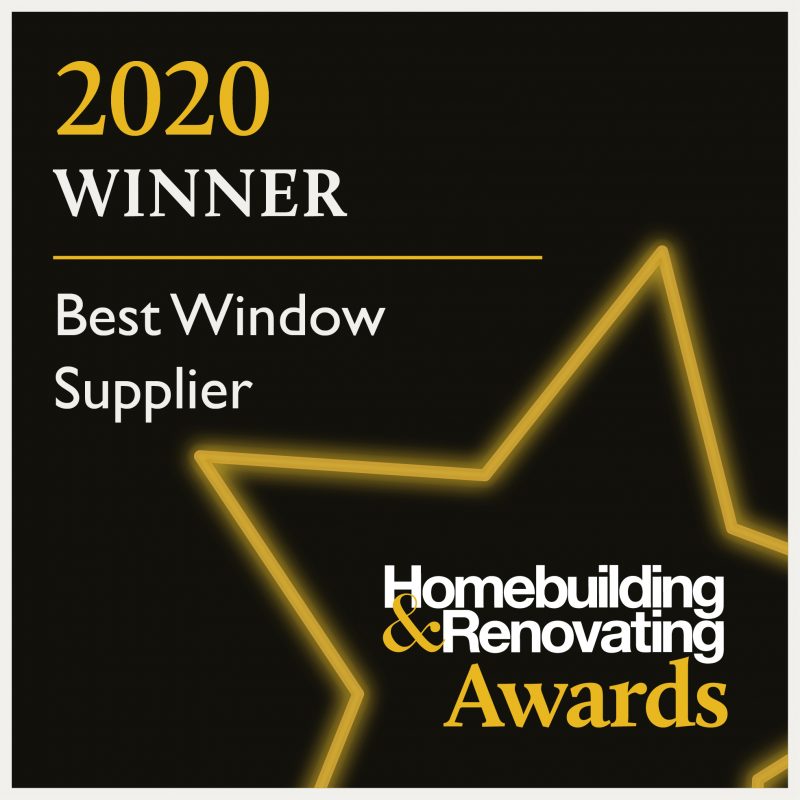 Matt Higgs, Kloeber's Sales Director commented, "We are proud of our market-leading products and services and are delighted with our double win! We were very happy to have been shortlisted along with some amazing companies and are honoured to have won in both categories! "
You can check out Kloeber's winning products in the flesh at one of its four showrooms: Cambridgeshire, Buckinghamshire, West London and West Sussex. All with strict safety protocols in place for visits!
Main pic: Kloeber FunkyFront Door
The Daily Telegraph Homebuilding & Renovating Awards 2020 are now open to applications from all self builds, renovations, conversions or extensions. The awards celebrate some of the best homes of the last year, both designs and the spirit and ambition of the homeowners – a positive message in the current climate of bad news.
So if you're self isolating in your new home, why not take the time to enter the awards and showcase all your hard work! There are 10 categories to consider, with one of the winners being chosen as the Home of the Year, as shown on TV, with the homeowner grabbing a prize of £1,000 of John Lewis vouchers.
Best Contemporary-Style Self Build — sponsored by Potton
Best Traditional-Style Self Build
Best Extension — sponsored by IDSystems
Best Renovation
Best Conversion
Best Sustainable Home — sponsored by Icynene
Best Value Home 
Spirit of Self Build — sponsored by Sips Eco
Readers' Choice Award — sponsored by Selfbuild & Contract Floors
Best Interior
Plus Home of the Future — sponsored by ecoHaus
Find out more and what you need to do to enter, including the application form on Homebuilding & Renovating's website.
Credit: Homebuilding & Renovating/Simon Maxwell
The Build It Awards 2019 once again hosted a gala evening to celebrate the best of custom and self build.
The best new homes of 2019 have been awarded in the Home of the Year awards by Homebuilding and Renovating and the Daily Telegraph, including Self Builds, extensions, conversions and renovations.
The awards have been running for nearly thirty years now, meaning that the judges have a good idea of what's needed to elevate the entries into the winning criteria.
The overall winner of the Home of the Year & Best Contemporary Self Build went to  Bunch Lane House, which had a build cost of £425,000 by Architect Vint & Smith Architecture + Design, pictured.
The judges felt that the house was a great design crafted for a great value of £1,500/m2, created by owner and architect Tavia and Richard Vint through the clever use of cost effective materials.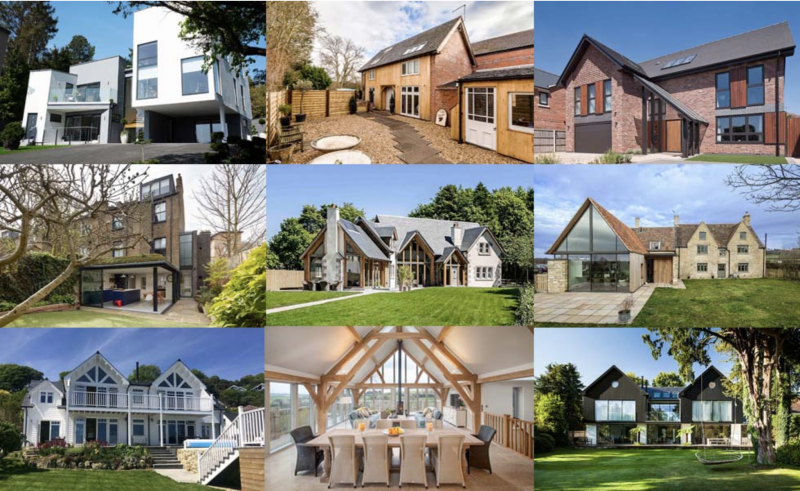 Best Contemporary-Style Self Build — sponsored by Folding Doors 2 U
Best Traditional-Style Self Build — sponsored by Rationel Windows & Doors
Best Extension — sponsored by ABC+ Warranty
Best Renovation — sponsored by Yeoman Rainguard
Best Conversion — sponsored by Etex (Exteriors) UK, providers of Eternit Slates
Best Eco Home — sponsored by Ecology Building Society
Home of the Year — sponsored by Icynene
Spirit of Self Build — sponsored by Hörmann
Readers' Choice Award — sponsored by Selfbuild & Contract Floors
Check out all the winners on Homebuilding & Renovating's website. 
Credit: Homebuilding & Renovating/Simon Maxwell
House Lessans in Northern Ireland's County Down beat a host of homes to be awarded House of the Year by the Royal Institute of British Architects (RIBA), announced in a special four-episode programme of Channel 4's Grand Designs.
The home, an unassuming yet elegant barn-style house, was built for a very realistic budget of £335,000 on the family's farm in the rolling Co Down landscape. Scooping the prize demonstrates that quality and design are achievable on a modest budget – good news for any would-be Self Builder, as presenter Kevin McCloud commented that it was built at half the cost of an average but quality Self Build.
The home was in the Down to Earth category of the show, and was designed by Kieran McGonigle of architectural practice McGonigle McGrath. Its L-shaped design utilises a limited colour palette and affordable budget materials, such as concrete bricks, to create a show-stopping house, that offers a new way to build in the countryside.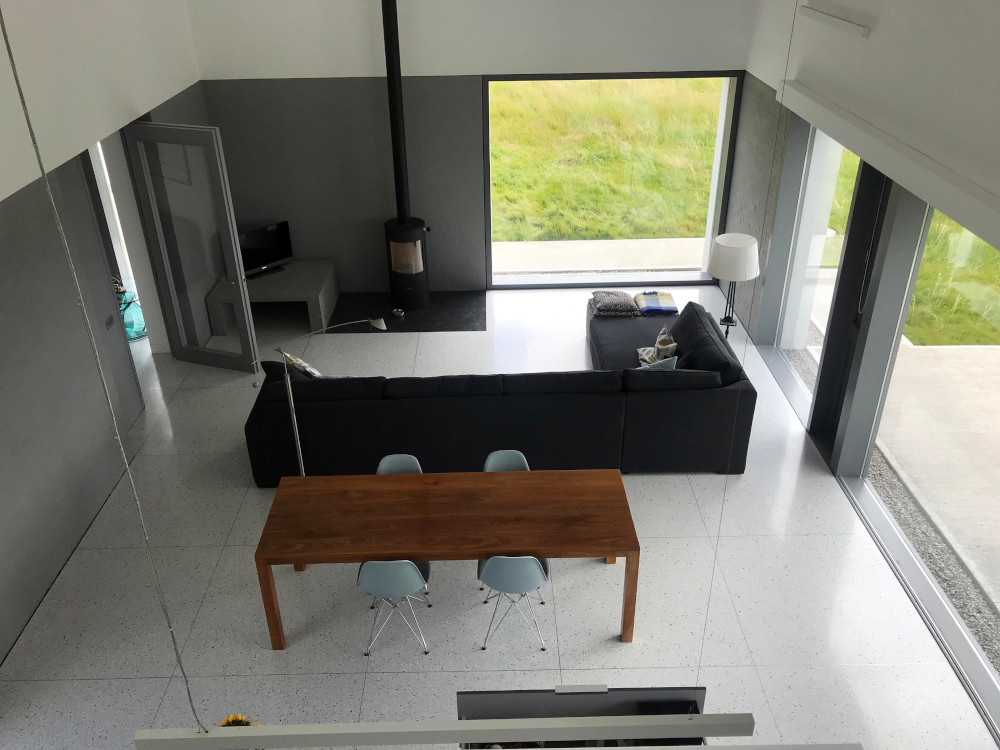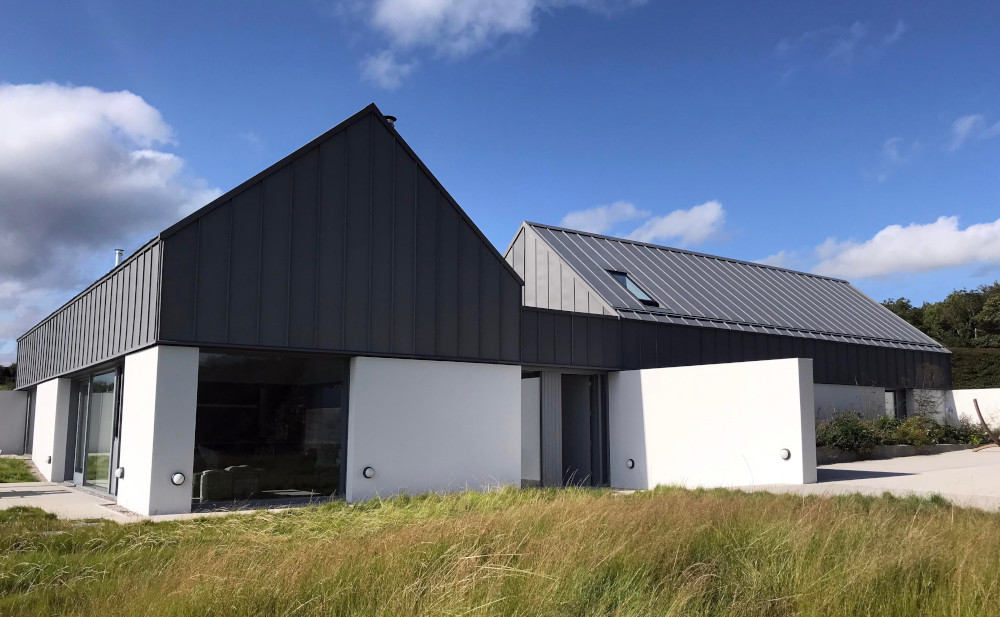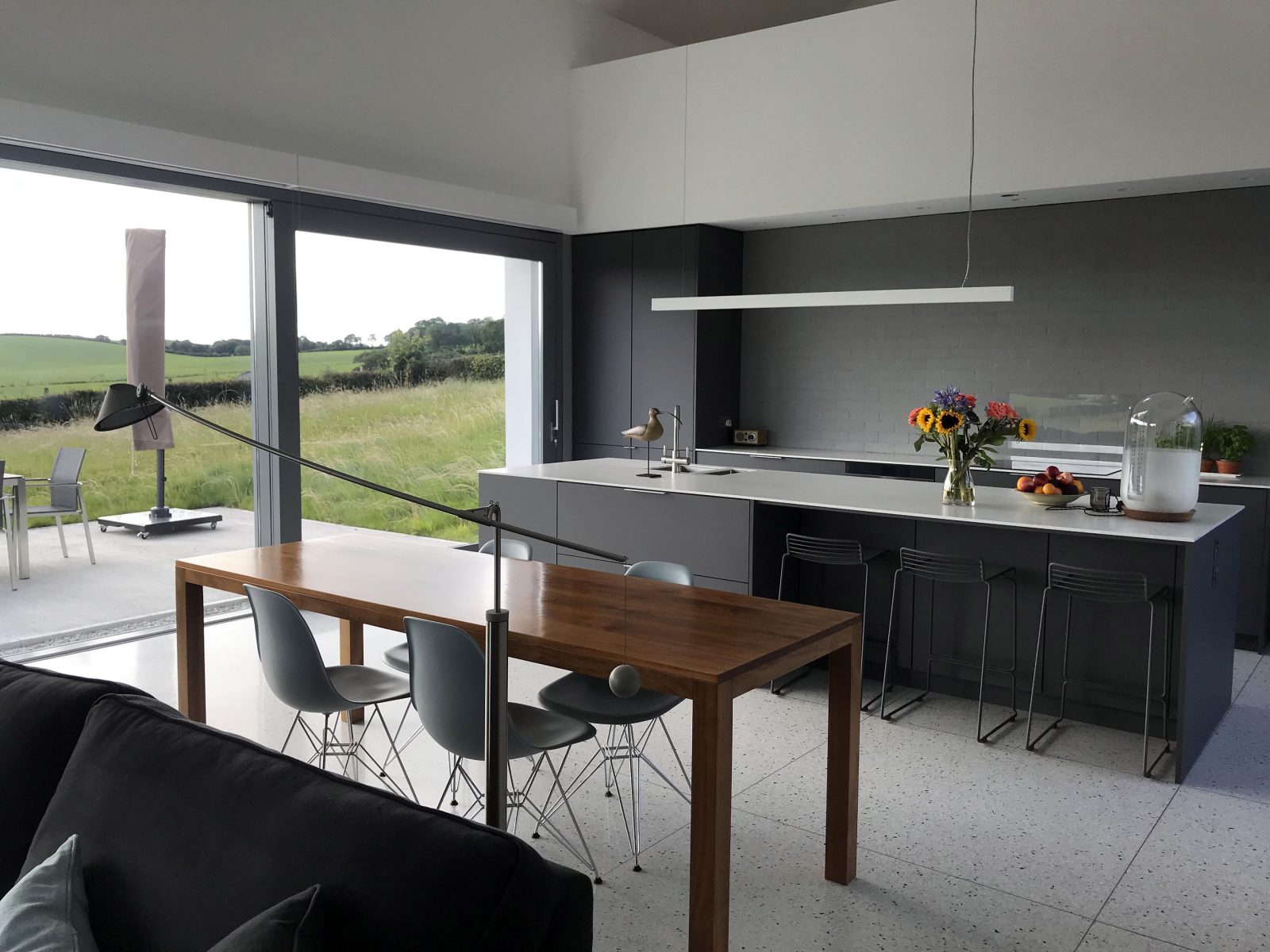 The owners of the property, Sylvia and Michael, wanted to create a paired-down home large enough for visiting grown children to stay in on the remains of the existing small farmstead. The concrete blockwork and and zinc roofs help the building bed into its rural landscape, with the L-shape creating an intimate courtyard space, and double-height ceilings bringing airiness to the design.
RIBA President, Alan Jones, said: "House Lessans demonstrates that life enhancing architecture does not have to cost the earth. Executed with incredible clarity and restraint, McGonigle McGrath have used simple and cheap materials to create a truly bespoke home that resonates with its owners and its context. Even with the tightest of budgets, House Lessans shows that a dream home, designed by a talented architect, can be a reality."
The Structural Timber Association has awarded Cullinan Studio the Custom and Self-Build Project of the Year category for its Push-Pull House in its Structural Timber Awards.
Run annually, Structural Timber Awards is a professional event that celebrates the best in timber frame technology, that includes a self-build category in acknowledgement of the sheer number of owner-commissioned homes that use timber frame as their construction method.
Timber frame is experiencing a boom as more and more organisation start to appreciate the benefits of offsite construction – where the entire building is precision made in a factory, ensuring efficiencies in time, quality and energy.
Push-Pull House
Cullinan Studio's Push-Pull House is on a large plot in Amersham, in an area where the Arts and Crafts style dominates. The house is a playfully creative solution to the family's brief to create a light-filled new-build, built using Cross Laminated Timber (CLT).
CLT uses layers of glued timber to create a strong and stable timber product, with the frame exposed throughout the interior. One of the advantages of CLT is that it is easily able to create long-spans, and the large house uses this to the maximum effect, creating uninterrupted roof spans and double-height walls that bring natural light deep inside the house, maximised by high clerestory windows. The exterior is clad in dark stained accoya boards that are fixed over a locally-sourced brick.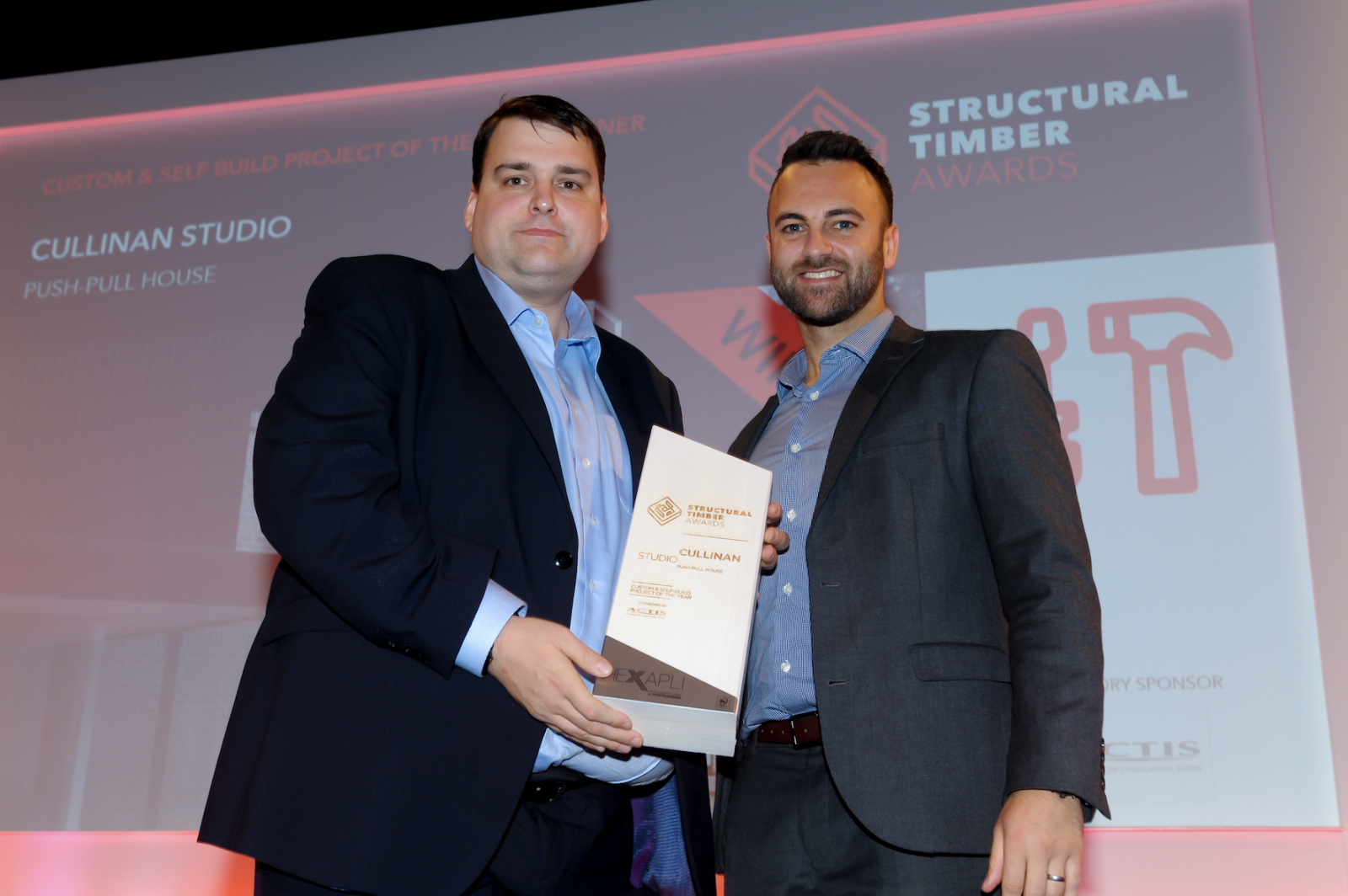 Judges' comments included:
"Form and function clearly do not need to compromise design."
"The choice of CLT delivers on not only sustainability but critically it works aesthetically."
"A great design and end product."
"This is a complex, three-dimensional design solution that manages to appear simple, elegant and appropriate to its location.
The head of the judging panel and Chief Executive of the Structural Timber Association, Andrew Carpenter said of the night: "The depth of expertise across all categories was impressive and the exceptional number of entries clearly demonstrates the upturn in the industry."
Structural Timber Association and Self Build support
For anyone considering a timber frame home, the Structural Timber Association has a self build section on its website offering advice, with links to finding members that operate in the realm of Custom and Self Build.
Anyone wanting to Self Build in Shropshire will want to keep an eye on Shrewsbury, where Shropshire Council is planning to bring on a 47 plot Self-Build site, off London Road.
Shropshire Council recently ratified a decision to invest in the infrastructure for the site, meaning that the development can now be submitted for planning permission. This will include full permission for infrastructure by the end of the year, enabling the roads, landscaping and services to be put in, together with outline permission for the individual plots.
It is expected that each plot will come with a Plot Passport, setting out boundary and height restriction on some of the plots, otherwise the individual will be able to design their own unique home.
The 4.41 hectare site has excellent links with Shrewsbury, and slopes down towards the River Severn making it an appealing location.
If things work out the council is hoping to bring the plots to market in 2020, with 37 Self Build plots, and 10 affordable-housing plots on offer."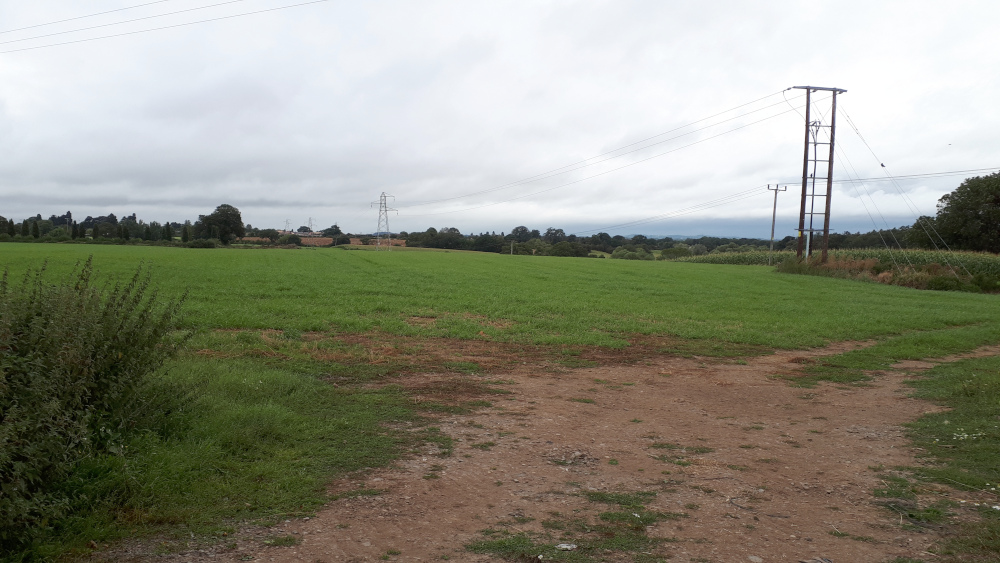 Shropshire currently has around 80 people on its Custom and Self Build Register, with around 500 from previous registers. Many of the people registered have identified Shrewsbury, pictured, as a desirable place to build, creating local demand.
Councillor Robert Macey, Shropshire Council's cabinet member for housing and strategic planning, said: "This is a really exciting initiative. The London Road development will be an exemplar scheme, which is eagerly anticipated by other councils that are contemplating their own Self Build schemes. It's the first-of-its-kind for Shropshire Council and is intended to showcase the potential for future self build developments.
"We're aiming to provide a low-density Self Build, low-carbon, hybrid and unique development scheme for people that want to build their own homes and we hope this will provide a stepping stone to further Self Build plots in the future.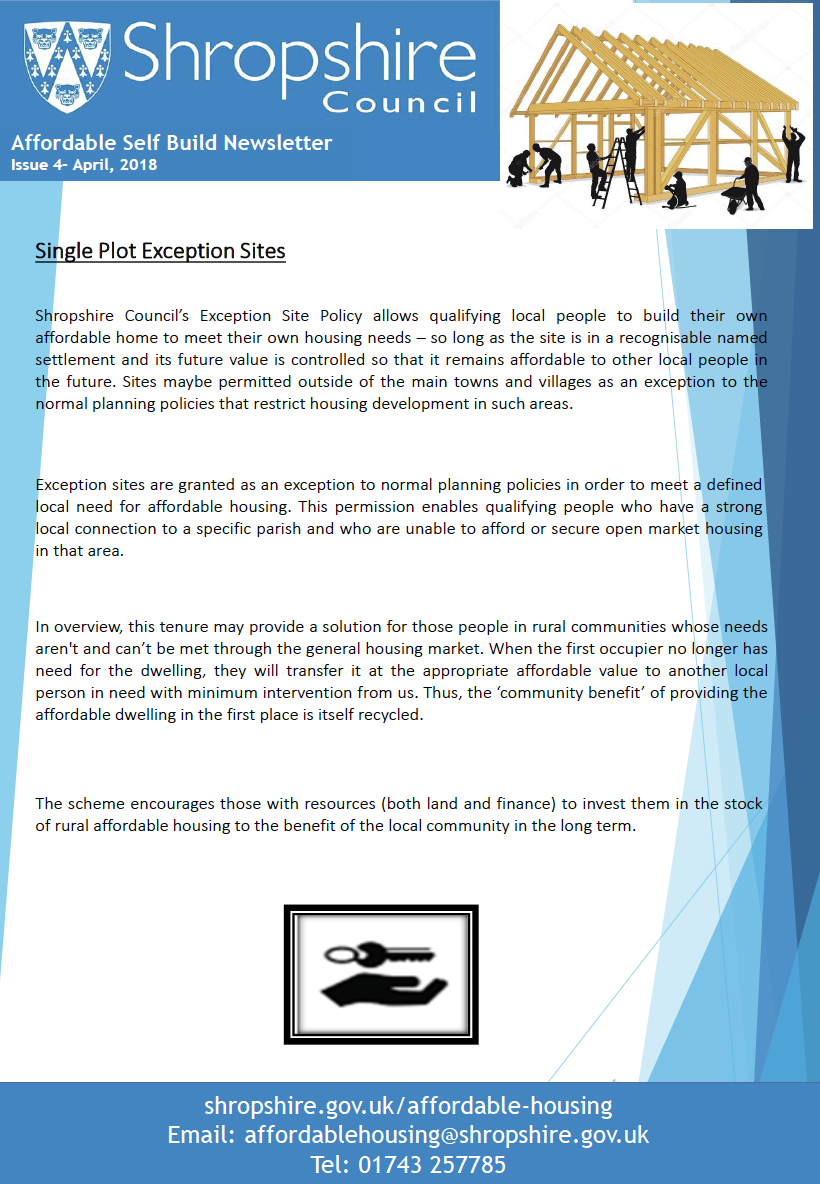 The annual Build It Awards 2018 took place in November celebrating the best in custom and self build over the year.