NaCSBA has curated guidance for working safely on site for anyone involved with their own project. Whether you are returning to your site or scaling up the work that has been ongoing throughout, NaCSBA's guidance for custom and self builders is invaluable.
Whether you are acting as project manager or commissioning a company to build your home, it is worth taking note of the guidance or sharing it with your contractors.
In the undertaking building work guide:
Managing risk
Who must NOT work?
Clarity around contracts
Scheduling work
Materials
Insurance
Finance
Health and safety
Safety on site
Online security
Reporting illness
Getting tested
Working in a home with owners
Are local planning authorities still operating?
What is Scotland doing?
What is Wales doing?
What is Northern Ireland doing?
What is the Republic of Ireland doing?
Moving home
Jobs self builders can do remotely
Introduction
As England begins to ease off of the stay-at-home restrictions, the National Custom and Self Build Association (NaCSBA) has put together the following guidance to assist both individual self builders and companies when undertaking building work.
Government guidance in England never called for building sites to be closed, as Secretary of State for Business, Energy and Industrial Strategy Alok Sharma pointed out in his 31 March letter to the construction industry. However, he acknowledged the need for safe working practices to underpin all decisions with regards to working on site.
In spite of this, many companies and individuals ceased working, either through a desire to stay safe or through an inability to operate during the crisis.
This guide is intended to support self builders and businesses about what practices they should be following to ensure they are operating safely. It is intended as a signposting document to support businesses and individuals in their decisions about how they return to work, and draws extensively on a range of industry knowledge. But ultimately, each site is the responsibility of the owners and/or main contractors.
The priority on any building site is people's safety, which should be the first principle for all activity, and every decision should be weighed against this.
However, NaCSBA believes that with good practice building activity can and should continue, as it represents a valuable flow of work for the local and wider economy. Custom and self build have a core role in helping the country to return to economic health, supporting Government objectives and providing a crucial supply of new homes.
The rules in Scotland are completely different, and practices in Wales and Northern Ireland may vary so check the sections below and follow national advice.
NaCSBA has published information around planning, and below you will find more information about undertaking work.
In addition, NaCSBA has been providing weekly updates on the sector to Government, reporting barriers for the sector during the crisis. If you have a specific question or would like to share your experiences please email us.
The Government has producing a new set of COVID-19 Secure Guidance for work, that sets out parameters for work, as well as advice for assessing risk, to work out if an activity can be conducted safely.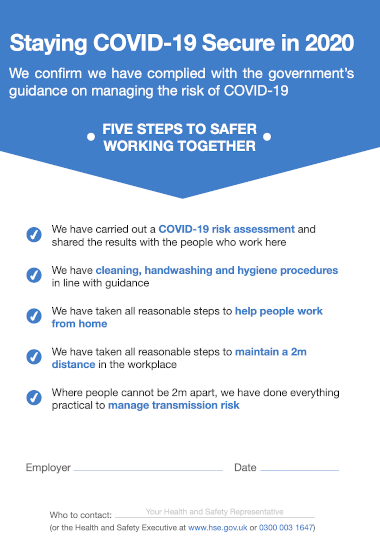 Returning to work
FAQs: Planning and national differences
Digital working
Many companies have retained some elements of their work online, so check with a company you are planning to work with. Services such as architects and package companies are often able to do online consultations, and may be able to do work on planning your project, design and pricing work without a face to face or site visit.
Disclaimer
NaCSBA is providing this information as general guidance only, and in no way is it a definitive or legally binding. Official advice is routinely updated and any decision makers must be confident that the decisions they make about returning to work are robust and reflect the latest Government and industry guidance. Therefore, it is also recommended that any plans include regular reviews for safe work practices.