Anyone considering a community led homes project will be interested to know that the clock is ticking for proposals to be submitted for a 0.10acre site in Waltham Forest, London, with submissions due 11.1.21.
The land is available to deliver affordable housing in the London Borough of Waltham Forest, and the council is keen to hear from community led housing groups in the area who are looking for a site.
The land in question is a former garage site in a residential area of terraced housing, which is currently partly being used for parking. There is a range of site investigations already undertaken, that bidders will want to see.
Find out more and download the lease, details and site particulars on the Greater London Authority site.
You can also contact the council's community led housing team.
Mayor of London Sadiq Khan has created a new website for selling  small publicly-owned sites as a pilot for providing plots for the capital's small- and medium-enterprise builders.
Find out more about community living with Community Led Homes and Community Led Housing London.
Mayor of London Small Sites
For small developers and groups, the Greater London Authority hosts a Small Sites webpage, with links to small, publicly-owned parcels of land that are suitable for delivering housing. The sites are available for developers, housing associations and communities. 
An initiative of Mayor Sadiq Khan, the site was originally piloted in 2018 to market 10 small sites for London's small- and medium-enterprise (SME) house builders. Since then, the site has grown offering SMEs and groups a route to publicly-owned land, making it a valuable resource.
There are currently 40 sites available through the Small Sites, Small Builders programme, details of which are available on the website or via the newsletter. Sites to look out for are Tower Hamlets which is release a series of small sites to self builders as part of its Affordable Self Build Programme. 
As well as sites owned by local authorities, some land is owned by Transport for London. The site also includes resources for small builders, including links to development finance. 
[/ow]
The National Custom and Self Build Association (NaCSBA) has partnered with UK Cohousing Network, National Community Land Trust Network and the Federation of Master Builders to create a new group called Housing Diversification. It's aim is to persuade Government to create more opportunities for more people to live in custom build, self build and community-led housing. These are houses are typically built by small- to medium-enterprise (SME) housebuilders.
Together, the groups believe that this type of housing could result in an extra 130,000 homes being built by 2025. These homes would be additional units, in that they would be extra to the homes built by the major housebuilders in this period, and therefore help government in its ambition to build 300,000 homes a year.
Housing Diversification knows that the homes built by SME builders for self build and community-led projects are typically more sustainable, beautiful, innovative and of higher quality than many open market homes. In addition, these homes also boost the local economy, providing local jobs and training opportunities.
The number of SME housebuilders has fallen significantly since the 1980s, and halved following the last recession. These SME companies are vital for the supply of local houses, and opportunities must be created to allow them to operate on a level playing field with volume housebuilders, which have very deep pockets.
Campaigning for building back better
Housing diversification has three asks of Government:
The establishment of a high-level Housing Diversification Taskforce, with a range of items set out for consideration (see Appendix).
Commitment to a five-year renewal of the Community Housing Fund as part of the Comprehensive Spending Review.
The creation of a robust and statutory system of reporting on diversification as part of Government housing statistics, including on the NPPF requirement for 10% of homes to be delivered on small sites (one hectare or less).
Housing Diversification members:
NaCSBA, which runs the Self Build Portal, knows that 14,000 custom and self build homes are built each year, although many of these are single self builds. With greater Government support this figure could reach 73,500 by 2025, with custom build offering the scope to grow the sector with more serviced plots.
The Federation of Master Builders represents 7,500 SME firms across the UK, half of which build new homes. FMB members expect to build more than 12,000 new homes in 2021. Members of the public can source contractors using its Find a Builder database. 
Currently there are 10,780 community led homes in 'live applications' on Homes England system awaiting delivery, part of a wider pipeline of 23,000 homes. Many of these homes are reliant on the Government's Community Housing Fund – which was closed in March. Getting it reinstated is one of the main ambitions of Housing Diversification.
Community Land Trusts are a community-led housing model, where the land is held in trust, meaning that affordability is locked in for good. Cohousing refers to groups of people wishing to live together – as an 'intentional' community.
You can find out more about these community-led housing models, and others, as well as how to start a group, on the Community Led Homes website.
Andrew Baddeley-Chappell, CEO, National Custom and Self Build Association and spokesperson for the group said: "Despite the importance of houses to our lives and the scale of their cost, there is currently too little choice when it comes to new homes in this country.
"We have come together as Housing Diversification to deliver more passion, quality, and care into the new homes and the new communities that we, as a nation, need to be creating. Just like any other market, increasing diversification will improve quality, innovation, and value. We will deliver homes more people want to live in and that more welcome being built."
NaCSBA has curated guidance for working safely on site for anyone involved with their own project. Whether you are returning to your site or scaling up the work that has been ongoing throughout, NaCSBA's guidance for custom and self builders is invaluable.
Whether you are acting as project manager or commissioning a company to build your home, it is worth taking note of the guidance or sharing it with your contractors.
In the undertaking building work guide:
Managing risk
Who must NOT work?
Clarity around contracts
Scheduling work
Materials
Insurance
Finance
Health and safety
Safety on site
Online security
Reporting illness
Getting tested
Working in a home with owners
Are local planning authorities still operating?
What is Scotland doing?
What is Wales doing?
What is Northern Ireland doing?
What is the Republic of Ireland doing?
Moving home
Jobs self builders can do remotely
Introduction
As England begins to ease off of the stay-at-home restrictions, the National Custom and Self Build Association (NaCSBA) has put together the following guidance to assist both individual self builders and companies when undertaking building work.
Government guidance in England never called for building sites to be closed, as Secretary of State for Business, Energy and Industrial Strategy Alok Sharma pointed out in his 31 March letter to the construction industry. However, he acknowledged the need for safe working practices to underpin all decisions with regards to working on site.
In spite of this, many companies and individuals ceased working, either through a desire to stay safe or through an inability to operate during the crisis.
This guide is intended to support self builders and businesses about what practices they should be following to ensure they are operating safely. It is intended as a signposting document to support businesses and individuals in their decisions about how they return to work, and draws extensively on a range of industry knowledge. But ultimately, each site is the responsibility of the owners and/or main contractors.
The priority on any building site is people's safety, which should be the first principle for all activity, and every decision should be weighed against this.
However, NaCSBA believes that with good practice building activity can and should continue, as it represents a valuable flow of work for the local and wider economy. Custom and self build have a core role in helping the country to return to economic health, supporting Government objectives and providing a crucial supply of new homes.
The rules in Scotland are completely different, and practices in Wales and Northern Ireland may vary so check the sections below and follow national advice.
NaCSBA has published information around planning, and below you will find more information about undertaking work.
In addition, NaCSBA has been providing weekly updates on the sector to Government, reporting barriers for the sector during the crisis. If you have a specific question or would like to share your experiences please email us.
The Government has producing a new set of COVID-19 Secure Guidance for work, that sets out parameters for work, as well as advice for assessing risk, to work out if an activity can be conducted safely.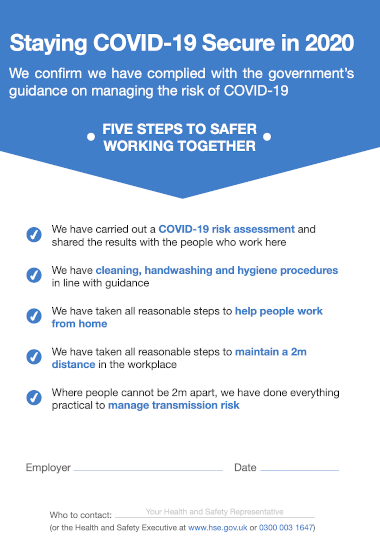 Returning to work
FAQs: Planning and national differences
Digital working
Many companies have retained some elements of their work online, so check with a company you are planning to work with. Services such as architects and package companies are often able to do online consultations, and may be able to do work on planning your project, design and pricing work without a face to face or site visit.
Disclaimer
NaCSBA is providing this information as general guidance only, and in no way is it a definitive or legally binding. Official advice is routinely updated and any decision makers must be confident that the decisions they make about returning to work are robust and reflect the latest Government and industry guidance. Therefore, it is also recommended that any plans include regular reviews for safe work practices.
The Government recently announced it would be creating a new Homes Ombudsman that requires all developers to be party to the scheme, giving a route to redress for home buyers should their new property fall short of expectations of feature shoddy work. The National Custom and Self Build Association (NaCSBA) fed into the consultation back in August 2019 to press the case for self builders.
In line with NaCSBA's submission, the consultation confirmed that the scope of the New Homes Ombudsman will not include self-builders "unless they plan to sell the property to someone else within a set period".
NaCSBA is supportive of this approach, but confirms that the 'period' referred to will need qualifying. Self building with the intent to sell has other consequences, such as the Community Infrastructure Levy (CIL) exemption, and puts self build in to a separate category, making it more akin to speculative building.
The confirmation is helpful, as a self build typically involves large numbers of suppliers of services, skills and resources, and the co-ordination of these elements into a new home, which makes them a poor fit for the Ombudsman scheme.
NaCSBA recommends self builders choose from its members when sourcing contractors and businesses for work, as its own Code of Practice offers a route to dispute resolution should a consumer have issues with a contractor. All NaCSBA members (apart form Not for Profit members, such as councils) must sign up to the scheme as a condition of membership. Equally, self builders should look out for members of other trade associations, such as the Federation of Master Builders or the Structural Timber Association also offers surety that firms are reputable operators in the self build sector.
Custom build grey area
While the exemption for self build is clear, the situation around custom build homes needs further clarification. NaCSBA highlighted this in its response to the consultation, where it concluded that, given the relative scale of the sector and the challenges of separating self-build and custom build, the best approach was to use the current legal definition. This covers both self and custom build and, on this basis, custom build should also be exempt.
NaCSBA will be seeking clarity around this, as it is unclear where the options for some custom build schemes, as each one is slightly different.
The new Homes Ombudsman will be able to hold developers to account and require them to put matters right in the case of a complaint, and it can even prevent developers from trading in the future if they fail to meet the expected standards.
Research by the Federation of Master Builders has pointed to a dip in the workload for small and medium-sized(SME) construction firms for the first time in six years. The FMB's State of Trade Survey for Q1 2019 has found that SME firms have now moved into negative movement in terms of construction, following a years of uncertainty around Brexit, with materials rising in cost and a skill shortage continuing to take its toll.
The key results are as follows:
For the first time in six years SME workloads declined – with lower workloads of 29% compared compared to 13% over the last three months of 2018;
However, expectations for future work increased with 41% of construction SMEs expecting higher workloads over the next quarter, up from 33% the last quarter of 2018;
Equally good news was that skills shortages eased slightly for some professions.However, this was attributed to less competition due to lower workloads. Bricklayers remained in demand, with 64% of firms struggling to source them;
A massive 88% of firms expect material prices to continue to rise in the next six months;
At 71%, nearly three-quarters of construction SMEs expect salaries and wages to increase over the next two quarters, up from 66% in the last survey.
Brian Berry, Chief Executive of the FMB, said: "This dip follows three years of political uncertainty, which have taken their toll on the SME construction sector. A perfect storm of diminished consumer confidence, rising material prices and increases in wages and salaries has resulted in the construction SME sector detracting for the first time in six years.
"These results are also very much in line with recent stats from the ONS and PMI data, all of which point to a wobble in the construction industry. Consumers and businesses alike are understandably putting off large investment decisions while the never-ending Brexit negotiations rumble on.
"Worse still, our latest research reveals record-breaking results for expected material price rises with almost 90 per cent of firms predicting that they will increase further in the coming months. This is bad news for builders and consumers alike as construction projects, large and small, become more expensive to deliver."To support the industry and stimulate growth, the FMB is campaigning for the Government to cut the VAT on home improvement work. This would see a reduction in VAT from 20 per cent to 5 per cent on all housing repair, maintenance and improvement (RM&I) work. The FMB believes that reducing VAT on RM&I work could boost the UK economy by more than £15bn over a five-year period, which is supported by independent research by Experian.
Berry concluded: "The Government must do what it can to boost the economy during this time of political uncertainty and that's why we're calling for a reduction in VAT. Such a VAT reduction has the backing of more than 60 charities, trade associations, business groups and financial firms as there is no other policy that would achieve so many of the Government's economic, environmental and social aims with so little cost to the public purse. At a time of continued political uncertainty and a dip in construction output, a VAT reduction for RM&I is exactly what the UK economy is crying out for."
How Experian compiled the FMB's State of Trade Survey
The report was compiled by Experian in Q1 2019 from 289 construction SMEs that responded to the survey. The results reflect balances – ie the number of firms reporting a rise in workload against the number of firms showing no change or a fall, giving a qualitative, as opposed to quantitative, overview.