Roads and services have gone in in the innovative 12 home custom build Pound Lane site in Laindon, Essex, with plots available to buy now.
Located near to Basildon, the site is in a wooded setting, with links to Fenchurch St Station in London taking just 35 minutes, making it a fantastic choice for commuters. The homes come with private gardens and a communal garden, with an optional on-plot garage.
Buyers can choose the layout, size and fit out of their home, working to one of the three pre-designed home types, as specified in the planning permission. Each design is linked to one of the plots in the planning permission (see colour coding on plan below), so buying early ensures you have the widest choice of optoins. There are two house sizes on offer, and prices start from £445,000.
For example, Plot 6 with its S6 House design costs £235,000 for the 5,931 sqft plot, and the build price should be between £210,000 to £350,000 depending on your route and specification.
Buyers can choose two routes to ownership –
A la Carte Design – with this route you work with a Customer Coach to go through a series of choices based on a palette of materials and layouts, which are already costed out to make the process transparent when working with budgets.
DIY Design – this gives you far more freedom when it comes to designing the layout and specification, with only the position of the stairwells and utility risers being fixed. Buyers buy the weather-proof shell and can then take the house through to completion. The Customer Coach is available to support people through this process.
The project is unusual in that it is a collaboration between a team of companies, including architects, AOC, Mae and Pitman Tozer and custom build enabler Unboxed Homes and Dutch developer Steenvlinder.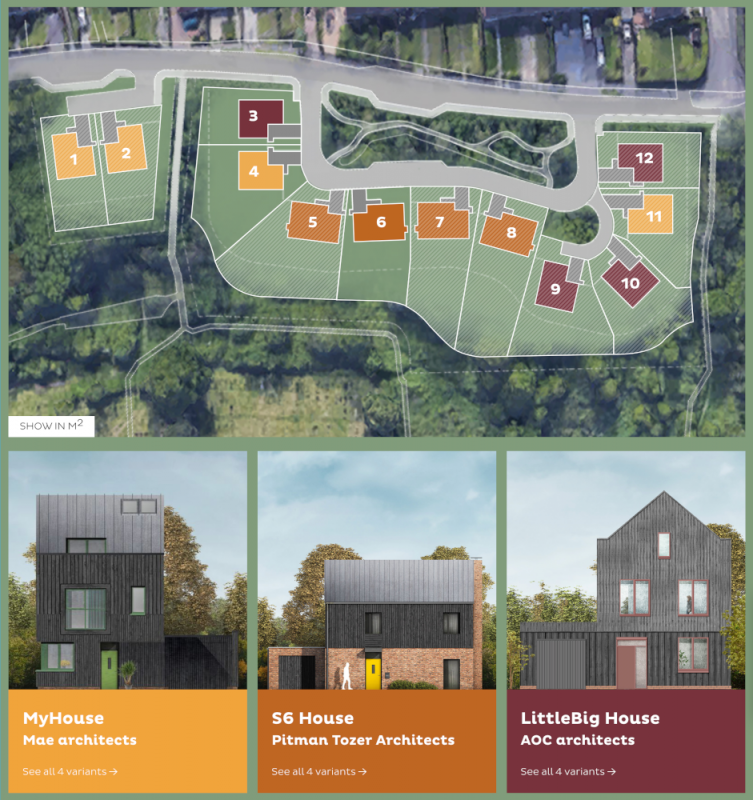 Unboxed Homes has recently completed a terrace of custom build homes in Peckham, London, Blenheim Grove, and is working on a group custom build scheme in London.