With many homes completed or underway, Graven Hill has released the latest nine plots for self builders at Bicester based self and custom build development. More plots will be released as the year progresses.
As well as offering a route to market for anyone wishing to build but struggling to find plots, Graven Hill is firmly establishing itself as a vibrant community of like-minded residents from first-time buyers to retirees.
Interest in the new plots is high, with prices ranging from £235,000 to £265,000, with the largest able to cater for a 6-bedroom home. They are in a character area of the site called 'Circular Railway', which incorporates features of the existing historic railway and next to green spaces.
As with most custom and self builds at Graven Hill, each plot comes with its own unique 'Plot Passport' that sets out the parameters for what can be built on that plot. This includes, for example, the maximum number of bedrooms and gross internal areas and also the choice of pre-approved building materials.
Financial support in the form of the Government's new Help to Build scheme is also available on these plots, allowing buyers to benefit from a 5% deposit, alongside a Government-backed equity loan.
Custom build options
A range of new custom build homes are also due to be launched soon, for those wanting personalisation, without having to don a hard hat.
With these homes, the earlier in the build process the homes are purchased, the more customisation options the buyers will have, including layout, fixtures and fittings. Those purchasing custom builds will also be able to take advantage of the Help to Build scheme.
Gemma Davis, customer experience director at Graven Hill said: "The UK housing market is undergoing huge change and we've seen a dramatic spike in interest in self-building. Unfortunately, in the past, plot availability, finances and planning permission have all acted as barriers, with only a small minority able to overcome them. However, we're changing this with the housing options we provide at Graven Hill.
"Our self-build plots have always been popular, getting snapped up quickly, and that doesn't look to be changing any time soon. Self-building results in a truly diverse community, which celebrates the uniqueness of its residents. This is in stark contrast to the cookie-cutter homes that have come to be associated with new build developments. The people who purchase our new plots will be adding their personality to Graven Hill, and we can't wait to see the result."
Roads and services have gone in in the innovative 12 home custom build Pound Lane site in Laindon, Essex, with plots available to buy now.
Located near to Basildon, the site is in a wooded setting, with links to Fenchurch St Station in London taking just 35 minutes, making it a fantastic choice for commuters. The homes come with private gardens and a communal garden, with an optional on-plot garage.
Buyers can choose the layout, size and fit out of their home, working to one of the three pre-designed home types, as specified in the planning permission. Each design is linked to one of the plots in the planning permission (see colour coding on plan below), so buying early ensures you have the widest choice of optoins. There are two house sizes on offer, and prices start from £445,000.
For example, Plot 6 with its S6 House design costs £235,000 for the 5,931 sqft plot, and the build price should be between £210,000 to £350,000 depending on your route and specification.
Buyers can choose two routes to ownership –
A la Carte Design – with this route you work with a Customer Coach to go through a series of choices based on a palette of materials and layouts, which are already costed out to make the process transparent when working with budgets.
DIY Design – this gives you far more freedom when it comes to designing the layout and specification, with only the position of the stairwells and utility risers being fixed. Buyers buy the weather-proof shell and can then take the house through to completion. The Customer Coach is available to support people through this process.
The project is unusual in that it is a collaboration between a team of companies, including architects, AOC, Mae and Pitman Tozer and custom build enabler Unboxed Homes and Dutch developer Steenvlinder.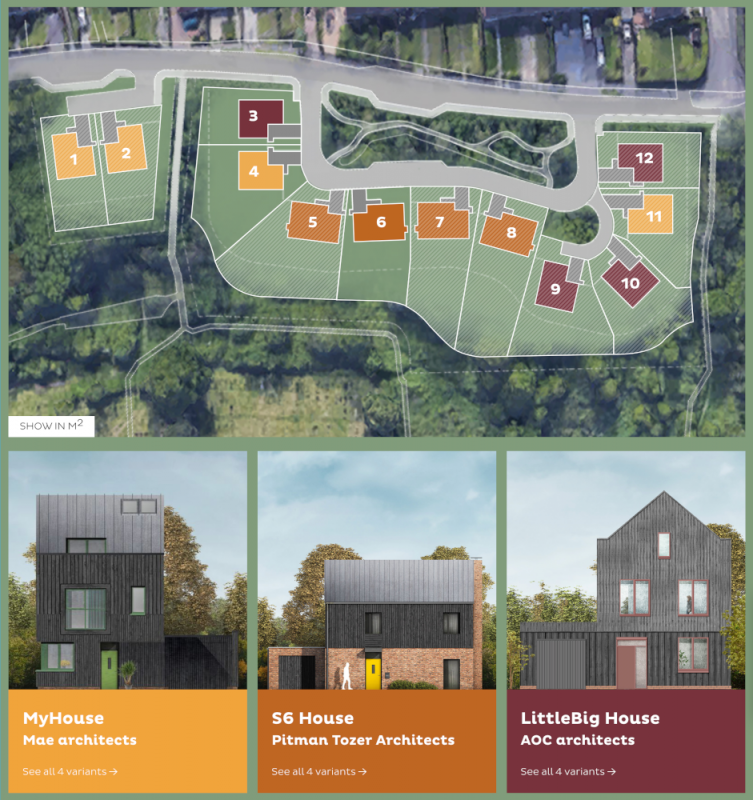 Unboxed Homes has recently completed a terrace of custom build homes in Peckham, London, Blenheim Grove, and is working on a group custom build scheme in London.
Anyone wanting an owner-commissioned home within commuting distance of London will be pleased to learn that Ebbsfleet Garden City has got the green light for a new custom build community, Alkerden Gateway.
Over the summer, Ebbsfleet Development Corporation's planning committee granted planning permission for new development, made up of 67 homes, 17 of which are affordable. Purchasers at the site can select from a choice of layouts, materials and fixtures and fittings on each home. Other options include choices around parking spaces, solar PV panels, trees and bird or bat boxes.
Designed by award-winning architect BPTW, construction on the homes has started already, with developer Westerhill Homes building the homes.
Alkerden Gateway is the first key development parcel in Alkerden Village, and is surrounded by parkland, an education campus and other residential developments. In time, Ebbsfleet Garden City will have 15,000 homes
What is a garden city?
Garden communities, which include Ebbsflett, garden towns and villages, have their roots in the Garden City movement that originated at the end of the Victorian era. They were originally envisioned as a new, self sustaining communities that were carefully planned, often like a cartwheel, with concentric circles of housing, gardens and allotments and work spaces radiating from a central hub.
The idea was to capture the best of the city and countryside, while avoiding the worst of both. At their best they were designed to be local, and largely walkable, although the principles involved in the originals at Welwyn and Letchworth Garden Cities were not always applied. There are now many garden towns and cities planned across the country, as the idea has once again come into fashion.
Julian Moat, Planning Director at Westerhill Homes said: "As a Kent-based housebuilder, we are delighted to have secured planning permission from Ebbsfleet Development Corporation for the delivery of our exciting, bespoke custom build homes at Ebbsfleet Garden City.
"By working with an outstanding project team – including BPTW Architecture, LUC landscape design and Knapp Hicks engineers – we have developed an innovative six stage customisation process for all private market homes. This will allow individual purchasers to make a series of external and internal choices to their homes at the point of reservation, meaning the homes can be tailored to suit their design preferences and lifestyle choices.
"We anticipate a strong market demand for customisation in the new build market, and coupled with the strong pull of Garden City living, we fully expect these new homes to prove popular as we now commence on the marketing and delivery aspects of the site."
Chris Bath, Partner, Architecture at BPTW, said: "Marking the only custom-build phase in the wider Whitecliffe masterplan, for us, Alkerden Gateway, presents an exciting opportunity to design an innovative community that both speaks of its setting, and embraces the full potential of a homeowner-led, organic variety across the scheme.
"Over the past few years, we've been proud to be involved in projects at Ebbsfleet Garden City and across the South East, and this development demonstrates our continued commitment to delivering high-quality new homes and transformative new places for the area. We're delighted to see Alkerden approved at committee and look forward to seeing the next stages of the project come together."
NaCSBA spokesperson Duncan Hayes said: "As large-scale planned communities, garden communities have the scope to include a diverse range of routes to housing, and NaCSBA would like to see custom and self build included in all garden towns and villages. Alkerden Gateway is a welcome addition to Ebbsfleet Garden Village, and addresses the lack of supply of custom build homes in the market locally."
The Structural Timber Association (STA) has published a new guide for consumers, Mortgages for Timber Self Build Homes, to support anyone wishing to commission their own home with timber.
The Grenfell Fire triggered a crisis for cladding, which inevitably became wrongly associated with issues around timber in general as a build system, and resulted in some self builders questioning their choices around timber.
However, timber is a universal choice for housing across the world, and evidences great longevity when specified and built properly.
Self build has traditionally embraced a range of innovative housing choices – and timber remains a trusted and practical approach for a range of applications on owner commissioned homes – not least timber frames.
To alleviate concerns about the mortgageability of such methods, the Structural Timber Association has published a guide that addresses concerns and sets out the parameters for anyone building with wood.
The guide points out that the idea that timber systems are difficult to mortgage is a myth. Instead, it stresses the fact that self builders must follow the rules lenders set around features such as cladding, as with any mortgage, as this sets the parameters for the risk to the mortgage company. This ensure that the resale value is protected.
The guide explains how these principles are applied by mortgage lenders, and what the rules mean for your choices. It also helps you understand how you can ensure that your design complies with your lender's eligibility rules.
The STA has a library section that includes a range of helpful guidance for both professionals and consumers (search for self build in the box) around the use of structural timber in properties, including:
Stick Build v Pre-Manufactured: Making the Right Choice
Why Build with Structural Timber?
Living in a Timber Frame Home
In addition to the new guide – part of a range, the STA runs its own accreditation scheme for its members, STA Assure. By choosing a company that a company that is accredited by the scheme self builders can have confidence that their supplier is competent and qualified to the latest standards.
About STA Assure
The STA Assure Membership and Quality Standards Scheme sets performance levels of STA members and non-members, based on a rigorous and independent audit. This safeguards the self builder, enabling them to partner with reputable company for their build,
STA Assure is recognised by the NHBC and six of the industry's leading structural warranty and building control bodies – LABC Warranty, Premier Guarantee, Protek Warranty, Build-Zone, Self-Build Zone and ABC+ Warranty.
NaCSBA Member Message
The Government recently announced it would be creating a new Homes Ombudsman that requires all developers to be party to the scheme, giving a route to redress for home buyers should their new property fall short of expectations of feature shoddy work. The National Custom and Self Build Association (NaCSBA) fed into the consultation back in August 2019 to press the case for self builders.
In line with NaCSBA's submission, the consultation confirmed that the scope of the New Homes Ombudsman will not include self-builders "unless they plan to sell the property to someone else within a set period".
NaCSBA is supportive of this approach, but confirms that the 'period' referred to will need qualifying. Self building with the intent to sell has other consequences, such as the Community Infrastructure Levy (CIL) exemption, and puts self build in to a separate category, making it more akin to speculative building.
The confirmation is helpful, as a self build typically involves large numbers of suppliers of services, skills and resources, and the co-ordination of these elements into a new home, which makes them a poor fit for the Ombudsman scheme.
NaCSBA recommends self builders choose from its members when sourcing contractors and businesses for work, as its own Code of Practice offers a route to dispute resolution should a consumer have issues with a contractor. All NaCSBA members (apart form Not for Profit members, such as councils) must sign up to the scheme as a condition of membership. Equally, self builders should look out for members of other trade associations, such as the Federation of Master Builders or the Structural Timber Association also offers surety that firms are reputable operators in the self build sector.
Custom build grey area
While the exemption for self build is clear, the situation around custom build homes needs further clarification. NaCSBA highlighted this in its response to the consultation, where it concluded that, given the relative scale of the sector and the challenges of separating self-build and custom build, the best approach was to use the current legal definition. This covers both self and custom build and, on this basis, custom build should also be exempt.
NaCSBA will be seeking clarity around this, as it is unclear where the options for some custom build schemes, as each one is slightly different.
The new Homes Ombudsman will be able to hold developers to account and require them to put matters right in the case of a complaint, and it can even prevent developers from trading in the future if they fail to meet the expected standards.
In a collaboration between architects and specialist custom build developer Unboxed Homes, a new development will bring 12 Custom Build plots to Laindon in Essex, with homes delivered by 2023.
The project is breaking new ground in that it is co-funded by a team of architects, AOC, Mae and Pitman Tozer in addition to Unboxed Homes, reflecting the practices' commitment to the route.
The 1.2 hectare site features three, four and five-bedroom houses, and Basildon Council unanimously approved the development at Pound Lane following Homes England securing the original planning permission.
There are three designs available on site, the PTA S6 House by Pitman Tozer, MyHouse by Mae and the littleBIG House by AOC, and homes come with a range of options to allow people to customise them to their needs and budgets. This includes options around the layout and number of bedrooms and bathrooms, fixtures and finishes and an optional garage.
Purchasing a home at shell, where just the external structure is completed, is also an option, with the purchaser commissioning the remaining trades to complete the home themselves.
Prices for the homes start from £376,000, with the homes set in an appealing wooded location with a private access road leading to a central communal space.
Gus Zogolovitch of Unboxed Homes said, "Custom build is all about creating choice and value and reducing waste. We think people want to have a greater say in the way they live and that's what we are doing. Our customers will get to choose from literally thousands of options to get the house that is perfect for them and their family,."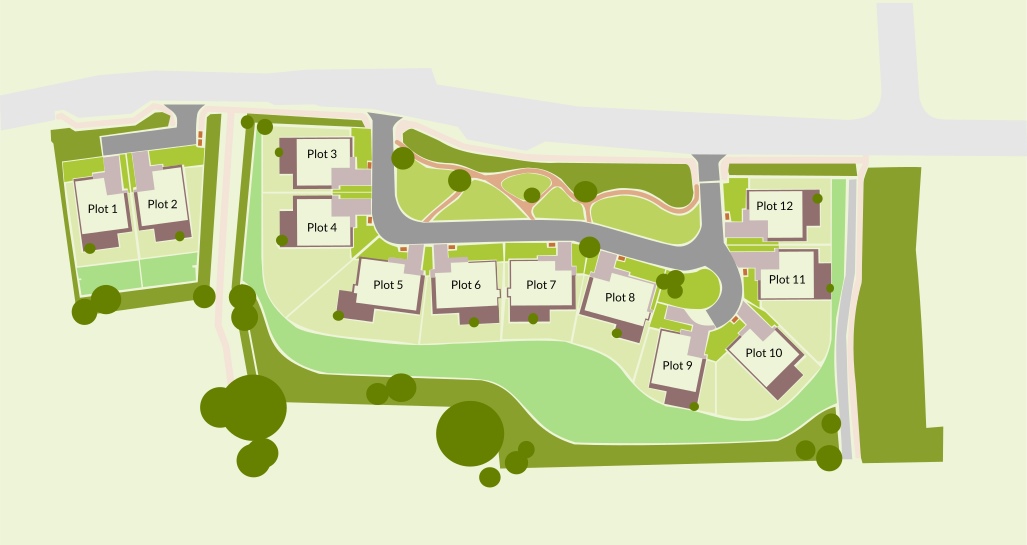 A new Customer Choice Centre has opened at Squirrel Wood, Design Your Home's large custom build development in Hampshire, on a Homes England site. The centre includes a range of products, design solutions and options for people to choose from, giving them first hand experience of the choices on offer for their Custom and Self Build homes – a first for the UK. Customers can choose from a range of doors, skirtings, kitchens and bathrooms, as well as external cladding and bricks choices.
Situated just 10 minutes from Basingstoke, Phase 2 of Squirrel Wood is now on the market, offering Self Build, Custom Build or 'Custom Choice' opportunities, marketed through Custom Build Homes.
Starting from £260,000 for a Custom Build and £350,000 for a Custom Choice, the plots are part of the larger 122-plot site, where all planning is agreed in advance with Basingstoke Council for the range of design options on offer. This is pre-approval contributes to faster delivery, especially in comparison to going through the planning process individually, meaning homes can be delivered in a six month timeframe.
Self Build Choice
With its range of approaches, Squirrel Wood offers a vision for how customised homes can be delivered in the future, with customers have a series of choices to reflect their needs and circumstances, allowing them to balance choice with knowledge, time and budget.
Custom Build: At Squirrel Wood the Custom Build option gets you a fully-serviced plot with the choice of an internal layout from a wide range of pre-approved options. Once the plot is purchased customers enter into a contract with Design Your Home to build the property.
Using the Customer Choice Centre customers can select their internal and external preferences, giving them a truly personalised build, without the need for any construction knowledge.
Custom Choice: With the Custom Choice option the structure of the property is constructed prior to marketing, and customers have freedom to tailor the interiors. Unlike the Custom Build route, you pay for the property on completion, meaning you can choose a regular new build mortgage, or access the Help to Buy scheme. Custom-choice homes at Squirrel Wood can be completed within just four months.
Self Build: There are also a select number of Self Build plots on offer, with a Design Code establishing the rules around what is allowed in build terms.
For the custom options, there's a range of house types to choose from, including 2-3 bed and 3-4 bed options, with further choices available depending on the plot type and route you choose.
What's on offer:
Type A House: a 2-3 bedroom, terraced Custom Build home, with the option of a closed- or open-plan ground floor. Upstairs the space can be configured as two large bedrooms or three bedrooms with space for a study.
Type B House: a 2-3 bedroom, terraced Custom Build home with either a closed- or open-plan ground floor. Customers can have two large bedrooms, or three beds with an en-suite.
Type D Self Build Plot Only: a building plot with permission to build a detached 4 bedroom home. The Design Code sets the parameters of your design and, providing you satisfy these criteria, then you don't need further planning consent.
Type F House: a 3-4 bedroom detached Custom Build or Choice home, with the choice of the kitchen at the front or the rear, and the option of an extra room with an extension. Again you can choose a two or three bed option upstairs.
The first custom homes on the site are now in their build phase, with first completions expected in the new year.
Kim Slowe, managing director of designyourhome.com said,"For far too long purchasers of new build homes in the UK have been given very little or no choice on both the layout and fitting out of their home. This makes little sense given that a home is likely to be the biggest purchase that an individual will ever make. designyourhome.com changes that. It gives homebuyers real choices whilst keeping the purchase and build process very simple. designyourhome.com has been designed to put the consumer in control for the very first time."
Squirrel Wood is one of the Government's original pilot scheme for innovative new Custom and Self Build housing, as set up by Homes England. The Homes England development is on the site of the Park Prewett hospital, with Design Your Home set up to bring Custom Build housing into the mainstream, as part of the vision of Places for People, the company behind it.
Design Your Homes next development, Marlborough Park in Swindon, is due to launch in September, bringing custom homes to Wiltshire.
NaCSBA Member Message
There are many considerations when embarking upon building your dream home, but one of the most important is choosing the build system and making sure you have all the relevant information prior to making the decision. Should you choose a timber frame, then a member of the Structural Timber Association offers a level of reassurance that you're choosing a reputable and reliable company for what is, probably, the single largest purchase on your project.
With impressive environmental credentials, combined with delivering cost and programme certainty – intelligent, integrated timber systems are now driving innovation in the self build sector – offering more choice than ever before.
Achieving Best Quality and Value
With assurances being of primary importance, there are a host of reasons why self builders should partner with a member of the Structural Timber Association (STA).
The STA Assure Membership and Quality Standards Scheme assessment creates a clear distinction in the expected performance levels of STA members and non-members.
Only STA members undergo the rigorous independent audit, providing transparency, credibility and accountability, thereby safeguarding the interests of end users and enabling them to partner with reputable member companies to harness the multitude of inherent benefits that structural timber offers.

Timber frame confidence
Working with an STA member means you can build with confidence knowing that your main project partner achieves the highest levels of quality across a range of industry standards. To provide qualifiable evidence of excellence, STA structural timber building system supplier members must all:
Undergo an independent audit for the STA Assure Membership and Quality Standards Scheme on an annual basis
Operate Site Safe procedures to ensure timber construction is both safe and sustainable
Receive regular updates on the latest building regulations and legislation
Fully support sustainable construction and quality standards
Advice guides
The STA also has some useful documents in its self build section that can support consumers, including:
Stick Build v Pre-Manufactured: Making the Right Choice
Mortgage Advice for Self Builders
Timber; the solid choice for your self-build
Visit the STA's Self Build section for more information.
STA Assure is recognised by the NHBC and seven of the industry's leading structural warranty and building control bodies – NHBC, LABC Warranty, Premier Guarantee, Protek Warranty, Build-Zone, Self-Build Zone and ABC+ Warranty.
The Structural Timber Association's website has a wealth of information including a specific self build zone, together with a document library and a 'find a member' facility.
For more information visit the STA website  or follow them on twitter or linkedin.
NaCSBA Member Message