Custom Build Homes is marketing Oakley Orchards, a 51-home custom build scheme on the edge of Great Oakley in Essex.
The homes are designed around a scheme that's car-free at its centre, with parking and garages arranged around the edge of the development, creating a pedestrian-friendly scheme interspersed with communal spaces and orchards. The organic approach to the design gives the development meandering paths and streets, with plenty of adjacent parking close by.
Village Makers, the company enabling the site, have created a series of serviced plots that come with Detailed Planning Permission (DPP), with an agreed build contract to provide a customisable home built to Passive House standard. Building to this standard ensures that the homes will be extremely energy efficient, helping to ensure low running costs.
Buyers have almost complete freedom internally to design their home's layout and finishes, with six house types to choose from, ranging between 2-5 bedrooms.
Designed with the concept of community in mind, the smaller properties are expected to appeal to a mix of first-time buyers and downsizers. The scheme offers a vision of quiet village lifestyle combined with extremely energy efficient homes that are ideal for a future-proof retirement.
The custom build element also enables purchasers to choose from a palette of exterior materials to personalise their home, such as coloured render, brick or timber cladding. The planning consent for house types ensures that, regardless of these personal choices, the scheme will read as a single coherent design.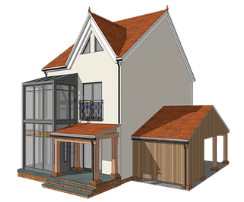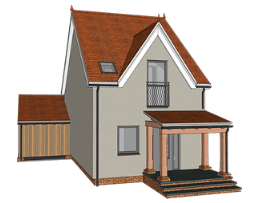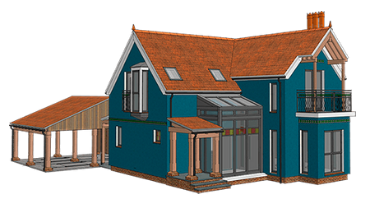 Three of the six house types available
Purchasers benefit from only paying stamp duty on the plot, as opposed to the finished house, which can generate savings of up to £15,000. Buyers have 18 months to complete the construction of their house from purchase, to ensure the scheme is built on in a timely manner.
The project has been enabled by a local farmer, Pete Thompson, in joint venture with Village Makers, in a great example of how custom build can connect local landowners with quality development that values placemaking.
Ryan Blair, Head of Operations at Custom Build Homes said, "Oakley Orchards is a great example of a residential development which has been designed with a complete focus on improving the lifestyle of all those who will live there.
"By adopting a custom build process, the developer has ensured residents will benefit from both a house that works for them and a well-considered new neighbourhood with community at is core. Custom Build Homes are excited to be working with Village Makers to promote Oakley Orchards and we look forward to supporting buyers throughout the sales process and beyond."
Custom Build Homes are the sole selling agent for Oakley Orchards, with plots ranging from £55,000 to £310,000. Build costs vary depending on spec and the size of the build, but Village Makers anticipate build costs to range between £1,400 to £1,600 per sqm.
Find out more at Oakley Orchards website, or visit Custom Build Homes to find out more about purchasing a plot at this unique development.
As an estate agent, Custom Build Homes also has a range of other developments that it is marketing across the UK.