The first phase of a new self build community in Ashford has been given the green light, with planning permission granted for 25 self build plots in Kent. The sustainable development is the result of a partnership between Urbanise, a Kent-based developer, and Steenvlinder, the Dutch custom and self-build (CSB) home specialist that's now operating in the UK.
The Orchard Farm site has been allocated for housing in the Ashford Local Plan, and the expectations is that the 25 self build opportunities will be the first of a much larger, up to 100-home, site to meet local housing demand.
Purchasers can choose from a range of plot shapes and potential house sizes to suit their budgets, with a Design Code and Plot Passports providing a framework for what is acceptable from a planning permission for the designs and styles.
The site in Kennington is on the northern edge of Ashford, and two miles from Ashford International station. Orchard Farm will appeal to anyone wanting an owner-commissioned home, with options for buyers to build independently or to opt for the help of an architect and builder working as part of the development.
With permission granted, Steenvlinder will be working to get the site operation for this first phase, ensuring that infrastructure, including roads, drains and services, are in place.
Adam Roake, Owner of Urbanise, said, "By partnering with Steenvlinder to create Orchard Farm, we are realising our ambition to change the way that housing is delivered. We will bring real choice to the housing market by enabling people to build their own home. Together, we will create an exciting, sustainable community unlike any other found in Kent.
"Some of the plans under consideration include community orchards and drainage systems that improve water quality. In addition, to reduce the community's carbon footprint there will be no gas and the use of heat pumps, onsite electricity generation and community heating will be encouraged. No doubt many other sustainable initiatives will be brought forward by the self-builders."
Hans Sparreboom, CEO and Co-Founder at Steenvlinder, said, "The Netherlands has led the way in innovation in the CSB housing sector and we're now excited about helping the UK build back better with homes designed and built to last. Our continued mission is to make self-build accessible and pleasant for everyone involved.
"To enable buyers to embark on their self-build journey, we provide a dedicated customer coach who ensures they fully understand the process and then acts as a guide while they explore all the options available to them."
Interested people can now pre-register for Orchard Park 
Orchard Farm is being developed by Orchard Farm Kent Ltd., a partnership between Urbanise and Steenvlinder.  Image shows Hans Sparreboom and Adam Roake on site in Kent.
Anyone considering a community led homes project will be interested to know that the clock is ticking for proposals to be submitted for a 0.10acre site in Waltham Forest, London, with submissions due 11.1.21.
The land is available to deliver affordable housing in the London Borough of Waltham Forest, and the council is keen to hear from community led housing groups in the area who are looking for a site.
The land in question is a former garage site in a residential area of terraced housing, which is currently partly being used for parking. There is a range of site investigations already undertaken, that bidders will want to see.
Find out more and download the lease, details and site particulars on the Greater London Authority site.
You can also contact the council's community led housing team.
Mayor of London Sadiq Khan has created a new website for selling  small publicly-owned sites as a pilot for providing plots for the capital's small- and medium-enterprise builders.
Find out more about community living with Community Led Homes and Community Led Housing London.
Mayor of London Small Sites
For small developers and groups, the Greater London Authority hosts a Small Sites webpage, with links to small, publicly-owned parcels of land that are suitable for delivering housing. The sites are available for developers, housing associations and communities. 
An initiative of Mayor Sadiq Khan, the site was originally piloted in 2018 to market 10 small sites for London's small- and medium-enterprise (SME) house builders. Since then, the site has grown offering SMEs and groups a route to publicly-owned land, making it a valuable resource.
There are currently 40 sites available through the Small Sites, Small Builders programme, details of which are available on the website or via the newsletter. Sites to look out for are Tower Hamlets which is release a series of small sites to self builders as part of its Affordable Self Build Programme. 
As well as sites owned by local authorities, some land is owned by Transport for London. The site also includes resources for small builders, including links to development finance. 
[/ow]
On 8 July Chancellor Rishi Sunak announced a temporary change to the Stamp Duty Land Tax in England as part of the mini-budget that included a range of measures for bolstering the economy as we enter the biggest financial crisis since the Second World War.
In total the measures are part of a £30billion economic stimulus package, and the idea behind the SDLT holiday is to bolster the construction industry. Sunak confirmed that construction contributes £39billion to the economy, providing three quarters of a million jobs, and that confidence is key to activity.
The Stamp Duty relief (for England) results in a temporary increase to the Nil Rate Band of Residential SDLT from £125,000 to £500,000. This temporary cut commences immediately, and run until the end of March. 
Industry welcomed the news, especially as it will keep the first time buyer market flowing. Since the easing of lockdown there has been frenetic activity in the property market, in part due to pent up demand. However, this is also due to a lot of people reassessing their living space having been required to stay in for months, with more space and access to the outdoors high on the priority list for many.
Stamp Duty is a tax in need of reform, as in areas with high values, which are extensive these days, it is a charge that hampers activity, restricting both downsizers and upsizers. Government has a tool that you can work out the amount of Stamp Duty due.
Self build and Stamp Duty
SDLT is actually a benefit for most self builders, as the duty is only payable on the land and not on the finished home, so on the face of it this will not make a dramatic difference. However, where it will help is that it will encourage more activity in the market, and any fluidity is always good.
For self builders, Stamp Duty is due on each plot but the rate varies depending on whether your plot is effectively a virgin building plot or already part of the curtilage of a residential property, such as a the garden of a property.
NaCSBA CEO Andrew Baddeley-Chappell commented saying, "It is great news that Government is doing all it can to keep the housing market flowing, as a liquid sales market supports people in their ambitions to move or build from scratch.
"Self builders have always benefitted from a favourable relationship with Stamp Duty, but right now we welcome any measures that keeps builders building and homes coming to market."
Photo credit: https://www.flickr.com/photos/communitiesuk/
New tech platform MyPlot has launched in the Self Build market, aiming to make the process of building as simple as possible by bringing together a range of services to assist novice builders on a single platform.
While self-build is on the 'bucket list' for many, it has yet to become a mainstream housing solution in the UK. For some would-be self builders, the process can appear complex especially for those with a full-time job and family obligations, or without any construction know-how.
While finding a plot remains a significant barrier for some, for others navigating the complex planning system, sourcing trusted contractors or securing finance for the project can be key challenges. For those without a property background these obstacles can feel insurmountable, and many will return to the established homes market, which leaves their self-build ambitions unfulfilled.
Navigating the process
To help remedy this, MyPlot has been created to assist aspirational self-builders with the process. Users can find their ideal plot, and source contractors from the directory on the platform to interview and appoint the entire team to take their home from concept to reality.
From planning consultants, architects, building contractors and mortgage advisors, the experts listed, are all experienced in delivering self-build projects, and are carefully selected by MyPlot to give novice self-builders the confidence in their choices.
The company aims to grow the number of self-build homes in the UK from under 10% of new housing in the UK, which currently creates around 12,000 homes per year. In contrast, The Self Build Housing Market Report Analysis 2016-2020 revealed self-build rates in Austria, Belgium, Italy and Sweden are as high as 70 per cent.
NaCSBA research indicates that in the first seven months of the Right-to-Build registers opening, 18,000 people had signed up, jumping to 40,000 by December 2018, so demand is definitely there.
MyPlot Director, Paul Smith, said: "In Europe, it's much more straightforward to source a plot of land, and the planning system is less onerous – there's also more support for those embarking on the process.
"With MyPlot, we've looked at the issues and offered a solution, filling the gaps and removing the complexity by providing a directory of self-build experts on a single platform.
"The government has been very supportive of self-build, particularly in recent years, introducing policies to oil the wheels and make it more attractive financially, but it's often the practical considerations that put people off, such as financing the project and living arrangements during the build.
"What's more, the assumption that self-build is something only wealthy people do has to be challenged – we hope that MyPlot helps to encourage people to at least be open to the idea, rather than dismiss it out-of-hand."
Credit: Flo Pappert on Unsplash
NaCSBA Member Message
Teignbridge District Council has worked with the Right to Build Task Force to produce a guide for any community looking to deliver self and custom build opportunities locally.
A Guide to Delivering Custom and Self Build Housing Developments in your Community supports anyone looking to grow opportunities locally by clearly setting out what custom and self build projects can deliver, together with guides for getting projects started.
Neighbourhood Plans
Since the Localism Act 2017, Government has been supporting communities in having more say in what gets built locally, for example with the introduction of Neighbourhood Plans. These measures can be used by communities who want to see the choice and diversification that self build can offer, and this guide supports anyone looking to increasing self building locally.
Designed specifically for community and neighbourhood planning groups, the guide is designed to help residents, parish and town councils and community land trusts comprehend how communities can go about custom and self build housing and the role that the Neighbourhood Plan can play in bringing them forward.
The guide includes sections on benefits and risks associated with the route, case studies and routes that communities can pursue, such as Neighbourhood Plans, Neighbourhood Development Orders, Community Right to Build Orders and more. It also shares an example of a Neighbourhood Plan from Petersfield that sets out examples for how the concept can work in actuality.
Custom build guide
Teignbridge District Council, a pioneer in supporting self builders, has also produced a second guide to support local builders and landowners, such as farmers, can benefit by bringing forward their land for self build, as opposed to open market development. How the private sector can get involved in delivering more custom build homes in Teignbridge demonstrates the viability and profitability of the route to market.
Sue Craythorne, Kenton Neighbourhood Planning group said: "I found the communities guide straightforward to follow, and the common questions section was particularly helpful. The guide offers lots of tips and sources of support. There is some technical language – but having said that, anyone contemplating going down this route will have to deal with all that and more!"
Leader of Teignbridge District Council and Right to Build Task Force Deputy Ambassador, Councillor Jeremy Christophers said: "These Teignbridge handbooks were written by custom and self build experts from the Right to Build Task Force. They show how our communities can take control and provide the homes they need for local people with custom and self build.
"Both guides highlight a new way of delivering local and affordable homes. Local community groups, parish and town councils, landowners and building firms can now really get to grips with these new ways of helping people unlock their own front door in much-needed local homes."
Originally an initiative of the National Custom and Self Build Association, the Right to Build Task Force works with a range of stakeholders, such local authorities and community-led groups, to support them to create more opportunities to make custom and self build happen locally.
Find out more or get support from the Right to Build Task Force at its website, the Right to Build Toolkit.
Custom Build Homes is marketing Oakley Orchards, a 51-home custom build scheme on the edge of Great Oakley in Essex.
The homes are designed around a scheme that's car-free at its centre, with parking and garages arranged around the edge of the development, creating a pedestrian-friendly scheme interspersed with communal spaces and orchards. The organic approach to the design gives the development meandering paths and streets, with plenty of adjacent parking close by.
Village Makers, the company enabling the site, have created a series of serviced plots that come with Detailed Planning Permission (DPP), with an agreed build contract to provide a customisable home built to Passive House standard. Building to this standard ensures that the homes will be extremely energy efficient, helping to ensure low running costs.
Buyers have almost complete freedom internally to design their home's layout and finishes, with six house types to choose from, ranging between 2-5 bedrooms.
Designed with the concept of community in mind, the smaller properties are expected to appeal to a mix of first-time buyers and downsizers. The scheme offers a vision of quiet village lifestyle combined with extremely energy efficient homes that are ideal for a future-proof retirement.
The custom build element also enables purchasers to choose from a palette of exterior materials to personalise their home, such as coloured render, brick or timber cladding. The planning consent for house types ensures that, regardless of these personal choices, the scheme will read as a single coherent design.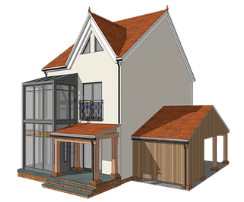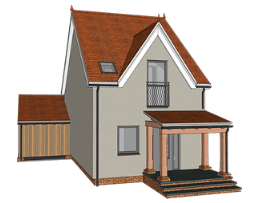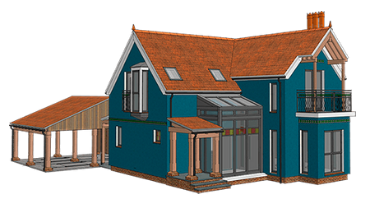 Three of the six house types available
Purchasers benefit from only paying stamp duty on the plot, as opposed to the finished house, which can generate savings of up to £15,000. Buyers have 18 months to complete the construction of their house from purchase, to ensure the scheme is built on in a timely manner.
The project has been enabled by a local farmer, Pete Thompson, in joint venture with Village Makers, in a great example of how custom build can connect local landowners with quality development that values placemaking.
Ryan Blair, Head of Operations at Custom Build Homes said, "Oakley Orchards is a great example of a residential development which has been designed with a complete focus on improving the lifestyle of all those who will live there.
"By adopting a custom build process, the developer has ensured residents will benefit from both a house that works for them and a well-considered new neighbourhood with community at is core. Custom Build Homes are excited to be working with Village Makers to promote Oakley Orchards and we look forward to supporting buyers throughout the sales process and beyond."
Custom Build Homes are the sole selling agent for Oakley Orchards, with plots ranging from £55,000 to £310,000. Build costs vary depending on spec and the size of the build, but Village Makers anticipate build costs to range between £1,400 to £1,600 per sqm.
Find out more at Oakley Orchards website, or visit Custom Build Homes to find out more about purchasing a plot at this unique development.
As an estate agent, Custom Build Homes also has a range of other developments that it is marketing across the UK.
Newly released figures from HM Revenue & Customs for 'VAT refunds for DIY housebuilders' show that the self-build market was responsible for more than a third of all the new detached houses and bungalows completed in the UK for the year to March 31st 2011, and 10.2% of all new home completions.