The Daily Telegraph Homebuilding & Renovating Awards has announced the winner of its annual competition, a firm favourite for fans of homes and design.
The awards celebrate the cream of the UK's self build, renovations, extensions and conversions, and this year's awards included a selection of properties that overcame the odds to complete their project. This year's entrants faced a range of problems that can impact any project, such as planning delays, material shortages, builders bankruptcies and, of course, the pandemic.
The overall Home of the Year winner of the Daily Telegraph Homebuilding & Renovating Awards was Patch House, designed by Spencer and Emma Guy. This family home was a labour of love that was 10 years in the making, with the family finishing the rooms while living in the property between 2011 and 2019.
The property exhibits the couple's passion, with perfect attention to detail and design principles carried through from the architecture to the interiors. The result is a home that is able to adapt to the needs of the family as it matures, and is highly sufficient as it only requires heating for 70% of the year.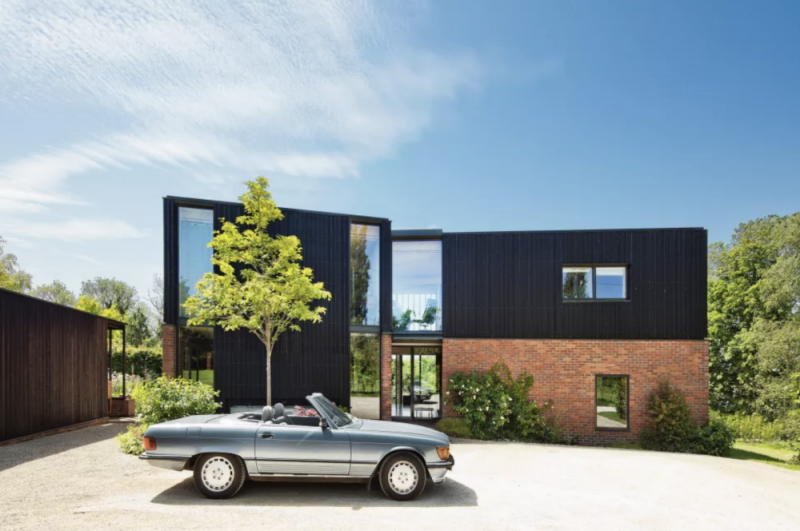 Patch House, Winner of the Home of the Year (Credit Martin Gardner).
"This is a house fit for our challenging times, addressing climate change through harnessing renewable energy technologies," says architect and judge Darren Bray. "It's designed to enhance the site context and landscape, including the natural swimming pond that sits to one end of the two storey volumes."
"We were particularly impressed by how this new home has been exactingly designed for its site, which was previously occupied by a derelict chicken shed," adds editor and judge Claire Lloyd. "Not only does the house's orientation ensure that the living areas benefit from passive solar gain, but carefully placed glazing frames the views like artwork and natural light brings different spaces to life throughout the day. This new home exudes warmth and character but, importantly, it's also a practical, robust family home."