Self builders in Scotland need to be quick if they're hoping to apply for the Self Build Loan Fund, which closes on the 31 August 2022.
Administered by the Communities Housing Trust (CHT)  on behalf of the Scottish Government, the fund is designed to support self or custom builders, allowing them to finance the construction of their new home up to a maximum of £175,000.
In March 2021, Scottish government extended the Fund for another year to allow for the inevitable delays brought on by the pandemic and its impacts on labour and materials. At the same time it boosted the fund by £2 million.
The fund was launched on 1 September 2018 and is open to applications from individuals who have been unable to secure self-build mortgage finance from the mainstream market for their project, but are in the position that they can repay the loan by 31 August 2023.
To date, the fund has financed the projects of 40 families and individuals in 13 local authority areas: Aberdeenshire, Argyll & Bute, East Ayrshire, North Ayrshire, Falkirk, Highland, South Lanarkshire, Orkney, Perth & Kinross, Scottish Borders, Shetland, Stirling and the Western Isles, with more to come.
Find out more about the fund and the applicants on the CHT website.
In February 2021 the CHT created a short briefing paper about the impact of the fund, which you can see here and captured in the infograhpic below.
This reflected growing demand for the Self-Build Loan Fund, with increasing interest over 2020, rising by 153%.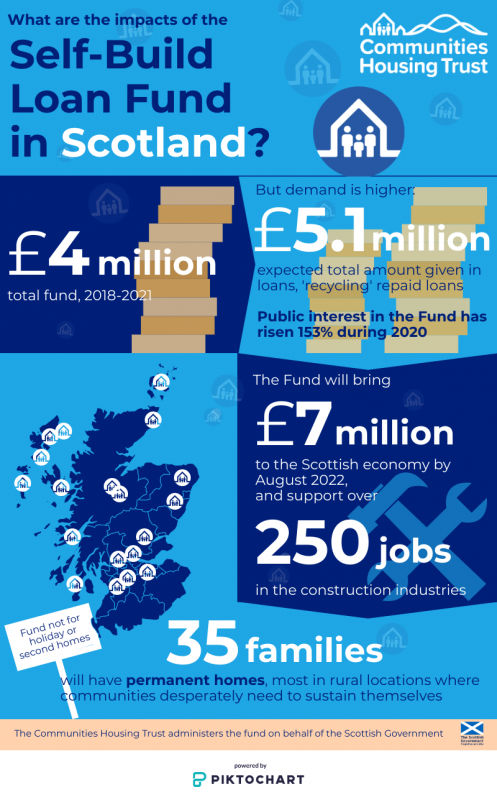 Main image: Image by Sharon Ang from Pixabay
​
Ethical lender Ecology Building Society is incentivising sustainable building with a new range of discounts for the most energy efficient homes on its C-Change mortgages for custom and self build homes.
The new discounts have a maximum discount of 1.5% off the rate for homes that reach Passsivhaus standards, with a sliding scale of discounts available for other highly energy efficient standards. The enhanced range builds on the building society's record for supporting sustainable and energy efficient projects.
Not only do the new discounts help meet the UK's net-zero ambitions, but they are a welcome incentive at a time of increasing mortgage rates and the wider cost of living crisis.
How the products work
Ecology's self-build mortgages start with an initial rate of 4.99% during the construction phase of your project (from 1 August). Once completed, borrowers who have achieved the right standard are eligible for a C-Change discount of up to 1.5% based on the SAP rating in the EPC (Energy Performance Certificate) or if the property is accredited to the AECB Building Standard or Passivhaus standard.
The changes also include the addition of dedicated discounts for homes built to a SAP rating from 100 to 109 and SAP ratings of more than 110, of 1% and 1.25% respectively. This is a first, which Ecology is referring to as A+ and A++, that reflects the environmental performance of homes built to a standard that generates more energy than they consume.
Building Regulations require that a SAP calculation and a predicted 'On construction' Energy Performance Certificate (EPC) is submitted for new dwellings prior to building work commencing.
New range of C-Change Sustainable Homes discounts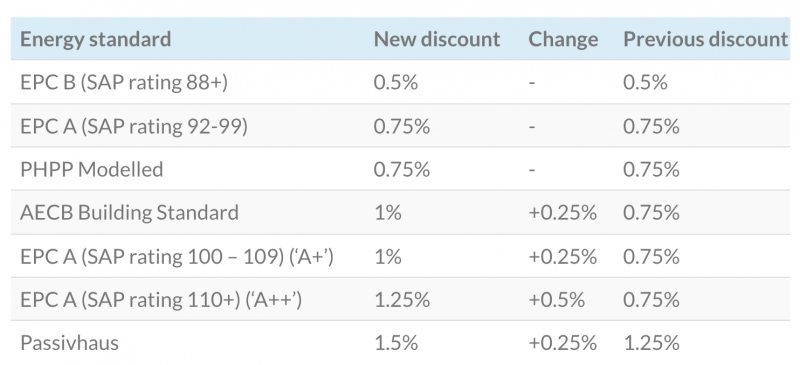 For example, if the finished build is accredited to the Passivhaus standard a discount of 1.5% applies giving a variable rate of 3.49% for the remaining term of the mortgage (from 1 August). An application fee of £799 is payable and applicants can borrow up to 80% of the property's value in stages to support the progress of the build.
The decision to enhance the discounts comes at a time when the government is recognising the urgent need to reduce the carbon impact of house building and has stated that new homes much reduce carbon emissions by 75% by 2025.
The Society also offers a Renovation Mortgage where a property is being purchased for renovation or retrofit. They will consider lending on homes in any condition, as long as the works required improve the energy efficiency of the property. On completion of the renovation the Society's retrofit discounts apply.
Daniel Capstick, Ecology's Mortgage manager explains, "Now more than ever it's important that lenders play an active role in incentivising green building and helping to reduce energy bills. We've been leading the way on sustainable mortgages for over 40 years, and we hope that the updates to the C-Change discounts will encourage our borrowers to build even more energy efficient homes, which is critical in the fight against climate change."
Mark Stevenson, Chair of the National Custom and Self Build Association said:  "NaCSBA knows that custom and self-builders lead the way in innovation and sustainability, as individuals invest more in a home that they have designed to suit their needs than a speculative builder would.
"This was evidenced in our 2022 Custom and Self Build Market Report, where over half of all self-builders said they had used a sustainable heat source in their project. Ecology's new discounts are a welcome incentive in the market, rewarding those who want to build a more sustainable future for themselves and their communities, and which set a challenge for the wider industry to raise its game and promote more sustainable construction practices."
Image credit: Image by MVOprp from Pixabay
Scotland-based Allan Corfield Architects is expanding its national coverage with a permanent presence at the National Self Build and Renovation Centre (NSBRC) in Swindon, and the launch of its first seminar for self builders wanting to develop their skills.
Architect Jenny Chandela has joined ACA, working out of its brand new NSBRC stand three days a week, and is able to answer questions or chat to you about your project. Alternatively, if you cannot get to Swindon ACA also offers a free initial online consultation.
In line with ACA's ethos of supporting self builders, as seen in its online Learning Centre, it has launched its first self build seminar at the NSBRC, How to Self-build Successfully*.
The one day event runs from 8:30 – 4:30, and is repeated on the Wednesday 27 and Thursday 28 October, and costs £80 per person, and is designed to educate novice builders all the key elements of the self build journey.
Topics covered include:
The NSBRC and how it can help with your project.
Finding and Assessing Land
Funding and protecting your project
Your project team and the design process
Project Management and cost control with CLPM
Future Homes Standards and Construction Systems
Renewable Heating Design 
MVHR design 
Speakers at the event:
Allan Corfield, AC Architects, Self Build and Low Energy Expert
Tom McSherry, BuildStore, Finance Expert
Brian Singleton, ADM Systems, MVHR Expert
David Gallagher, AC Structures, Structural Engineer
James Bryden, CLPM, Project Management and QS
David Hilton, Heat & Energy, Renewable Heating Expert
To find out more visit Allan Corfield Architects website and register your interest for the event, or get in touch with your questions to Kim via email or call 03333444217
* The How to Self-build Successfully seminar is not suitable if you are already working with an architect.
Community groups working to build their own homes will welcome the news that government has launched a £4million Community Housing Fund grant programme.
Housing Minister Christopher Pincher launched the fund recently, which is an extension to the Community Housing Fund, and is targeted at groups who are already organised and can prove their deliverability and are at the later stages of the pre-development phases.
The fund is administered by the Community Led Homes Partnership an umbrella organisation made up of the Confederation of Co-operative Housing, Locality, National Community Land Trust Network and UK Cohousing Network.
Community housing bodies, as well as NaCSBA, continue to lobby government to renew the wider Community Housing Fund, with news expected in the Comprehensive Spending Review in Autumn. Continuing the fund was one of the recommendations set out in the recently published Bacon Review, so the news of this interim fund is a welcome example of government's willingness to support the sector.
Tom Chance, Community Land Trust Network Chief Executive said: "Community led housing groups are rooted in their communities and truly understand local housing needs. There are so many fantastic projects planned across the country. This programme will help many of these projects come to fruition.
"This extension is very welcome news. But we know there are potentially 23,000 homes in the pipeline and without further Community Housing Fund most will not happen. So our campaign calling for the fund to be renewed for a further 4 years continues."
The fund is already open to applications until 31 December 2021 (or the money is allocated), and the works funded by the grant must be completed by the close date of March 2022.
To apply complete an eligibility checker on the Community Led Homes website. Eligible groups will then be emailed an online grant application form.
The Government has launched its First Homes scheme with the initial properties in the scheme going on the market in the Bolsover district, East Midlands.
The scheme is designed to help young people and key workers onto the housing ladder, and is the flagship model in the 'Own Your Home' website. The new site illustrates the range of support available to help people access a home of their own, and includes the Help to Build scheme – yet to open for bids – and NaCSBA's Self Build Portal.
As the showpiece of the campaign, the First Homes scheme has been designed for local first-time buyers, enabling them to purchase a property with a discount of at least 30% compared to the market price.
The discount is maintained in perpetuity for first-time buyers, meaning that when the home is sold the discount is able to be passed on to the new purchaser, as long as they fit the criteria. This ensures that the homes will always be sold below market, as long as it is first time buyers that buy it.
The scheme has been designed to specifically support key workers, such as NHS staff and veterans, and in turn offering wider benefits to local communities and enable them to stay in the communities where they live and work.
The initial First Homes properties went on the market in the Bolsover district, East Midlands, with a further 1,500 being market over the coming year. Government expects this to deliver 10,000 homes a year, which could be increase if there is demand.
The Halifax, Nationwide Building Society and a range of local building societies and community lenders have committed to providing high loan-to-value mortgages for First Homes to support the scheme.
Delivery of the scheme is part of the government's wider pledge to build one million new affordable homes in this Parliament and help put home ownership within reach for people across the country. Help to Build is part of this commitment, which is also expected to boost housing delivery by enabling more people to custom and self build.
Help to Build
The Help to Build Scheme is designed to support self and custom home building, allowing it to become a realistic option for more people wishing to get on to the housing ladder through lower deposit mortgages.
Lowering the required deposit will free up capital, so people can build the home that they want and need – whether it's a made to order home on a multi-plot site or a stand alone self build. The scheme will provide an equity loan on the completed home, similar to the Help to Buy: Equity Loan scheme.
The government's 'Own Your Home' campaign showcases the full range of home ownership options supported by government, such as the the 95% mortgage guarantee scheme which helps first-time buyers secure a mortgage with just a 5% deposit.
Housing Secretary Rt Hon Robert Jenrick MP said: "Enabling more people to buy their own homes is at the heart of the mission of this government, and First Homes will offer a realistic and affordable route into home ownership.
"Thanks to First Homes, we will offer more homes to local people and families, providing a route for first-time buyers to stay in their local areas rather than being forced out due to rising prices.
"First Homes will also support our fantastic key workers who are looking to get their first foot on the housing ladder – from front-line doctors and nurses to delivery drivers and supermarket staff – by giving many of them the chance to buy a home at a 30% discount."
Find out more about First Homes and Help to Build on the Own Your Home website.
Specialist self and custom build mortgage broker Buildstore Mortgage Services has shared with the Self Build Portal the fact that lending for the sector is in great shape currently, with a wide selection of products available.
For anyone looking to build their own home, the first thing people want to find out is how much they can realistically borrow. According to Buildstore Mortgage Services, the average value of a completed self build property it arranged finance for last year was just over £600,000, with the typical client borrowing around half of the final value of the home. 
For those whose aspirations are a little higher, BuildStore confirms that interest at the higher end of the self build market is continuing to grow and mortgage lenders are keen to tap into this demand.
Chris Martin, Head of Product Development and Underwriting at BuildStore, commented: "We are seeing more potential self builders looking for mortgages over £1 million to help them build their exciting forever home. We work very closely with lenders to develop products that reflect changing market needs and we have a number of mortgage deals available for larger loans.
Benefits of self building
At NaCSBA we know that building your own home has many benefits – with self builders securing a  home where they want to live, in a property designed by them to meet their own specific needs and circumstances. But BuildStore confirms that self builders are also likely to build their new home significantly cheaper than buying a comparable home from a developer.
It also knows that financing a home to build to an individual specification is different to buying an established or new-build property, but there is plenty of help and guidance out there if you know where to look.
"Every self-build client and project is different and lenders are also becoming more flexible with who they will lend to – including how they look at the self-employed and contractors and how they view different construction types," says Martin.
"Many self builders want to benefit from the shorter build times and better environmental credentials of modern methods of construction and there are many mortgage products available for this type of project.
"Self build is a growing area of the housing market and as it scales up we expect more lenders to enter the market and more options to open up for aspiring home builders – whether they want to borrow £300,000 or £1 million or more."
For more about finance for your project visit our How to Build section 
This is a NaCSBA member update.
According to specialist lender Together, a third of Brits would sacrifice part of their garden if it meant they could self build on the land. Based on a new survey, the data indicates that over 34% would take on a major self-build, with a mix of motivations. Of those surveyed, 14% said this would create a home for a family member, 10% would build a house they would sell and 8% would move in themselves.
According to the survey, 26% of respondees were interested in creating a standalone 'granny annexe' for visiting friends or family, if they had the space. Many attributed this desire due to the way in which the pandemic forced us to reconsider how we interact with our extended families.
One in ten also said that the boom in popularity for staycations offered an opportunity to rent such a garden build out as a short-term holiday let, while 8% said they were interested in long-term lets.
But it's not just big builds that people wanted in their garden, with a fifth (20%) of respondents saying they'd be keen to build a summerhouse or workshop to create their perfect space.
Scott Clay, distribution development manager at Together, said: "Our survey highlights homeowners' ambitions as we begin to return to a different kind of normality.
"People are thinking more creatively about how they could use their outside space, whether that is providing a standalone home office, a home for themselves to live or sell, or a specially-designed home for elderly or disabled relatives.
"It's important that homeowners have enough space and get any required building consent, including planning permission, before they take on a self-build. They will also need a lot of planning, determination, and the right finance in place before they start their project.
"However, as well as Help to Build, there are other options of funding your own build, depending on the borrower's ability to repay the loan. This could be through an advance from an existing lender, a self-build mortgage, or a remortgage, bridging loan or other types of property finance from a specialist lender."
Building in the garden
Duncan Hayes, a spokesperson for the National Custom and Self-Build Association (NaCSBA) said: "When considering options for garden plots it is important to understand the approach of the local planning authority. The right proposals in the right areas can help with the delivery of better and more sustainable homes that we urgently need.
"Care is needed as many will have specific policies to prevent inappropriate development of gardens that may cause harm to the local area. NaCSBA recommends that anyone wanting to build should sign their local self-build register and check out the planning policies on their local council's website in regard to creating new dwellings in a garden."
Andrew Baggot, managing partner and chartered accountant at Clarke Nicklin, adds: "As far as tax is concerned there are a few matters to bear in mind with a self-build project. As well as the tax benefits, there shouldn't be any Stamp Duty Land Tax (SDLT) to pay on the self-build, on the basis that it is being built in the owner's own garden.
"However, one tax that might need to be considered in more detail is Capital Gains Tax ("CGT"). Your primary home is exempt from CGT. Although, as soon as you've acquired a self-build home you then have two properties, only one of which can be exempt from CGT. It's therefore important to plan ahead if you're then thinking of selling one of the properties so that you minimise any tax that might become payable".
Find out more about tax on our advice pages.