Self builders in Scotland need to be quick if they're hoping to apply for the Self Build Loan Fund, which closes on the 31 August 2022.
Administered by the Communities Housing Trust (CHT)  on behalf of the Scottish Government, the fund is designed to support self or custom builders, allowing them to finance the construction of their new home up to a maximum of £175,000.
In March 2021, Scottish government extended the Fund for another year to allow for the inevitable delays brought on by the pandemic and its impacts on labour and materials. At the same time it boosted the fund by £2 million.
The fund was launched on 1 September 2018 and is open to applications from individuals who have been unable to secure self-build mortgage finance from the mainstream market for their project, but are in the position that they can repay the loan by 31 August 2023.
To date, the fund has financed the projects of 40 families and individuals in 13 local authority areas: Aberdeenshire, Argyll & Bute, East Ayrshire, North Ayrshire, Falkirk, Highland, South Lanarkshire, Orkney, Perth & Kinross, Scottish Borders, Shetland, Stirling and the Western Isles, with more to come.
Find out more about the fund and the applicants on the CHT website.
In February 2021 the CHT created a short briefing paper about the impact of the fund, which you can see here and captured in the infograhpic below.
This reflected growing demand for the Self-Build Loan Fund, with increasing interest over 2020, rising by 153%.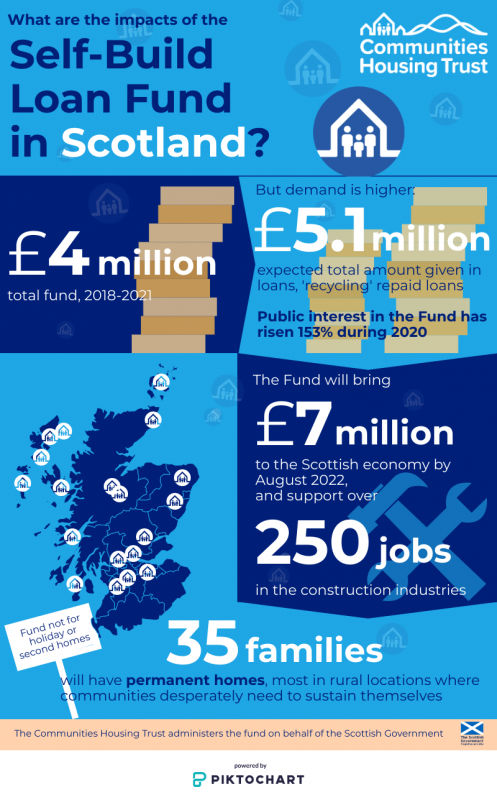 Main image: Image by Sharon Ang from Pixabay
​