A new digital Project Managing platform has launched to support self builders wanting to project manage their own build.
The new service, called Build Manager, has been designed to empower and educate individuals on their self build journey.
As Build Manager is a NaCSBA member, customers can be confident that its service is trustworthy, as all NaCSBA members offering a service must sign up to the NaCSBA Code of Practice. This offer reassurance that NaCSBA can get involved to mediate should anything go wrong.
Build Manager is free to join for the basic level, which gives would-be self builders access to the Self Build Process Map and the overview of each step of the service, from inception to completion. The map splits the process into 12 steps, grouped under three headings: Getting Started, Preparation and Construction.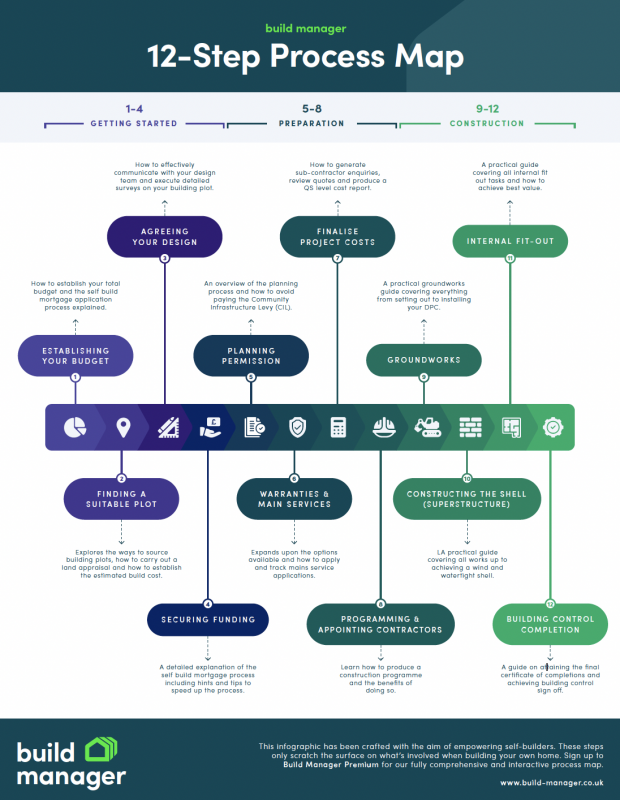 A membership fee of £995 gives self builders 2 years' access to the detailed Process Map and its associated guides, including a feasibility spreadsheet and templates to support customers with their build. The interactive Process Map to take them through the process.
Currently, there is a launch offer of £695 for members joining before the end of March.
Ben Taylor, Director, said: "Build Manager helps self-builders take their projects from concept to completion, showing them how to manage their own building project by developing industry skills and knowledge with guidance from our experts and partners every step of the way."
In addition to supporting members of the public, Build Manager is keen to build its network of professional companies and services that can support its offering, and interested parties can get in touch via the website.