Basement specialist and NaCSBA member Glatthaar Keller has launched a new landscaping product for homeowners. Drawing on its expertise in prefabricated concrete, Glatthaar has combined it with a facing of natural stone or concrete finishes to create Starwalls.
The walls are a prefabricated retaining walls supplied with either concrete or natural stone finishes in situ, offering landscaping solutions that are especially useful for sloping sites that require retaining walls. As many self builds are constructed on unusual plots, such as those with slopes, which a speculative builder may avoid, a prefabricated solution is a welcome addition to the market.
NaCSBA's recent report on the industry showed that over half of all self builders chose Modern Methods of Construction (MMC) for their build, and this new landscaping solution is also an example of how MMC can speed up on-site work.
The slabs are precast, and finished with stone or stone look elements to create strong walls with the look of a hand-built stone wall, and come in a range of stone types and finishes, such as limestone, or various colours of granite. Their strength means they can be used for retaining walls, slope reinforcement and many free-standing options, such as boundaries, noice or wind blockers or privacy screens.
Prices are between £200-£250 per sq m for the prefabricated elements + £200 square meter for the groundworks and foundations. However, the prefabricated panels are created in Germany, so for the project to be economically viable the walls should be large enough to fully load the HGV.
The idea for the walls originated within the infrastructure division, which creates retaining walls for large-scale civil engineering projects, where they realised that they could replicate the process to create smaller scale prefabricated elements for self build and landscaping projects.
A typical project involves excavating the site and creating the footings, like with a slab foundation. The prefabricated elements are created in the factory where the stone finish is applied along with pointing, prior to the elements being delivered and erected to site, ready for backfill.
Visit Glatthaar's website for its range of pre-cast concrete basement products, including its Baby Basements – ideal for plant rooms.
A new digital Project Managing platform has launched to support self builders wanting to project manage their own build.
The new service, called Build Manager, has been designed to empower and educate individuals on their self build journey.
As Build Manager is a NaCSBA member, customers can be confident that its service is trustworthy, as all NaCSBA members offering a service must sign up to the NaCSBA Code of Practice. This offer reassurance that NaCSBA can get involved to mediate should anything go wrong.
Build Manager is free to join for the basic level, which gives would-be self builders access to the Self Build Process Map and the overview of each step of the service, from inception to completion. The map splits the process into 12 steps, grouped under three headings: Getting Started, Preparation and Construction.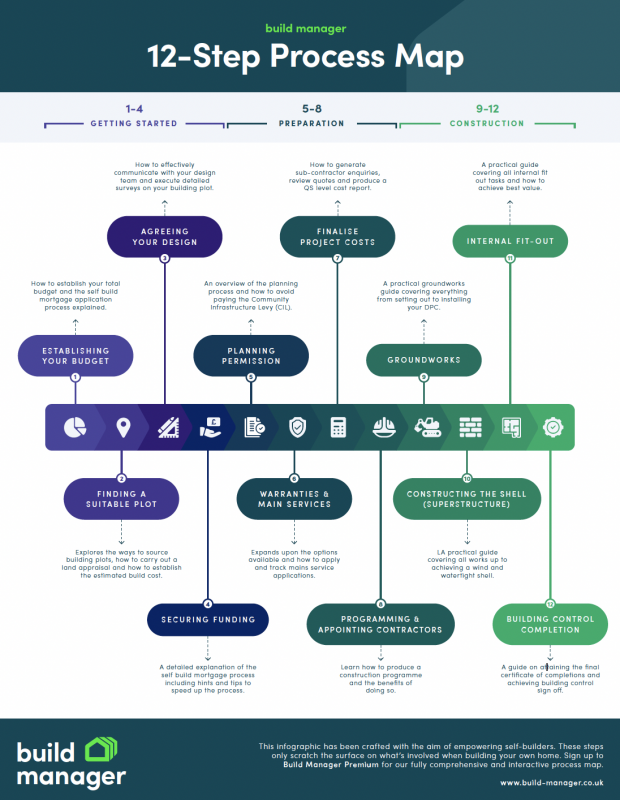 A membership fee of £995 gives self builders 2 years' access to the detailed Process Map and its associated guides, including a feasibility spreadsheet and templates to support customers with their build. The interactive Process Map to take them through the process.
Currently, there is a launch offer of £695 for members joining before the end of March.
Ben Taylor, Director, said: "Build Manager helps self-builders take their projects from concept to completion, showing them how to manage their own building project by developing industry skills and knowledge with guidance from our experts and partners every step of the way."
In addition to supporting members of the public, Build Manager is keen to build its network of professional companies and services that can support its offering, and interested parties can get in touch via the website.
Construction activity has risen at its fastest rate since 1997, and the post-pandemic boom has a had a dramatic effect on the availability of labour and materials, issues compounded by Brexit and wider shipping issues.
What this means for self builders planning or working on a project is that materials, especially where approved by planning, can be difficult to secure, causing delays and rising costs. Equally, builders and contractors submitting quotes are finding it hard to stick to these in every case, due to the unforeseen nature of the changes.
The Builders Merchants Federation (BMF) conducts regular quarterly reports, the Builders Merchants Building Index which tracks activity. Its latest report into Q1 2021 activity showed growth fo 15.1% against the same quarter in 2020 as the industry bounced back, with record sales of materials and hire equipment.
The Federation of Master Builders (FMB) reported that small builders, which build many one-off homes, are seriously impacted by these shortages. These small- to medium-enterprise (SME) builders tend to buy materials on an on-demand basis, in comparison to large volume builders, which are able to buy materials in bulk and store until they are needed.
The Construction Leadership Council (CLC) tracks issues around materials supply and demand through its product availability group. This reports monthly on availability to support house builders with their forward planning, as delays and shortages impact pricing and scheduling.
Scheduling is important in building, as many trades cannot move onto site until a previous stage has been completed, and contractors may have to move to other jobs.
The issue is, to a degree, global and is expected to continue in the foreseeable future. Government's own data on materials and statistics also points to the continued issue, for example, the price of imported plywood was 29.8% more expensive in May 2021 than it was in May 2020. Construction News reported that overall, material costs were 10.2% more expensive than the year before.
The issue is wide reaching, and includes structural steel, timber, pitched roofing materials, plastics and paints, cement and electronic components.
Brian Berry, Chief Executive of the FMB said: "The building materials shortage is disproportionately affecting small builders and threatening their recovery from the pandemic despite strong growth in the construction sector.
"The materials shortage is proving a serious detriment to both businesses throughout the supply chain and consumers. As the country reopens for business, it's imperative that building firms have better access to the materials they need to build."
The FMB also recently reported in its State of Trade Survey that 38% of its SME housebuilders were struggling to hire bricklayers, up from 22% in 2020, while 34% were struggling to hire carpenters, up from 23% in Q4 2020
Self builders will welcome the launch Kloeber's Interactive House product search tool on its website, designed to support customers as they make the decisions for their dream project.
Every self builder knows how many decisions need to be made when planning and designing a house from scratch, so anything that educates and supports this process will be welcome.
Window and door specialist Klöeber has created the online tool to empower its customers, and its a really effective way of quickly getting to grips with material choices and cost implications.
The virtual house covers the entire Kloeber door and window range, with users able to click on a product they like to bring up a pop-up table containing product information, material and price options, and even photos of the product on a house.
Matt Higgs, Kloeber's Director said, "A vital part of any planning process are the decisions made on the material, style and price range of your doors and windows. The Interactive House allows the prospective self-builder or home improver to see all those elements, in an instant, before even picking up the phone to our technical sales team.
"This will give customers an idea of what will work with their project and budget and with graphics and photos, we hope The Interactive House inspires our customers with their project concept and design"
To see products in situ, Kloeber also has showrooms in Cambridgeshire, Buckinghamshire, West London and West Sussex, available to book by appointment. To book visit Kloeber or call on 01487 740044.
The National Self Build and Renovation Centre (NSBRC) reopens its doors to the public on the 12 April, following the most recent lockdown, and will be open Tuesdays-Sundays from then.
As with last year, Covid-secure measures will be in place for all visitors, and face to face events will be making a welcome return, including an Ask the Expert open day on 1 May.
Despite not being physically open during lockdown, the centre has remained busy, with staff speaking to roughly 4,000 members of the public, working on a self build or home improvement project.
The NSBRC also found that nearly two-thirds of people had continued to build through the pandemic, many of whom joined one of the centres online workshops or courses.
As well as live events, the NSBRC will be continuing to offer its popular virtual events, such as the Building Systems Workshop on the 26-27 March.
Specialist in bespoke glazing, Kloeber has added three new aluminium windows to its range of windows and doors, the Kustom Window, Heritage Window and Über Window. The new products have been launched to meet demand for a greater range of products, whether to do with performance or style.
The aluminium window frames can be finished in a wide range of RAL colours, including with different colours inside and out.
The new window products include:
The Kustom Window (below) is part of Kloeber's standard range, but offers greater value as an upgraded version of their original KL70. This quality window is Secured by Design certified and provides higher performance with lower U-values.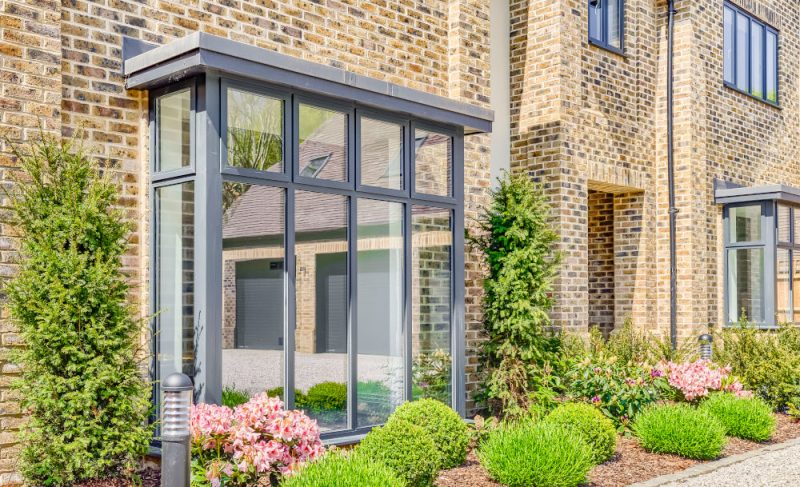 The Heritage Window is for those looking for a stylish, on-trend, classic that would suit both the contemporary or traditional home (lead picture and below). Aesthetically pleasing with the option of characterful steel window style glazing bars in a choice of configurations, U-values of up to 1.2 and Secured by Design certification.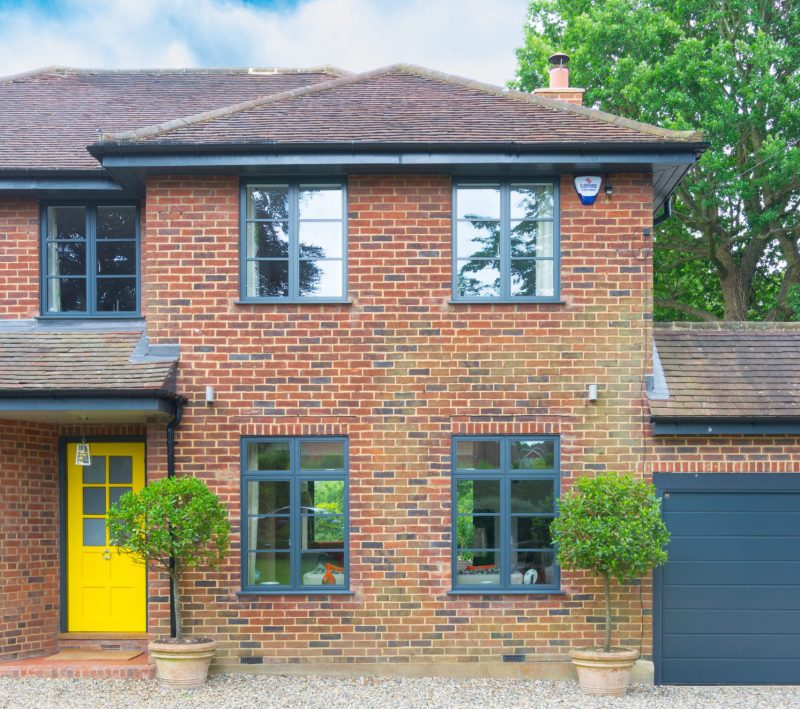 The Über Window is Kloeber's high-end window that provides unrivalled performance and a completely flush sash with total uniformity across fixed and opening sections (below). This ultimate window in their range is ideal for the contemporary property or to add an edge to a traditional style home.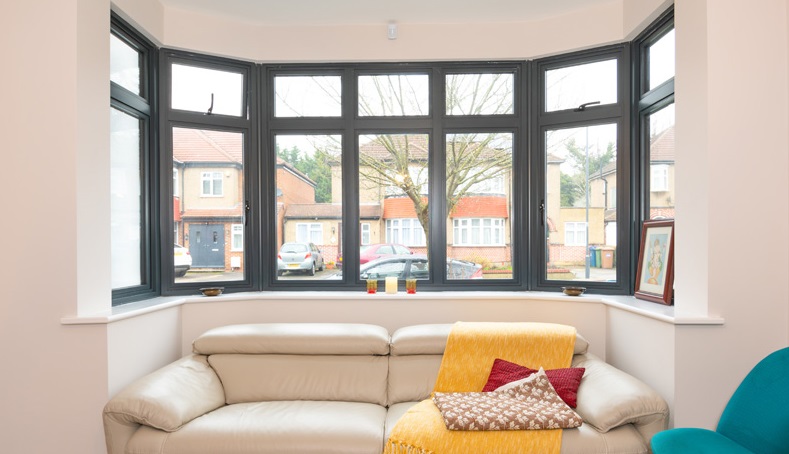 Matt Higgs, Kloeber's Sales Director said, "We are extremely excited to bring these new windows to market during these challenging times. From the Kustom Window with improved U-value and performance to the Heritage Window, for those looking for a traditional style window with 21st century technology through to our high-end Über window with superlative performance, flush frame and sash.
"Offering these quality windows with a style and price to match all tastes and budgets, will help all our customers make the perfect choice for their projects."
To see sample up close, visit a Kloeber's showroom, in Cambridgeshire, Buckinghamshire, West London and West Sussex. With health and safety paramount, customers can be confident that strict procedures are in place with additional signage and gel stations.
Available on an appointment only basis. For more information go to www.kloeber.co.uk or call a member of their team on 01487 740044.