Head to the National Self Build and Renovation Centre for its show on Friday 16-Sunday 18 October, which is one of the few shows still running a live event.
The National Self Build and Renovation Centre is a permanent exhibition space dedicated to self building, with permanent stands and educational exhibits helping you to navigate the process of self building or renovating a home.
The show is the ideal event to meet experts and see and test products in a spacious and relaxing setting – with measures in place to ensure social distancing requirements are met.
The show offers something for everyone, no matter what stage you are at with your project – whether you are still at the early planning stage or part way through.
The centre has experts on hand with offering a range of advice, from finding a plot and arranging your finances to deciding on the best building method for you. As well as lots of information about heating systems, green building and more.
National Self Build & Renovation Show:
When: Friday 16th – Sunday 18th October
Time: Fri & Sat: 9:00am – 5:00pm; Sun: 9:00am – 4:00pm
Where: NSBRC, Just off M4 Junction 16, Swindon, SN5 8UB
Tickets: Free in advance, £12 on the door.
CREATING A COVID SAFE EVENT
Special measures have been put in place to ensure the NSBRC and show safeguard its visitors, exhibitors and staff. It is working hard to ensure it complies with current guidelines and as such this show will be a little different from previous events.
In order to maintain social distancing, the centre is reducing the capacity of the event and requires all attendees to book in advance on this occasion. Tickets are limited to a maximum of 2 adult members per household, and children must remain with their parents at all times.
Additional measures have been implemented for the safety of all, which will be explained on the day.
The team behind Homebuilding & Renovating has launched a Virtual Summer Event on the 24 to 25 July, bringing you the best bits from a self build and homes show, but from the safety of your home.
Just because live events and shows are currently on hold due to the Coronavirus crisis, it doesn't mean that you have to put your project on hold. With the Homebuilding & Renovating Virtual Summer Show everything you need for your home project is just a click away.
Homebuilding and Renovating has taken the decision to transfer everything that people know and love about its Homebuilding and Renovating Shows and transfer it to the digital world.
What does a virtual event look like?
The team has worked to ensure the online event isn't just a website. Instead, the Virtual Summer Event offers you all the things you would see at a live Homebuilding & Renovating Show.
Visitors can click through and virtually browse what's available in the auditorium, then select a category of interest to be transported into the virtual exhibition hall, containing all the exhibitor stands within your chosen category.
From there you can take a look around, watch demonstration videos, download brochures, live chat and do all the things you would at a live event, but from the comfort of your own home.
One of the features our visitors love about our events are the informative seminars and masterclasses, they're always jam packed with people like you finding out information delivered by our expert panel of Builders, Architects, Planners and experienced developers.
The virtual event is no exception, you will be able to attend sessions about planning advice, kitchen and bathroom design, how to find land and much more. We will be bringing you a varied timetable across 4 theatres, where you can join as many sessions as you want, and even dip in and out over the 2 days, plus the content will be available for 4 weeks after the event.
Keep your project on track by attending the virtual event, for free, over 2 days on the 24th and 25th July.
The live show runs for two days, and the platform will stay live with videos and other content for four weeks afterwards, too.
The National Self Build and Renovation Centre has responded to the stay-at-home measures proactively by offering a suite of online courses, ensuring that Covid-19 doesn't halt prospective self-builders' ambitions to hone their skills and knowledge. The new programme of online content will help anyone with a project to keep their homebuilding project on track.
Katy Hardwick, NSBRC Course Coordinator said, "I am delighted to announce that we will be adding to our online offerings by launching the first of our Virtual Courses in May. We feel this is a great step forward and are pleased to help you research and plan for your projects whilst at home."
---
The NSBRC Guide to Project Management
This course is essential for anyone considering their first self build, home improvement, loft conversion or renovation project. Covering everything from budgeting, insurance and site management through to health & safety, snagging and VAT reclaim.
Delivered on Zoom, over three 2 hour modules, this online course is delivered by experienced Project Manager, Charlie Laing. Charlie has presented NSBRC courses for several years and is Director at CLPM Ltd, a specialist project management business.
Course cost: £59pp
Date: starts Wednesday 13th May.
---
The NSBRC Guide to Renovation Projects
Our Renovation Course is delivered by NSBRC Helpdesk Expert, David Hilton. David is an authority in sustainable building and energy efficiency, with extensive knowledge in building fabrics and heating systems.
As part of the course, David will also guide you through the NSBRC's own fantastic Renovation House where you can watch the theory come to life.
Delivered on Zoom, over three 2 hour modules, this online course is delivered by experienced expert, David Hilton. David has been involved at the NSBRC for many years and also presents our Eco Workshops and the NSBRC Guide to Heating Your Home.
Course cost: £59pp
Date: starts Thursday 14th May
---
The NSBRC Guide to Heating Your Home
This Course has been designed specifically for Self Builders and Home Renovators and explores the latest options in heat and energy sources, both renewable and conventional systems.
Our Heating Your Home Course is delivered by NSBRC Helpdesk Expert, David Hilton. David is an authority in sustainable building and energy efficiency, with extensive knowledge in building fabrics and heating systems.
As part of the course, David will also guide you through the NSBRC's 'Plant Room' within our fantastic Renovation House where you can watch the theory come to life.
Delivered on Zoom, over three 2 hour modules, this online course is delivered by experienced expert, David Hilton. David has been involved at the NSBRC for many years and also presents our Eco Workshops and the NSBRC Guide to Renovation Projects.
Course cost: £59pp
Date: starts Friday 22nd May.
---
Ask an Architect: Free online consultations
Frustrated with the existing layout of your home?
Need an extra bedroom but don't want to move?
Have some self-build ideas but need advice on putting them into practice?
If you have any of these issues, then you may be interested in our online 'Ask an Architect' sessions. Working with The Royal Institute of British Architects (RIBA) we are offering a free personal consultation with an architect to discuss ideas for designing and building your own home, or renovating or reconfiguring your existing home, in a no-obligation 25-minute virtual meeting.
Meetings will take place using Zoom and we will arrange everything for you.
Bookings MUST be made in advance. Please contact Deanah with your contact details to secure your personal consultation:
Course cost: Free
Date: Saturday 16th May
---
Passivhaus Workshop
The Passivhaus standard is designed to deliver comfort, quality and lower running costs, in any type of building. We spend most of our time indoors, so buildings play an important part in our health and wellbeing.
The most successful and cost-effective way of achieving Passivhaus is by incorporating the standard before your designs are complete. It's also useful if the Passivhaus elements are included in your planning application.
Take advantage of this free workshop and ensure you have the right team behind you for your Passivhaus home.
This 'virtual' workshop will offer a full timetable of talks & webinars, question time sessions and live guided tours from the NSBRC across various platforms.
Workshop Highlights:
Introduction to Passivhaus Principles
Surgeries on: Airtightness, Insulation, Ventilation, Windows & Doors
Real Life Case Studies
Walking 'Passivhaus' expert tours
Question Time
How to improve existing buildings
Course cost: Free
Date: 'Virtual' Event – Fri. 15th & Sat. 16th May
---
Virtual Enquiries
To further support users, the NSBRC has set up a 'virtual enquiry' service, where you can request information from centre exhibitors from the comfort of your home.
We've launched our new offering. Simply provide a few details, choose the companies you want to hear from, and we'll pass your enquiry directly to our exhibiting partners.
Our exhibitors are listed by segmentation. Just click on the + sign to expand each group, letting you view all of our exhibitors who can help with that particular area.
Follow the simple 3-step process:
Provide a few details by completing the short form.
Select the companies you want to hear from.
Click the 'submit' button, and we'll pass your enquiry on directl
Alternatively, you can also visit our exhibitors individual profile pages to find out more information about them, and fill in the 'quick enquiry' form to request information from that specific business.
The National Self Build and Renovation Centre has partnered with NaCSBA to deliver a series of free webinars to help anyone interested in building their own home understand the various stages, and key decisions, involved in a self build project. These one hour sessions are delivered by Self Build Specialist Mike Hardwick and will be hosted on Zoom (free to download).
The first wave will start on Wednesday 15th April at 11am, and will be running the following Wednesdays at 11am, over three sessions. The first session will be packed with helpful information and there will be a chance to ask questions to Mike and the NSBRC team.
Session 1: Budgeting, Finding Land and Design – Wednesday 15th April
Session 2: The Planning process and Building Regulations – Wednesday 22nd April
Session 3: Trades & Materials – Wednesday 29th April
Note: its worth downloading and testing Zoom prior to the event to make sure your system is working in time for the start.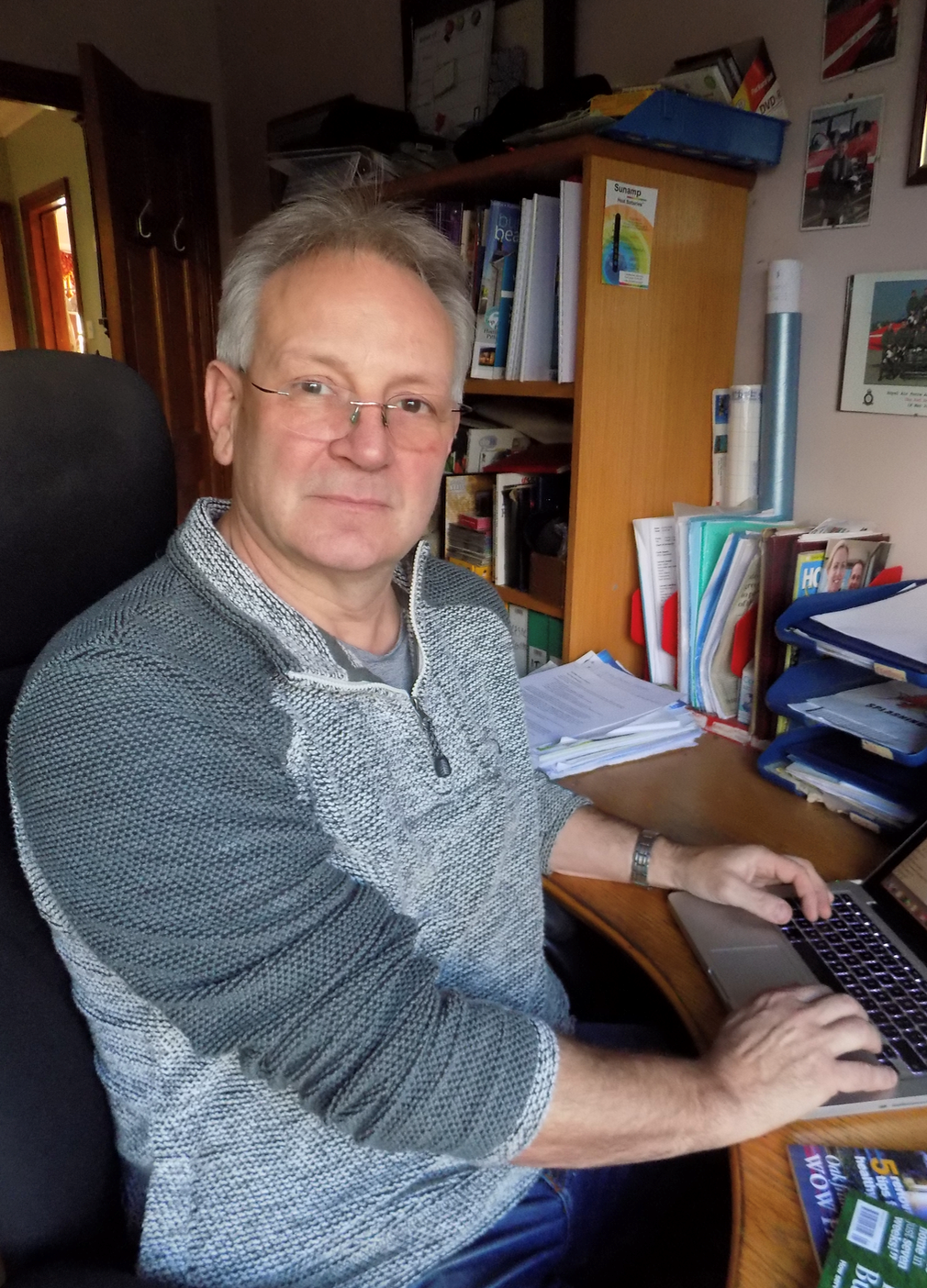 Meet Mike
Mike Hardwick is an independent self build consultant. Having been through the process of building the Hardwick family home, he has specialised in helping others to do the same, having previously run the self build and project management courses at the NSBRC for several years. A regular on the self build show circuit, Mike is currently General Manager of NaCSBA.
Mike recently wrote a blog on self building during the crisis, which you may be interested in if your own project is underway.
The National Self Build and Renovation Centre is the only permanent exhibition space educating people about self building your own home, and is an essential resource for anyone converting, building or extending their home, with a chance to see products and materials first hand.
While currently closed due to the crisis, the centre is operating a virtual enquiry service. Simply fill in the online form indicating which categories of exhibitors you are interested in to receive information from them.
Nothing more needs to be said about the devastating effects of Coronavirus for 2020, but self builders and suppliers are a resourceful, and resilient bunch. For some the changes are dramatic, and the National Custom and Self Build Association (NaCSBA) wishes the very best to anyone or any business personally affected by the situation.
With regards to shows and industry events, many have been postponed due to safety concerns around the virus, so we've provided a run-down of the affected shows to help you, see below.
Enforced time in
If you are stuck indoors with an unexpected amount of time on your hands why not make the most of it and research in depth into a custom or self build project. NaCSBA knows that those people that research the most end up making the best, and most cost effective decisions. So use your enforced time in to plan something to look forward to, for when things return back to a bit of normality.
Take a look around the Self Build Portal's Get Support section for help and advice around the entire process of self building, or have a look in some case studies for inspiration.
Don't forget, the homes magazines all have brilliant websites packed with help and advice, such as Homebuilding & Renovating, Build It, Self Build & Design and Grand Designs. Or if you prefer to sit with something physical, why not get a magazine subscription – Self Build Portal users can access great subs offers if they register!
Currently, many newsagents, such as WH Smiths, are closed, meaning that getting single copies of a magazine may be more difficult to do. But Self Build & Design have come up with a brilliant solution – offering its current issue for free as a digital product on its website for the duration of the isolation period. Fantastic to see self builders still coming up with great alternative ideas!
And if you fancy some inspirational from a wider selection of have a look around LoveProperty or Dezeen for some exciting design ideas, as well as find many self build companies on instagram: Homebuilding & Renovating, Build It, Self Build & Design and Grand Designs
While you're looking why not set up a pinterest account and create your own online mood board of things you love. Lot's of amazing designers, self build companies and regular people have great accounts that you can use to give you inspiration, and you can create a virtual mood board of looks and likes for your own project.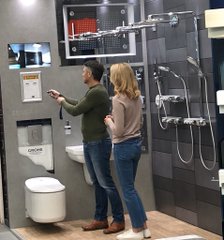 New dates for shows
The National Self Build & Renovation Show at the NSBRC, Swindon, is now 25-26 July, as opposed to 16-17 May. Read more.
Homebuilding & Renovating Show, NEC, Birmingham – now 9-13 July instead of 26-29 March. New tickets will be emailed out – visit the FAQs page for more.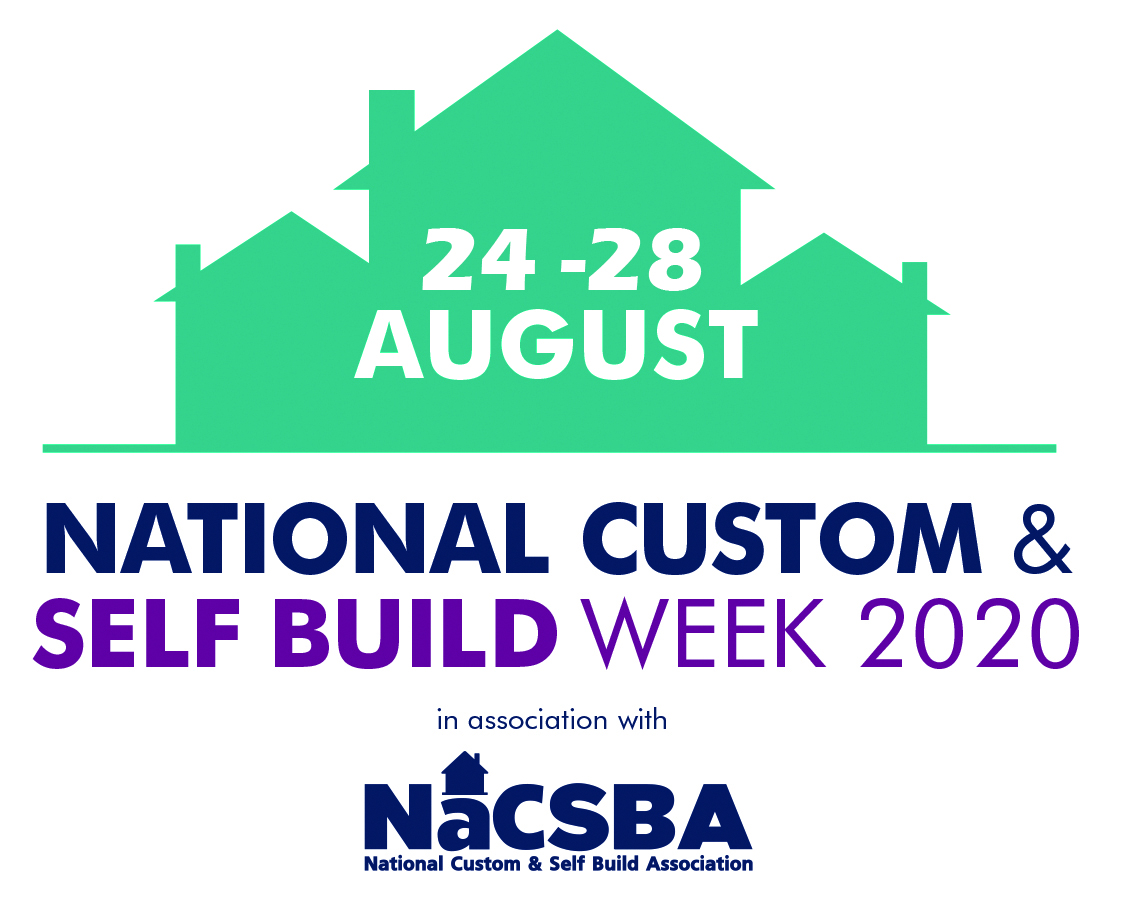 National Custom and Self Build Week – is now 24-28 August 2020, instead of 4-8 May
Grand Designs Live, Excel – now 22-31 August 2020, instead of 2-10 May. Existing ticket holders can use their tickets at the London event in August, or transferred to Grand Designs Live, NEC, in Birmingham on 7-11 October. Find out more.
Build It Live, Bicester – now 19-20 September instead of 6-7 June. Tickets from the earlier dates are valid for the new dates. Find out more here.
In addition:
'Passivhaus Workshop' at the NSBRC, Swindon is now on the 15-16 May, instead ofthe 3-4 April
Stay safe, and keep planning!
Not to be beaten by Coronavirus, the National Custom and Self Build Week has moved from its traditional May date to coincide with the rescheduled Grand Designs Live with the week running between the 24-28 August, while Grand Designs Live runs from 22-31 August at London's Excel.
Following the success of last year, NaCSBA will be on site at the show throughout the week taking part in the Self Build Clinic, as well as joining Grand Designers on the Grand Theatre stage as they discuss their projects. So if you've a question about your project or simply want to know how to get started, come along to the Ask the Experts area of the show and come say hi.
TIP – the Ask the Experts area gets booked up quickly, so head there first to book a time slot, then return when you've had a chance to look around the show.
National Custom and Self Build Week 2020 is focussing on helping people get started on their journey to creating their own home. This could be a self build where they commission everything themselves, as well as finding the plot, or custom build, where they buy a plot with planning in place. Whichever route suits your needs, the first step is always to sign up to your local Right to Build register via the Right to Build Portal. This is crucial, as it helps councils assess local demand, which they consider when fulfilling their wider housing and planning duties.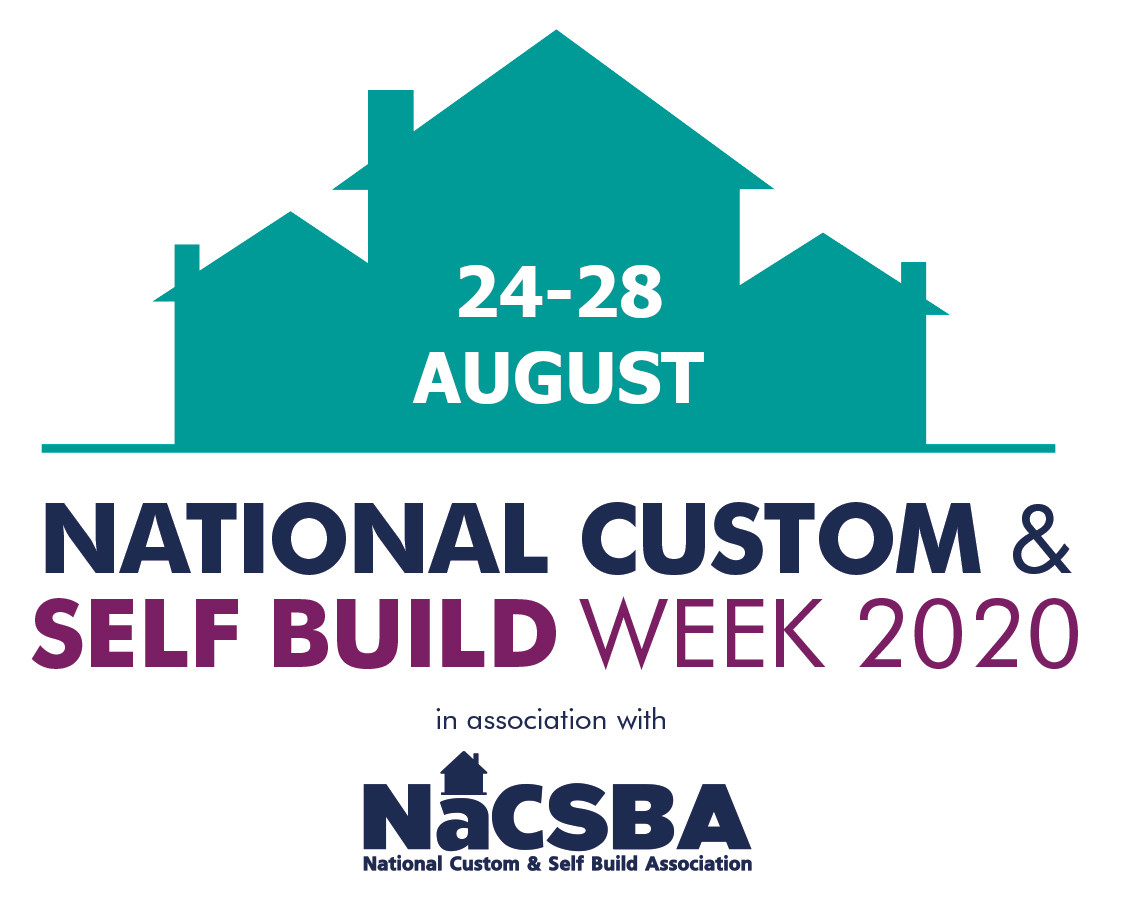 This year Grand Designs boasts a range of new exhibitors and features, as well as all popular favourites, with design guru and TV broadcaster, Kevin McCloud leading the event. From renovation, building a new home, redecorating a room, installing a new kitchen or simply looking for ideas, Grand Designs Live offers visitors the opportunity to learn about the world of interiors, design and self‐build. Covering Build, Kitchens, Bathrooms, Gardens and Interiors the show will offer access to amazing brands launching new products, talks live from industry experts and homewares not yet available on the high street.
Self Build Portal users can get free tickets for the show using the code NACSBA, either for the weekend dates or the week dates when the Self Build Clinic is on.
Existing ticket holders for the May show can find out how to use their tickets at the August show here.
RUSS (Rural Urban Synthesis Society), the Lewisham-based community-led self-build housing group, is leading a tour to some of Bristol's most innovative community-led housing schemes. The trip offers a chance to get up close to the schemes and meet some of the residents, find out about their own journeys and how best practice has emerged.
RUSS's School of Community-led Housing offers individuals, community groups and housing professionals the chance to learn from RUSS's years of experience and gain information about how to set up a community-led housing project. The the trip is part of its work to educate around self build and community-led housing.
Bristol is one of the best places in the UK to go to see great examples of community-led housing in England, and RUSS School participants can now see for themselves on this exclusive tour of some of the most developed and inspiring community-led housing schemes in the country.
The one day visit will include:
Ashley Vale/The Yard – a self-build development, now home of Ecomotive, Bristol CLT and the Bristol CLH Hub
Bridge Farm – a new self-build community and a new type of social housing hinged around a renovated farmhouse and outbuildings
The Courtyard – Bristol's first purpose built co-housing project.
DATE 10 August 2019
TIME 10-5pm, excluding travel times
TICKETS £25 including booking fee and VAT – includes entry but not rail travel or taxis so these will need to be bought by attendees (taxis are expected to be no more than £15 pp if used – it is possible to walk between the residential sites. Ashley Vale to the Courtyard is about 10 minutes walk. The walk to Bridge Farm is about 20-30 minutes.)
LUNCH Lunch is included in the ticket price, provided by Ashley Vale residents. When booking please let us know if you have any dietary requirements.
TRAVEL The group will be taking an 8.30 train from Paddington to Bristol Temple Meads – you are advised to buy your ticket as soon as possible as prices will rise. From Temple Meads we will share taxis to Ashley Vale and then on to the other sites. Return to London is expected at about 6pm.
If you do not wish to take the train you are welcome to make your own car sharing arrangements. There is no parking in the Yard but there is free parking in the residential sites nearby.
Lancaster City Council is holding an information evening for prospective self and community builders on Thursday 20th June 2019 at The Storey, Meeting House Lane, Lancaster.
Starting at 6pm with presentations from an architect, Lancaster planning, a self-builder and Action with Communities who offer help and advice for community builders. This will be followed by exhibitors and the chance to get advice from planners, architects, passive, eco and modular house suppliers and builders including Beattie Passive, The Green Build Store, Hartwyn Eco Build and Simply Modular, The Penrith Building Society, Action for Communities and the Community Land Trust.
To find out more and register for the event visit Lancaster City Council's dedicated page.
If your company provides goods and services which may be of interest to self-builders and would like to exhibit at the event please email, planningpolicy@lancaster.gov.uk
Save the date for National Custom and Self Build Week 2019, running between the 6-12 May this year. NaCSBA is organising a series of events around the week to celebrate the best of custom and self build and showcase some of the companies and projects that can support and inspire you with your own dream project.
National Custom and Self Build Week is the perfect opportunity to share the message that the first step for anyone considering a tailored home is to sign up to their local Right to Build registers, via the Right to Build Portal and join the 40,000 people that have signed up to show their councils that they want the chance to self build!

A core element of the week is the five-day event running as part of Grand Design's Live, where each weekday a NaCSBA specialist will be on the main stage sharing tips and advice about self building, with a special focus on Busting the Myths that Self Build is Challenging!
Each day there will also be the chance to ask your self build questions to a NaCSBA representative in the Ask the Experts area of the show, getting tailored support for your dream home project.
As we get closer to the week we'll be sharing more information about the week's events, but for now pop the week into your diary!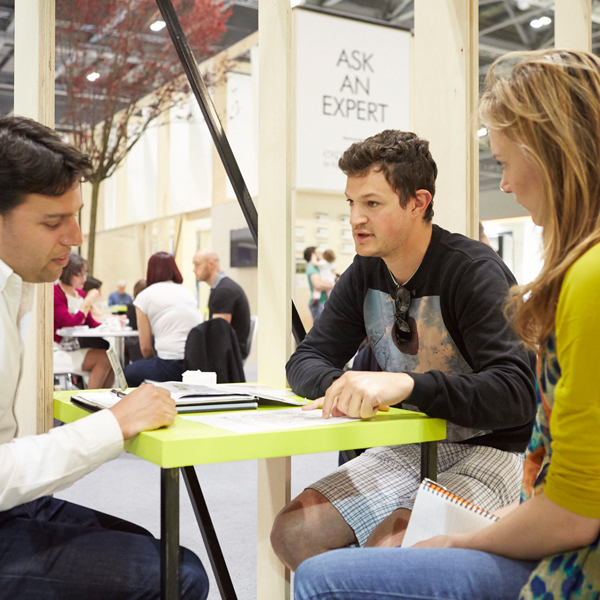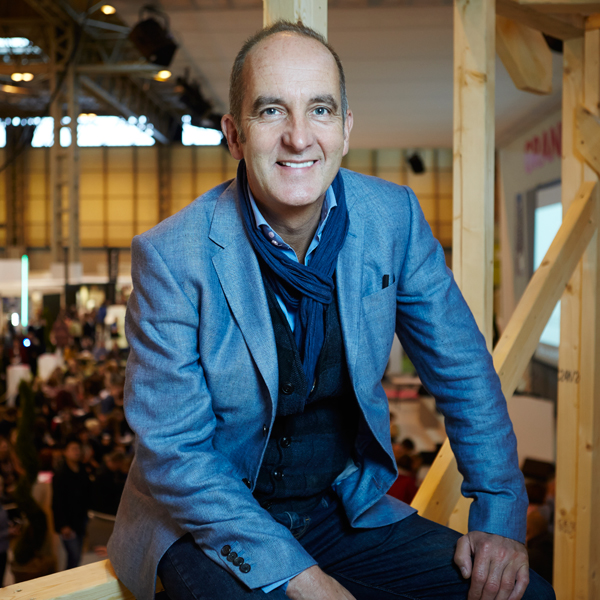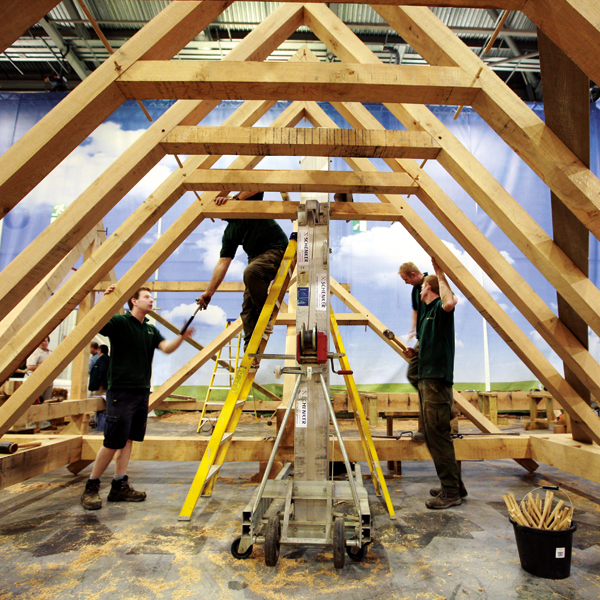 NaCSBA member Urban Mesh Design has joined a host of other architects, designers and engineers to create a custom build development in the Victoria and Albert Museum's festive Gingerbread City project.
The Gingerbread City has become an annual fixture at the museum, bringing a fun seasonal attraction with a serious message of building better to improve how and where we live. Created by the Museum of Architecture, the exhibition is designed to connect the public with architecture, with this year's theme of Imagining the Future City posing the question of what our cities could become with vision and enthusiasm.
Urban Mesh decided to create a custom build terrace of houses to publicise the route to ownership, with Custom Bake Close showing the diversity that custom building can bring to the housing market by giving more people a hand in designing or building their own home, of course with the support of NaCSBA – the National Custom and Self Bake Association! Consequently, its design for a terrace of customised homes features a range of designs and approaches to home ownership.
The exhibition includes a high-line with light rail, cable car and cycle paths, the Hot Cross Pub, cinema, bridges and more. Families can also take part in workshops to create their own edible buildings as part of this year's show.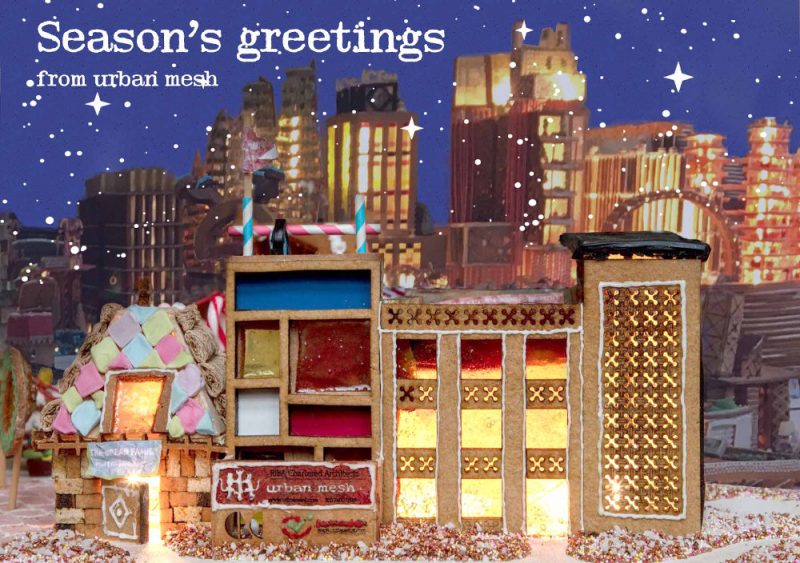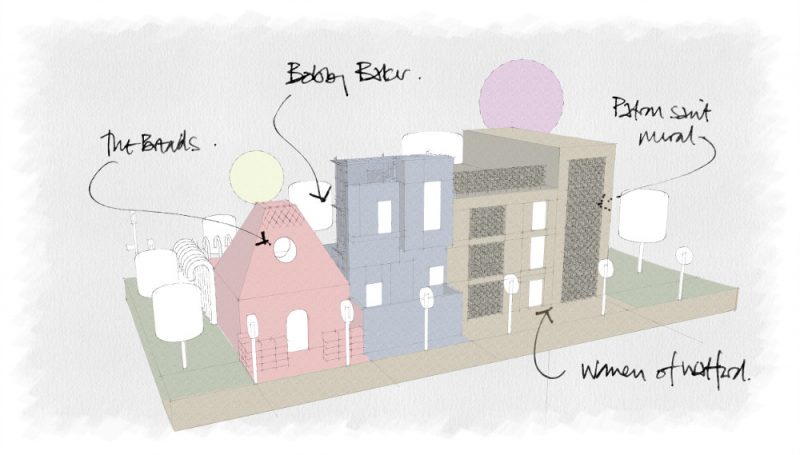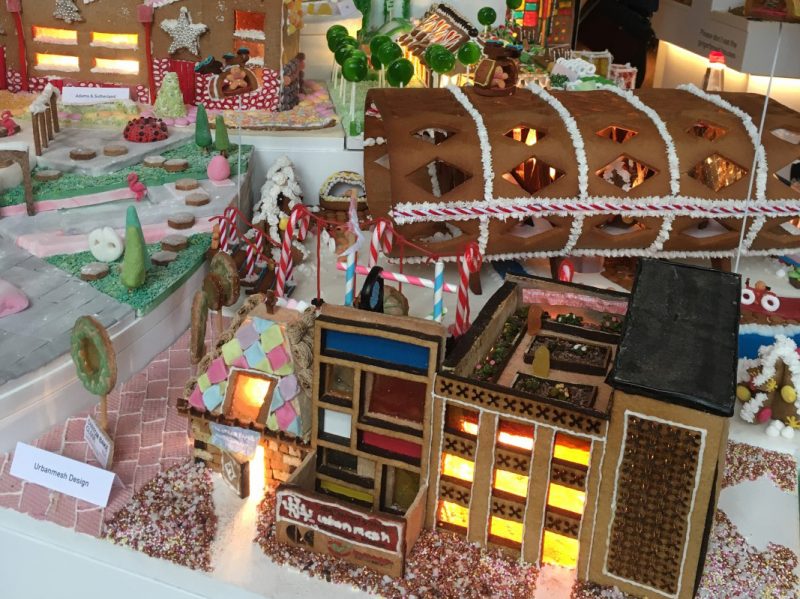 The Museum of Architecture's Gingerbread City runs at the V&A from December 8-January 6, thegingerbreadcity.com
Tickets cost: £6, with V&A Members and children under 12 free, and the event is in the Creative Studio, Level 4