The Structural Timber Association (STA) has published a new guide for consumers, Mortgages for Timber Self Build Homes, to support anyone wishing to commission their own home with timber.
The Grenfell Fire triggered a crisis for cladding, which inevitably became wrongly associated with issues around timber in general as a build system, and resulted in some self builders questioning their choices around timber.
However, timber is a universal choice for housing across the world, and evidences great longevity when specified and built properly.
Self build has traditionally embraced a range of innovative housing choices – and timber remains a trusted and practical approach for a range of applications on owner commissioned homes – not least timber frames.
To alleviate concerns about the mortgageability of such methods, the Structural Timber Association has published a guide that addresses concerns and sets out the parameters for anyone building with wood.
The guide points out that the idea that timber systems are difficult to mortgage is a myth. Instead, it stresses the fact that self builders must follow the rules lenders set around features such as cladding, as with any mortgage, as this sets the parameters for the risk to the mortgage company. This ensure that the resale value is protected.
The guide explains how these principles are applied by mortgage lenders, and what the rules mean for your choices. It also helps you understand how you can ensure that your design complies with your lender's eligibility rules.
The STA has a library section that includes a range of helpful guidance for both professionals and consumers (search for self build in the box) around the use of structural timber in properties, including:
Stick Build v Pre-Manufactured: Making the Right Choice
Why Build with Structural Timber?
Living in a Timber Frame Home
In addition to the new guide – part of a range, the STA runs its own accreditation scheme for its members, STA Assure. By choosing a company that a company that is accredited by the scheme self builders can have confidence that their supplier is competent and qualified to the latest standards.
About STA Assure
The STA Assure Membership and Quality Standards Scheme sets performance levels of STA members and non-members, based on a rigorous and independent audit. This safeguards the self builder, enabling them to partner with reputable company for their build,
STA Assure is recognised by the NHBC and six of the industry's leading structural warranty and building control bodies – LABC Warranty, Premier Guarantee, Protek Warranty, Build-Zone, Self-Build Zone and ABC+ Warranty.
NaCSBA Member Message
NOTE: this has now been superseded by new advice
Government announced on 13 May that people could, once again, move house, provided they followed guidance on keeping safe. The announcement means that limited viewings can once again be conducted, although virtual sales are to be encouraged.
Government has issued advice recommending that people do not move house while the emergency stay at home measures are in place in order to limit the spread of Coronavirus. The advice is meant for renters and buyers.
This comes as banks call for the entire housing market to be suspended for the duration of the crisis, although confirmation of this happening does not seem to have been released, despite conflicting reports. However, with surveyors unable to visit properties, the market has effectively stalled naturally.
The advice not to move calls for a flexible approach by stakeholders and not for people to pull out of transactions, saying that when a property is occupied, "we encourage all parties to do all they can to amicably agree alternative dates to move, for a time when it is likely that stay-at-home measures against coronavirus (COVID-19) will no longer be in place."
While there is an exemption in place for critical home moves, Government is urging people to do all they can to avoid this scenario.
Consequently it has put the following measures in place:
Issuing guidance, developed with Public Health England, to home buyers and those involved in the selling and moving process.
Agreeing with banks that mortgage offers should be extended where delay to completions takes place in order to prioritise safety.
Working with conveyancers to develop a standard legal process for moving completion dates.
In the case of anyone self isolating or showing symptoms then moving house should categorically not be an option.
To support customers who have already exchanged contracts for house purchases and set dates for completion, UK Finance has confirmed that all mortgage lenders are working towards finding ways for customers to extend their mortgage offers by three months, to delay moving.
However, if customer's circumstances change during this process or the continuation of the sale would lead to financial hardship then lenders are encouraged to work with customers to help them manage the situation.
The government advice has targeted advice for a range of housing sale professionals, including estate agents, conveyancers, surveyors and removal companies.
Anyone wanting to Self Build in Shropshire will want to keep an eye on Shrewsbury, where Shropshire Council is planning to bring on a 47 plot Self-Build site, off London Road.
Shropshire Council recently ratified a decision to invest in the infrastructure for the site, meaning that the development can now be submitted for planning permission. This will include full permission for infrastructure by the end of the year, enabling the roads, landscaping and services to be put in, together with outline permission for the individual plots.
It is expected that each plot will come with a Plot Passport, setting out boundary and height restriction on some of the plots, otherwise the individual will be able to design their own unique home.
The 4.41 hectare site has excellent links with Shrewsbury, and slopes down towards the River Severn making it an appealing location.
If things work out the council is hoping to bring the plots to market in 2020, with 37 Self Build plots, and 10 affordable-housing plots on offer."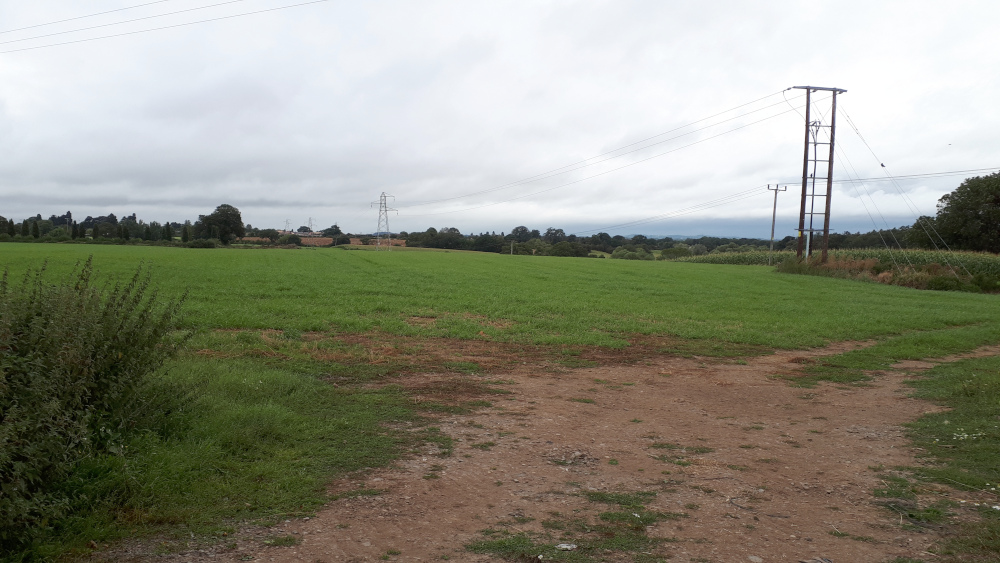 Shropshire currently has around 80 people on its Custom and Self Build Register, with around 500 from previous registers. Many of the people registered have identified Shrewsbury, pictured, as a desirable place to build, creating local demand.
Councillor Robert Macey, Shropshire Council's cabinet member for housing and strategic planning, said: "This is a really exciting initiative. The London Road development will be an exemplar scheme, which is eagerly anticipated by other councils that are contemplating their own Self Build schemes. It's the first-of-its-kind for Shropshire Council and is intended to showcase the potential for future self build developments.
"We're aiming to provide a low-density Self Build, low-carbon, hybrid and unique development scheme for people that want to build their own homes and we hope this will provide a stepping stone to further Self Build plots in the future.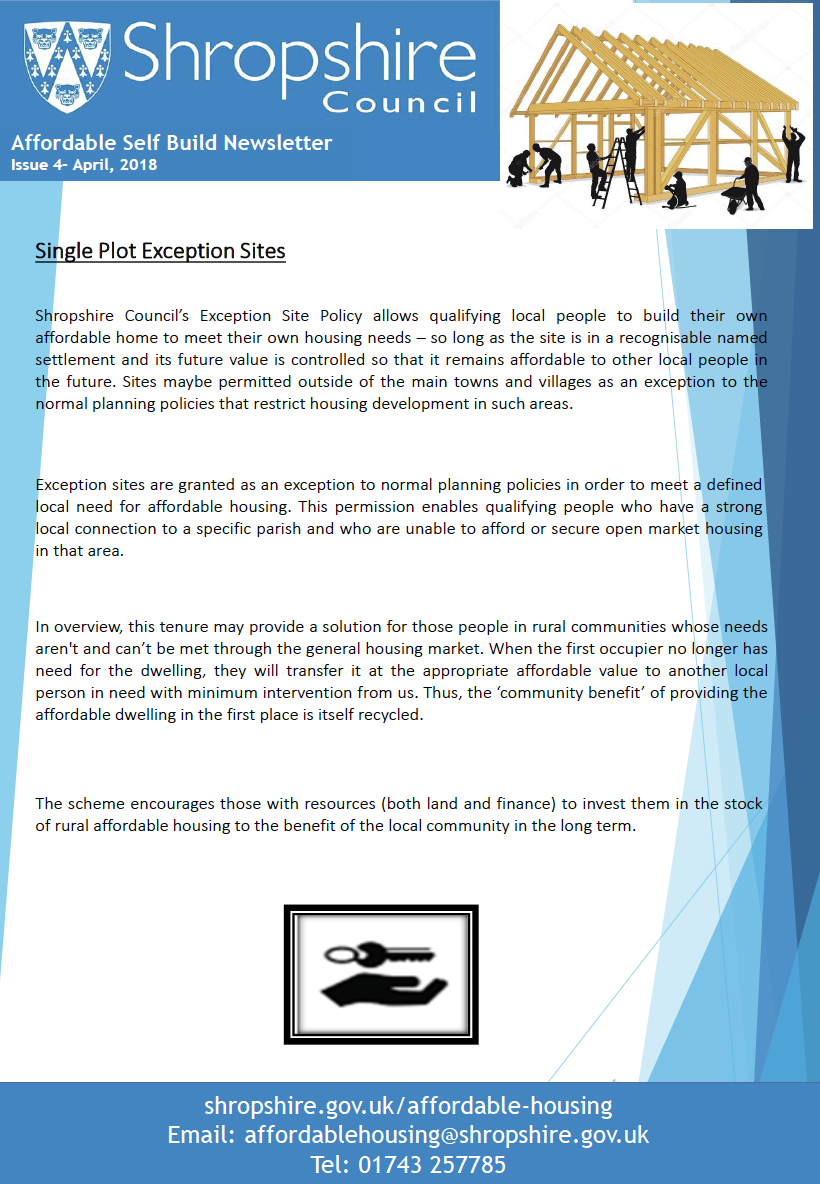 Anyone interested in creating their own home through Self Build and Custom build should visit the National Self Build & Renovation Centre, the UK's only permanent exhibition for everything Self Build. And to help spread the word the NSBRC has created its first ever TV ad, showing on All4 around homes-based programmes such as Grand Designs. What a reflection of a growing market!
National Self Build and Renovation Show
National Self Build and Renovation Show takes place on 18-20 October and is the perfect time to visit the centre, whether your a first-timer or returning visitor. The three days of the show are packed with live demonstrations, seminars and a range of experts on hand to share their advice and insight, helping you make those important decisions about your own project.
Whether you are planning your build, or just putting together ideas for your dream project, the centre is a wealth of information, with the opportunity to find out more about a range of build methods and products. Or you can get 1-2-1 advice on a range of subjects from the in-house experts, or financial advice from BuildStore's in-centre experts.
Tickets are free and parking is plentiful, with the centre located off the M4, near Swindon.
This is a NaCSBA Member message
While most Custom and Self Build homes are not able to access Help to Buy, Graven Hill, the UK's largest self and custom build development in Bicester, has enabled its purchasers to access the loan scheme for its Custom Build properties.
Help to Buy is available on all custom build homes at Graven Hill, such as the Eden home, shown, and the event is open to both first-time buyers and existing homeowners. Offering a practical route to making the dream of a tailored home a reality, Help to Buy allows buyers to apply for a 20 percent equity loan from the Government, meaning only a five percent cash deposit is needed, with the remainder covered by a 75 percent mortgage.
Karen Curtin, managing director at Graven Hill, said: "At Graven Hill, we are keen to create a community that is accessible to everyone. Help to Buy is a key part of this, ensuring that all our custom build homes are affordable, even to those taking their first steps onto the property ladder.
"Many people are still unsure of the benefits of the Help to Buy scheme, so this event will provide a brilliant opportunity to talk to industry experts, ask questions and find out everything you need to know about the scheme.
NaCSBA and Help to Buy
NaCSBA is aware that Help to Buy creates an unfair advantage for speculative house building, and is talking to Government about redressing this balance through the introduction of a Help to Build scheme.
If it were to go ahead, this enable more people to access finance to create their own Self and Custom Build home.
This is a NaCSBA Member Message
A new Customer Choice Centre has opened at Squirrel Wood, Design Your Home's large custom build development in Hampshire, on a Homes England site. The centre includes a range of products, design solutions and options for people to choose from, giving them first hand experience of the choices on offer for their Custom and Self Build homes – a first for the UK. Customers can choose from a range of doors, skirtings, kitchens and bathrooms, as well as external cladding and bricks choices.
Situated just 10 minutes from Basingstoke, Phase 2 of Squirrel Wood is now on the market, offering Self Build, Custom Build or 'Custom Choice' opportunities, marketed through Custom Build Homes.
Starting from £260,000 for a Custom Build and £350,000 for a Custom Choice, the plots are part of the larger 122-plot site, where all planning is agreed in advance with Basingstoke Council for the range of design options on offer. This is pre-approval contributes to faster delivery, especially in comparison to going through the planning process individually, meaning homes can be delivered in a six month timeframe.
Self Build Choice
With its range of approaches, Squirrel Wood offers a vision for how customised homes can be delivered in the future, with customers have a series of choices to reflect their needs and circumstances, allowing them to balance choice with knowledge, time and budget.
Custom Build: At Squirrel Wood the Custom Build option gets you a fully-serviced plot with the choice of an internal layout from a wide range of pre-approved options. Once the plot is purchased customers enter into a contract with Design Your Home to build the property.
Using the Customer Choice Centre customers can select their internal and external preferences, giving them a truly personalised build, without the need for any construction knowledge.
Custom Choice: With the Custom Choice option the structure of the property is constructed prior to marketing, and customers have freedom to tailor the interiors. Unlike the Custom Build route, you pay for the property on completion, meaning you can choose a regular new build mortgage, or access the Help to Buy scheme. Custom-choice homes at Squirrel Wood can be completed within just four months.
Self Build: There are also a select number of Self Build plots on offer, with a Design Code establishing the rules around what is allowed in build terms.
For the custom options, there's a range of house types to choose from, including 2-3 bed and 3-4 bed options, with further choices available depending on the plot type and route you choose.
What's on offer:
Type A House: a 2-3 bedroom, terraced Custom Build home, with the option of a closed- or open-plan ground floor. Upstairs the space can be configured as two large bedrooms or three bedrooms with space for a study.
Type B House: a 2-3 bedroom, terraced Custom Build home with either a closed- or open-plan ground floor. Customers can have two large bedrooms, or three beds with an en-suite.
Type D Self Build Plot Only: a building plot with permission to build a detached 4 bedroom home. The Design Code sets the parameters of your design and, providing you satisfy these criteria, then you don't need further planning consent.
Type F House: a 3-4 bedroom detached Custom Build or Choice home, with the choice of the kitchen at the front or the rear, and the option of an extra room with an extension. Again you can choose a two or three bed option upstairs.
The first custom homes on the site are now in their build phase, with first completions expected in the new year.
Kim Slowe, managing director of designyourhome.com said,"For far too long purchasers of new build homes in the UK have been given very little or no choice on both the layout and fitting out of their home. This makes little sense given that a home is likely to be the biggest purchase that an individual will ever make. designyourhome.com changes that. It gives homebuyers real choices whilst keeping the purchase and build process very simple. designyourhome.com has been designed to put the consumer in control for the very first time."
Squirrel Wood is one of the Government's original pilot scheme for innovative new Custom and Self Build housing, as set up by Homes England. The Homes England development is on the site of the Park Prewett hospital, with Design Your Home set up to bring Custom Build housing into the mainstream, as part of the vision of Places for People, the company behind it.
Design Your Homes next development, Marlborough Park in Swindon, is due to launch in September, bringing custom homes to Wiltshire.
NaCSBA Member Message
There are many considerations when embarking upon building your dream home, but one of the most important is choosing the build system and making sure you have all the relevant information prior to making the decision. Should you choose a timber frame, then a member of the Structural Timber Association offers a level of reassurance that you're choosing a reputable and reliable company for what is, probably, the single largest purchase on your project.
With impressive environmental credentials, combined with delivering cost and programme certainty – intelligent, integrated timber systems are now driving innovation in the self build sector – offering more choice than ever before.
Achieving Best Quality and Value
With assurances being of primary importance, there are a host of reasons why self builders should partner with a member of the Structural Timber Association (STA).
The STA Assure Membership and Quality Standards Scheme assessment creates a clear distinction in the expected performance levels of STA members and non-members.
Only STA members undergo the rigorous independent audit, providing transparency, credibility and accountability, thereby safeguarding the interests of end users and enabling them to partner with reputable member companies to harness the multitude of inherent benefits that structural timber offers.

Timber frame confidence
Working with an STA member means you can build with confidence knowing that your main project partner achieves the highest levels of quality across a range of industry standards. To provide qualifiable evidence of excellence, STA structural timber building system supplier members must all:
Undergo an independent audit for the STA Assure Membership and Quality Standards Scheme on an annual basis
Operate Site Safe procedures to ensure timber construction is both safe and sustainable
Receive regular updates on the latest building regulations and legislation
Fully support sustainable construction and quality standards
Advice guides
The STA also has some useful documents in its self build section that can support consumers, including:
Stick Build v Pre-Manufactured: Making the Right Choice
Mortgage Advice for Self Builders
Timber; the solid choice for your self-build
Visit the STA's Self Build section for more information.
STA Assure is recognised by the NHBC and seven of the industry's leading structural warranty and building control bodies – NHBC, LABC Warranty, Premier Guarantee, Protek Warranty, Build-Zone, Self-Build Zone and ABC+ Warranty.
The Structural Timber Association's website has a wealth of information including a specific self build zone, together with a document library and a 'find a member' facility.
For more information visit the STA website  or follow them on twitter or linkedin.
NaCSBA Member Message
North East Derbyshire District Council and Bolsover District Council, both NaCSBA members, are hosting a FREE Custom and Self Build event to promote the sector and share learnings with members of the public. The councils are encouraging anyone wishing to Self Build or Custom Build to register for the event and come along to this free informative event.
The councils are organising the event to publicise the route, and also their activities locally to make Custom and Self Build a choice for more people, supporting people as they go through the joys and pitfalls of building your own home.
At the event will be presentations about planning, design from Lomas and Mitchell Architects, low energy housing, finance by BuildStore, land and legal issues. Plus, there are question and answer sessions giving people the opportunity to chat about your own projects.
In addition, there will be handouts and advice from the companies present and the opportunity to network with other like minded delegates who are interested in seeing their dream home designed and constructed.
Date: Wed, 12 June 2019
Time: 9:30-4pm
Location: The Tangent Business Hub, Weighbridge Road, Shirebrook, NG20 8RX