The National Custom and Self Build Association (NaCSBA) has partnered with UK Cohousing Network, National Community Land Trust Network and the Federation of Master Builders to create a new group called Housing Diversification. It's aim is to persuade Government to create more opportunities for more people to live in custom build, self build and community-led housing. These are houses are typically built by small- to medium-enterprise (SME) housebuilders.
Together, the groups believe that this type of housing could result in an extra 130,000 homes being built by 2025. These homes would be additional units, in that they would be extra to the homes built by the major housebuilders in this period, and therefore help government in its ambition to build 300,000 homes a year.
Housing Diversification knows that the homes built by SME builders for self build and community-led projects are typically more sustainable, beautiful, innovative and of higher quality than many open market homes. In addition, these homes also boost the local economy, providing local jobs and training opportunities.
The number of SME housebuilders has fallen significantly since the 1980s, and halved following the last recession. These SME companies are vital for the supply of local houses, and opportunities must be created to allow them to operate on a level playing field with volume housebuilders, which have very deep pockets.
Campaigning for building back better
Housing diversification has three asks of Government:
The establishment of a high-level Housing Diversification Taskforce, with a range of items set out for consideration (see Appendix).
Commitment to a five-year renewal of the Community Housing Fund as part of the Comprehensive Spending Review.
The creation of a robust and statutory system of reporting on diversification as part of Government housing statistics, including on the NPPF requirement for 10% of homes to be delivered on small sites (one hectare or less).
Housing Diversification members:
NaCSBA, which runs the Self Build Portal, knows that 14,000 custom and self build homes are built each year, although many of these are single self builds. With greater Government support this figure could reach 73,500 by 2025, with custom build offering the scope to grow the sector with more serviced plots.
The Federation of Master Builders represents 7,500 SME firms across the UK, half of which build new homes. FMB members expect to build more than 12,000 new homes in 2021. Members of the public can source contractors using its Find a Builder database. 
Currently there are 10,780 community led homes in 'live applications' on Homes England system awaiting delivery, part of a wider pipeline of 23,000 homes. Many of these homes are reliant on the Government's Community Housing Fund – which was closed in March. Getting it reinstated is one of the main ambitions of Housing Diversification.
Community Land Trusts are a community-led housing model, where the land is held in trust, meaning that affordability is locked in for good. Cohousing refers to groups of people wishing to live together – as an 'intentional' community.
You can find out more about these community-led housing models, and others, as well as how to start a group, on the Community Led Homes website.
Andrew Baddeley-Chappell, CEO, National Custom and Self Build Association and spokesperson for the group said: "Despite the importance of houses to our lives and the scale of their cost, there is currently too little choice when it comes to new homes in this country.
"We have come together as Housing Diversification to deliver more passion, quality, and care into the new homes and the new communities that we, as a nation, need to be creating. Just like any other market, increasing diversification will improve quality, innovation, and value. We will deliver homes more people want to live in and that more welcome being built."
The Cambridge cohousing scheme, Marmalade Lane, has won the top award at the Royal Town Planning Insitute's Awards 2020, adding to its already sizeable list of awards. Marmalade Lane was awarded the RTPI's Silver Jubilee Cup having been entered by Greater Cambridge Shared Planning Service and development company TOWN, which is a NaCSBA member.
A first for Cambridge, the Marmalade Lane cohousing scheme was given the top prize as the judges felt that it demonstrated the value of community-led housing and a collaborative approach to planning.
The judges commented that the development puts the needs of the residents at its heart, and has created a distinctive and sustainable neighbourhood that was full of character.
Sadie Morgan, design industry leader and Chair of the judging panel, said: "Marmalade Lane shows the importance in new housing developments of greater local participation, increased opportunities for accessing nature and the prioritisation of people over cars – its design has helped create a place with a genuine sense of belonging and a rich local culture that harnesses the humour and warmth that are so vital in these challenging times."
Marmalade Lane
Cambridge's first cohousing project has its roots in the aftermath of the 2008 financial crisis, when the developers left the land in limbo. A cohousing group had formed in Cambridge, then called K1 Cohousing, and was looking for land, and the council supported the process of allocating the site for cohousing.
Working with community housing consultants Stephen Hill and Adam Broadway, they paved the way for the group to create Marmalade Lane and build the homes that supported them in the way they wanted to live.
Rather than pursue self build, Town was brought on as the developer, working with Mole Architects and Scandinavian eco-house builder Trivselhus to design and build the scheme on behalf of the residents.
The project is made up of 42 homes, customised to the residents preferences, but using a limited system of choice to ensure designs were replicable and cost-effective. This resulted in three house types, with 27 layout options, with mortgage finance provided by Ecology Building Society.
The result is a scheme of terraced houses and apartments, set around shared gardens and a pedestrianised play street, with a common house for socialising and cooking shared meals, should people wish to eat as a group.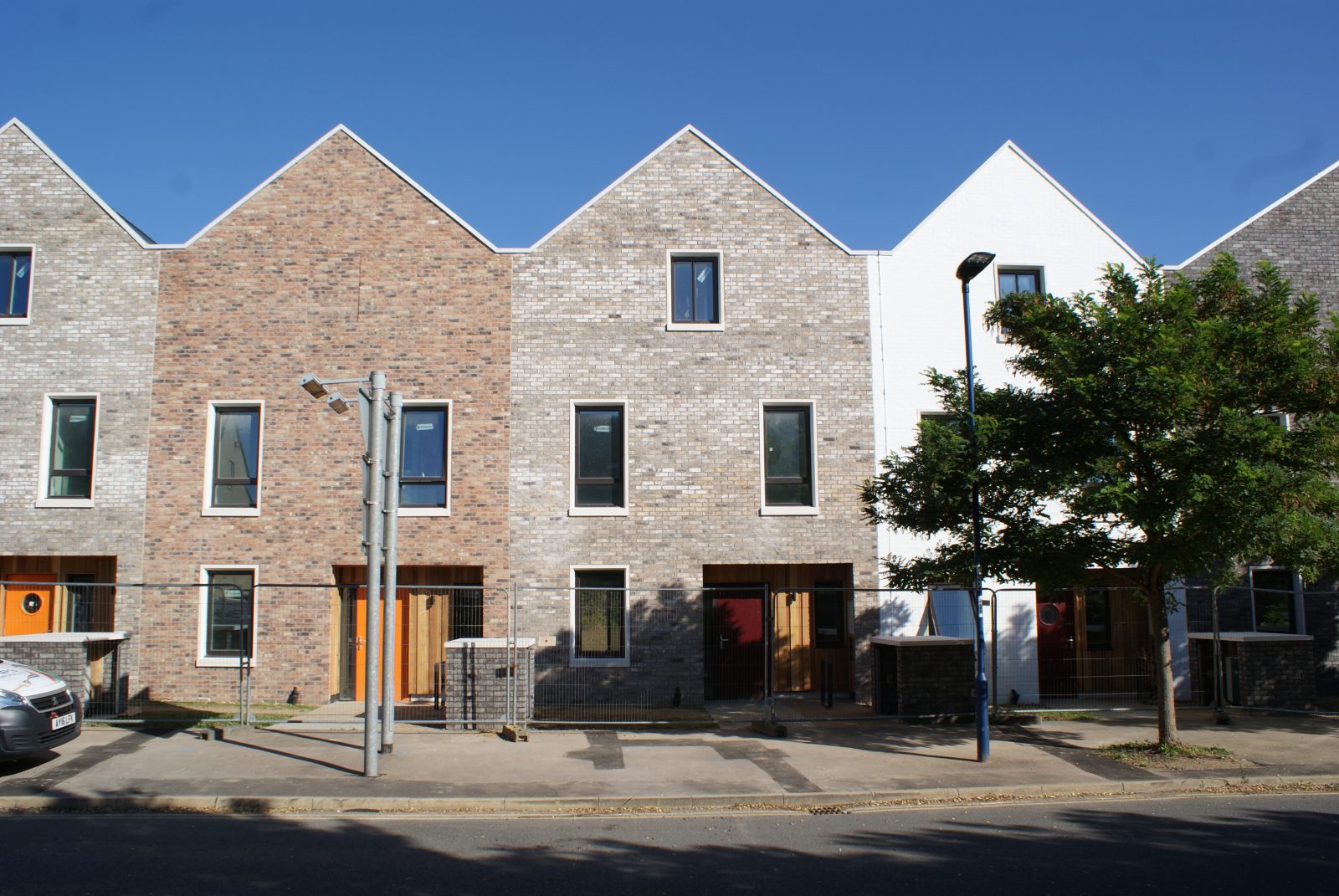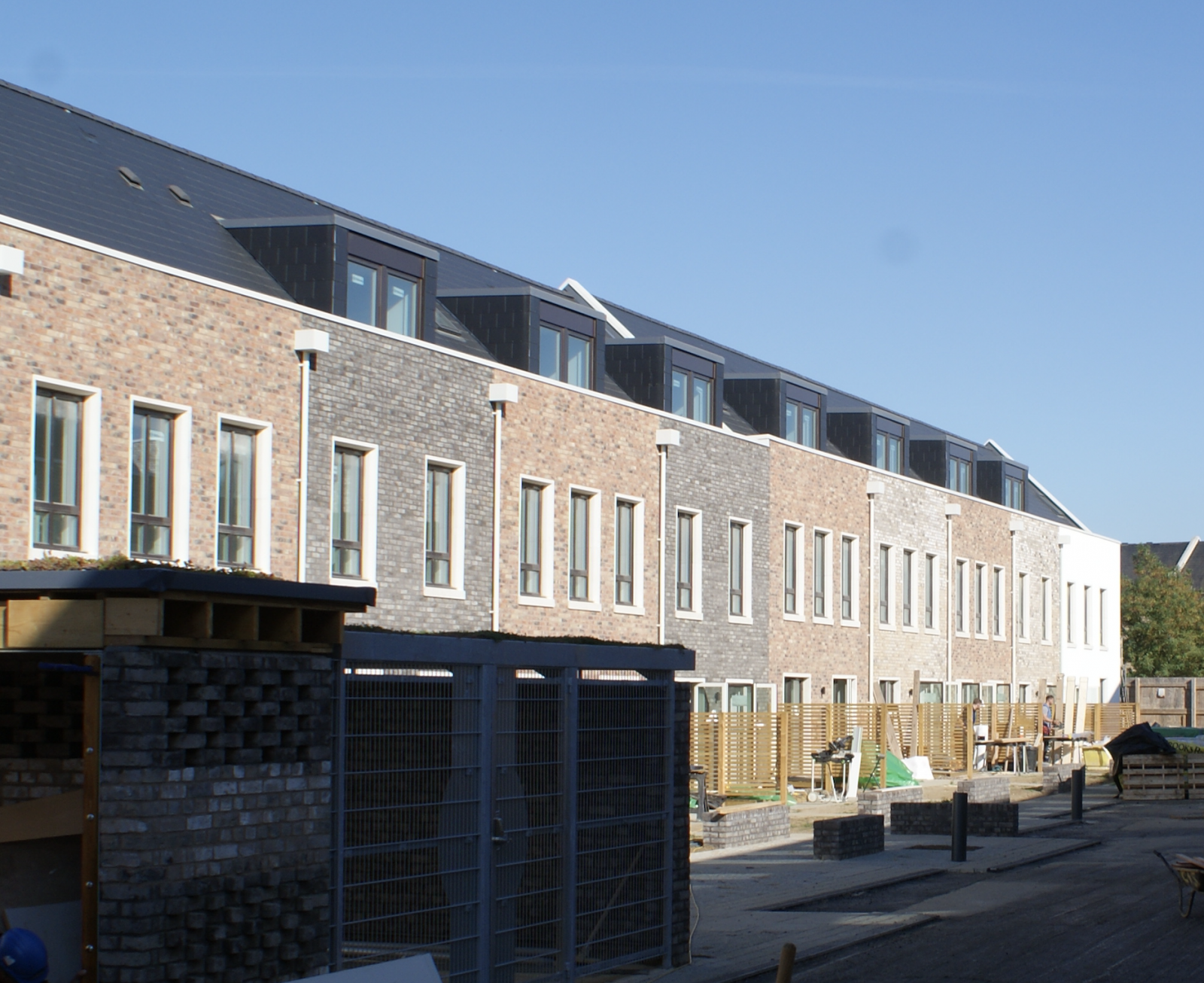 What is cohousing
Cohousing is a form of community-led housing, where people come together to build and live in an 'intentional' community, with shared values. This may work with other community solutions, such as a Community Land Trust – which holds the land the project is built on in perpetuity, although this is not the case at Marmalade Lane.
A core principle is that most cohousing projects have shared elements. These often include a common room for socialising, but may include shared guest suites to keep spare rooms to a minimum, laundries, kitchens, and shared external design features, such as orchards, play streets, car parks, gardens and so on.
All the houses and flats have their own facilities, such as kitchens, so it is very much based around people wanting to live as part of a community, but they can still live independently. Costs and maintenance of the communal facilities are shared, so there's typically a rosta for jobs.
But it represents a different way of living from the typical UK experience, where people and community underpin the homes, making it a transformative route to housing, that is growing in appeal.
Celebrity architectural designer Charlie Luxton has been working with the community of Hook Norton, Oxfordshire, as they work to create a community-led affordable homes scheme, which has recently applied for planning permission. Once approved, the scheme will create 12 dwellings set around a new communal landscape, with a community building providing a new village hub.
The Hook Norton Low Carbon Trust kickstarted the project by identifying a neglected piece of council-owned land, and worked with Cherwell District Council and other stakeholders to develop the idea of a sustainable and affordable housing project. The scheme has been planned to provide homes for local people in housing need in the community, with a strong local connection, using a Community Land Trust model that assures the affordability remains in perpetuity.
Community engagement was a crucial element throughout the scheme, helping to shape the homes, designed by Charlie Luxton Design, to meet local ambitions to boost sustainability. The project has set the target of being carbon neutral both during construction and occupation, and will incorporate renewable energy sources, with its own micro grid.
In addition, the project will include a flexible multi-use space, laundry and cafe, with overflow bedrooms for residents, as well as resources for wider village use, including a workshop and communal 'library-of-things'.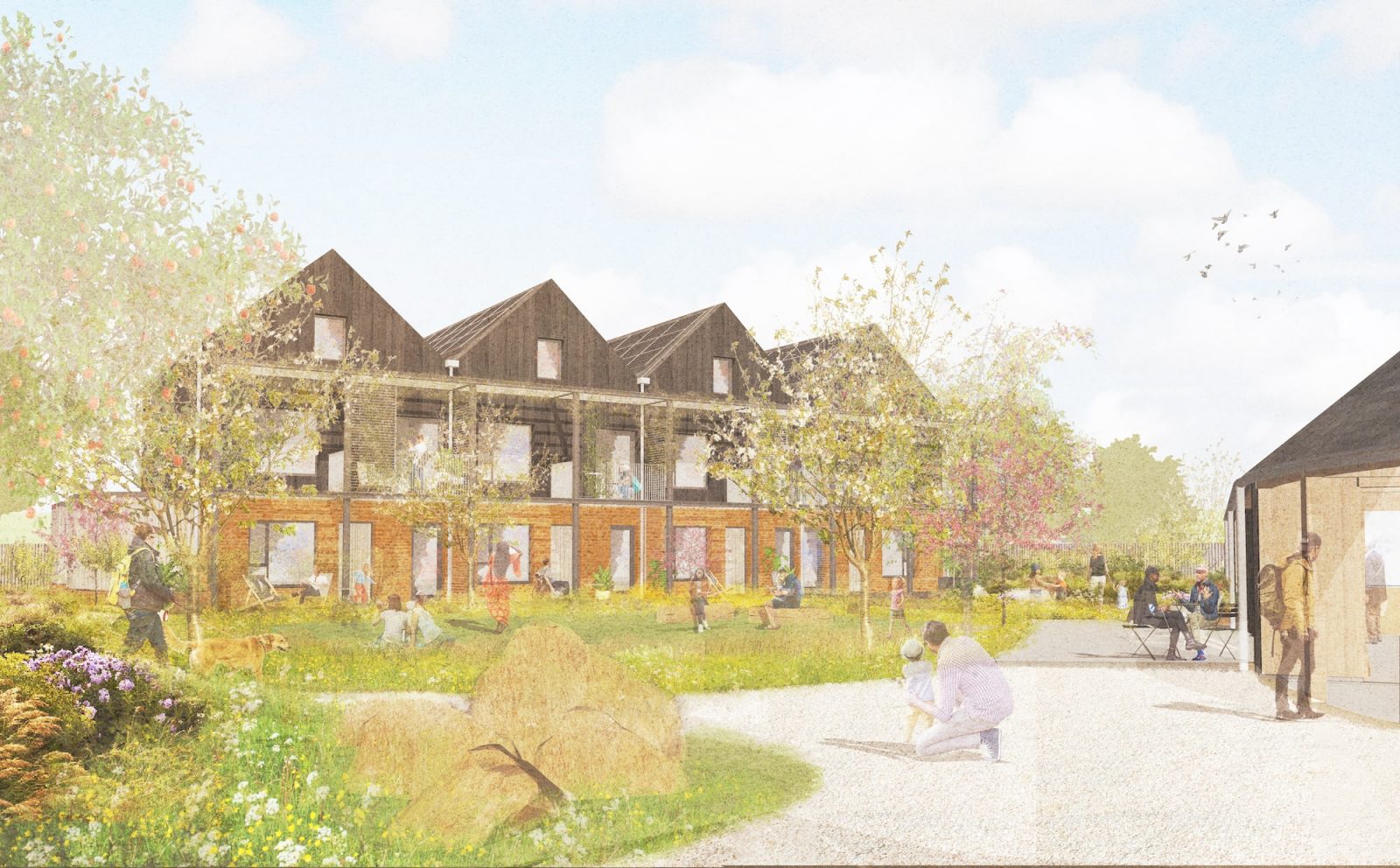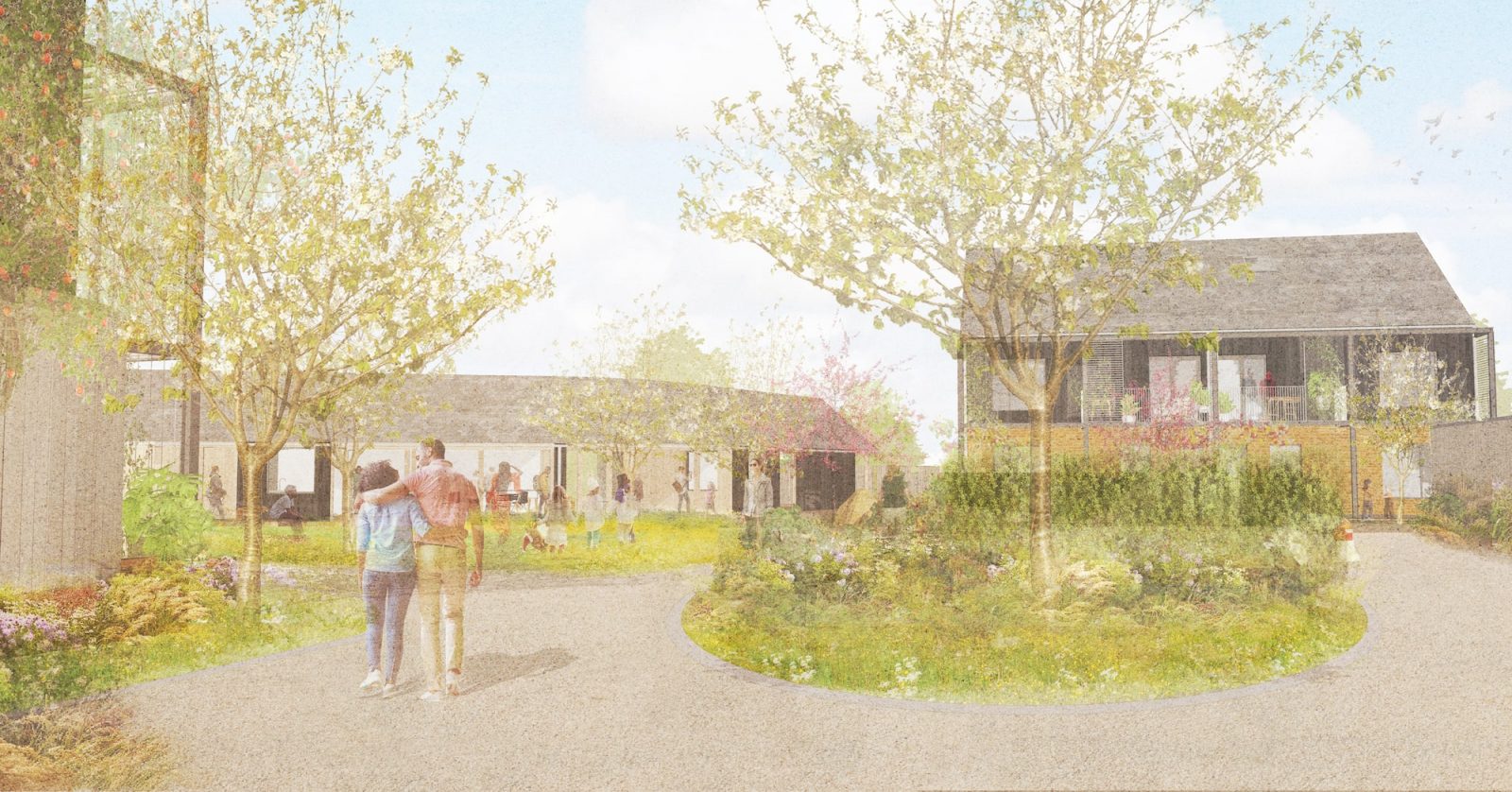 "Hook Norton Community Housing is a project by the people of Hook Norton for the People of Hook Norton," said Charlie Luxton. "It has grown out of local need for sustainable affordable housing for the residents of our community, that 150 new developer led homes in the village have failed to deliver.
"Working with Cherwell District Council, the land owners and others local organisations the project has been design with extensive continuity consultation, over 15 events and intersections to provide 12 Passivhaus Plus flats and a community building with laundry, workshops, cafe and a library of things.
"Not only are the flats and facilities prioritised for people with local connections, it is planned for construction to be undertaken by small/medium local contractors to ensure as much of the build spend stays in the community. This project is trying to show that housing can be about people and the planet before profit."
An affordable self build housing project in Lewisham, London, has come a step closer with the local council signing the 250-year lease on the land in Church Grove, Ladywell.
Signed by Lewisham Mayor Damien Egan (right in photo), the deal secures the site for the community-led project by the Rural and Urban Synthesis Society (RUSS). This paves the way for the building to begin for the 33 homes on the 1-acre site. Including a range of homes, from one- to four-bedrooms.
The site is a Community Land Trust, with the land held by the trust and homes valued mostly on the cost of building, as opposed to the cost of building and the price of land. This mechanism helps keep properties affordable, combined with the fact that the homes have been designed to be simple and cost effective to build with the option for future residents to get involved with construction to bring costs down even further.
To celebrate the milestone, a time capsule was buried on the site of the newly completed Community Hub, a training facility for self builders that was recently completed with the help of 90 volunteers over the last six months.
RUSS Chair Anurgag Verma said: "It's been a long haul getting our project to this stage, and Lewisham Council has supported us on many occasions along the journey. Our site at the end of Church Grove is one of the main things they've assisted us with, so the signing of the lease on the land is an important hurdle for us to clear."
Photo credit: Jeff Teader
A new community build project supporting veterans to self build their own homes has started in Waterworks Lane, Leominster, Hereford. Stonewater Housing Association is working with the Community Self Build Agency (CSBA) and the Royal British Legion to create 19 new homes on a mixed development of two-bed flats and a range of houses, with the final homes available for affordable rent.
Many of the homes will be on offer to ex-service personnel, with the opportunity for up to nine veterans to be involved as builders on the scheme, where they will receive training and support. Veterans that help build the scheme will then be offered the option to rent one of the properties on completion, gaining a secure family home and a set of valuable and transferable skills.
Stonewater's Waterworks Lane project illustrates how a range of organisations can work with local councils to provide much-needed new homes using alternative models, that can bring a range of sustainable goals to the table, including improving lives. The project will benefit from Homes England funding, part of a £224m award to the strategic Stonewater and Guiness Partnership that will create 4,500 homes by 2020.
Matthew Crucefix, Assistant Director of Development (West), said: "At Stonewater our commitment to providing everyone with a place they can call home is at the core of everything we do. In Herefordshire, there is a large armed forces presence and so there is a constant need for veteran accommodation.
We're proud to lead the way alongside our community partners and show other organisations how important schemes like this are for the wider community. We hope to inspire others to take on similar projects in other areas of the country with similar challenges."
Councillor Barry Durkin, at Herefordshire Council, said: "We are committed to supporting local veterans across Herefordshire and this new self-build partnership with Stonewater and Alabaré is a great opportunity to provide more affordable housing for veterans.
"This scheme not only provides much needed homes but will also provide the veterans with the training and skills needed to not only help build their own homes and but hopefully also gain future employment."
Since being set up in the late 1980's, Community Self Build Agency (CSBA) has helped hundreds of homeless or vulnerable people to have the opportunity to build their own home. From May 2019 CSBA has become part of Alabaré, which manages the day-to-day operations.
CSBA has completed over 178 self-build projects across the UK to date, developing in-excess of 1200 housing units to some of the most disadvantaged members of the local community. Their award winning schemes have included the Nelson Project in Plymouth – a 24-home site that included 12 self-build homes for the military veterans and 12 affordable homes.
Major Ken Hames, MBE, of Alabaré, said: "We've worked on similar projects in other parts of the country which, whilst challenging to get off the ground, really make a long-term difference.
"For the veterans fortunate enough to be part of the project they have a unique opportunity to gain the skills that could lead to long term employment, and the support to ultimately be able to live successful, independent lives once more. Together they will be creating a community that they can call home."
Photograph: From left to right: Tina Wood, Housing Development Officer, Herefordshire Council; Clare Bray, Development Manager, Stonewater; Karl Arrowsmith, Development Officer, Alabaré; Leigh-Ann Jones, Development Manager, Stonewater; Major Ken Hames MBE, Alabaré; Martin Walsh, Regional Outreach Officer Midlands; The Royal British Legion, Simon Deakin, Senior Contracts Manager, Harper Group Construction; Nick Aubrey, Project Manager, Harper Group Construction; Matthew Crucefix, Assistant Development Director, Stonewater; and, Scott Porter, Site Manager, Harper Group Construction
Community led housing got a boost recently with the launch of Community Led Homes, a website that provides funding, resources and hands-on support for anyone in the community-led housing sector. NaCSBA is aware that a lack of information can be a barrier to growth in the sector, and welcomes the site, which is a partnership project between the National CLT Network, Locality, UK Cohousing Network and the Confederation of Cooperative Housing.
Hands-on support
Face-to-face support can make a real difference to a project and most successful community-led housing projects have worked very closely with an Enabling Hub or a community-led housing adviser to help ensure their site gets built. Expert knowledge and advice are a core part of this, which is where Community Led Homes can help.
An Enabling Hub is a regional organisation that provides one-to-one support to groups. The evidence shows that when an enabling hub exists, the more community led homes are built in the vicinity, partly through sharing best practice and creating awareness of issues and stumbling points in the journey.
Enabling Hubs will:
 provide professional support and funding that will help you to progress your project more quickly,
 introduce you to professionals such as architects, planners and surveyors,
 put you in touch with local authorities and other potential partners such as housing associations and developers, and
 arrange peer-to-peer sessions where you can network with other community led housing groups.
As well as a range of general advice, you can find an Enabling Hub near you using the tool on the Community Led Homes website. And if there's not an enabling hub local to you, there is an extensive network of advisers across the country who are able to provide you with the same professional support and guidance that you'd receive from an enabling hub.
If there isn't a local enabling hub in your area contact the support team for help and advice on 020 0396 7795 or email them.
Additional sources of information
Other sources of help and advice exist, including the websites of the organisations that make up the Community Led Homes site, many of which include links to individual groups' websites. Some groups, such as LILAC Cooperative and Broadhempston CLT have websites sharing their own experiences, or organise open days that can help fledgling groups understand the joys and pitfalls of a built project. RUSS in Lewisham also runs a Self Build Academy that educates and gives people first-hand experiences on site.
Elsewhere some councils are very active in supporting groups, with some having dedicated professionals working with groups, or publishing their own support information, such as Teignbridge District Council's Guide to Community-led Housing. London has its own dedicated site, Community Homes London, which includes projects across the capital.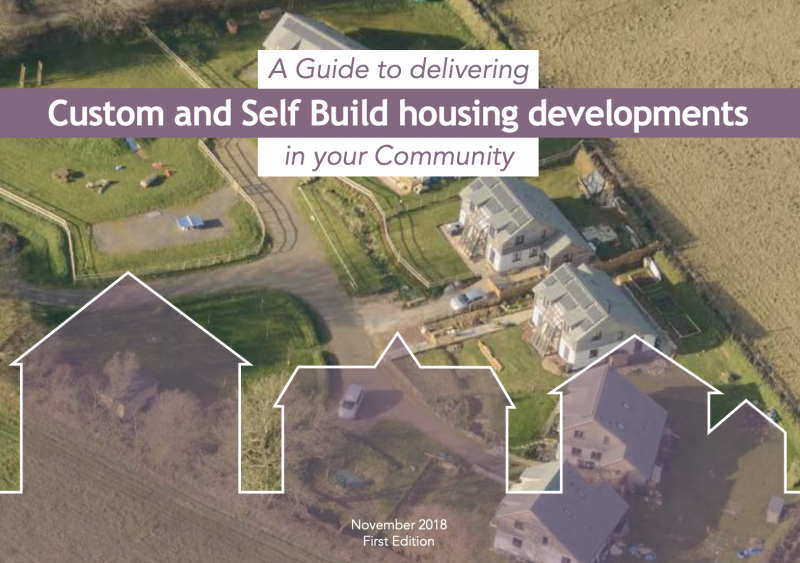 The Self Build Portal also has in-depth help and advice on how to build, the routes and issues to be aware of, which are invaluable. In addition, community-led groups often cross over into semi-professional status in how involved they get with different aspects of their sites, and as such the Right to Build Task Force has detailed case studies and briefing notes that may offer advice, including case studies, such as OWCH in London and Broadhempston CLT.
A note when researching community-led projects – new groups should be aware that groups often end up being referred to in two ways – both by the name of their group and the name of their site. For example, you may find writing about a group under Older Women's Cohousing (OWCH) or New Ground, the name of their development. Other examples include K1 Cohousing and Marmalade Lane, Broadhempston CLT and Easterways.
RUSS (Rural Urban Synthesis Society), the Lewisham-based community-led self-build housing group, is leading a tour to some of Bristol's most innovative community-led housing schemes. The trip offers a chance to get up close to the schemes and meet some of the residents, find out about their own journeys and how best practice has emerged.
RUSS's School of Community-led Housing offers individuals, community groups and housing professionals the chance to learn from RUSS's years of experience and gain information about how to set up a community-led housing project. The the trip is part of its work to educate around self build and community-led housing.
Bristol is one of the best places in the UK to go to see great examples of community-led housing in England, and RUSS School participants can now see for themselves on this exclusive tour of some of the most developed and inspiring community-led housing schemes in the country.
The one day visit will include:
Ashley Vale/The Yard – a self-build development, now home of Ecomotive, Bristol CLT and the Bristol CLH Hub
Bridge Farm – a new self-build community and a new type of social housing hinged around a renovated farmhouse and outbuildings
The Courtyard – Bristol's first purpose built co-housing project.
DATE 10 August 2019
TIME 10-5pm, excluding travel times
TICKETS £25 including booking fee and VAT – includes entry but not rail travel or taxis so these will need to be bought by attendees (taxis are expected to be no more than £15 pp if used – it is possible to walk between the residential sites. Ashley Vale to the Courtyard is about 10 minutes walk. The walk to Bridge Farm is about 20-30 minutes.)
LUNCH Lunch is included in the ticket price, provided by Ashley Vale residents. When booking please let us know if you have any dietary requirements.
TRAVEL The group will be taking an 8.30 train from Paddington to Bristol Temple Meads – you are advised to buy your ticket as soon as possible as prices will rise. From Temple Meads we will share taxis to Ashley Vale and then on to the other sites. Return to London is expected at about 6pm.
If you do not wish to take the train you are welcome to make your own car sharing arrangements. There is no parking in the Yard but there is free parking in the residential sites nearby.
Lancaster City Council is holding an information evening for prospective self and community builders on Thursday 20th June 2019 at The Storey, Meeting House Lane, Lancaster.
Starting at 6pm with presentations from an architect, Lancaster planning, a self-builder and Action with Communities who offer help and advice for community builders. This will be followed by exhibitors and the chance to get advice from planners, architects, passive, eco and modular house suppliers and builders including Beattie Passive, The Green Build Store, Hartwyn Eco Build and Simply Modular, The Penrith Building Society, Action for Communities and the Community Land Trust.
To find out more and register for the event visit Lancaster City Council's dedicated page.
If your company provides goods and services which may be of interest to self-builders and would like to exhibit at the event please email, planningpolicy@lancaster.gov.uk
Eden District Council, in partnership with Andy Lloyd of the National Community Land Trust Network, is running a free self-build, custom-build and community-led housing event in Penrith on 4 July. With exhibitors and presentations, the event is ideal for any prospective custom, self and community builders wanting to get help or advice, find like-minded people or take the next step on their ambition to create their own home.
Kicking off at 6pm at the Rheged Centre, there's an hour allocated for networking and talking to exhibitors, with presentations starting at 7pm.
TV presenter and architectural technician Charlie Luxton will be sharing his enthusiastic personal experiences of self building, before a range of presentations that will help you discover more about building as part of a community, planning, finance and more.
Exhibitors and advice*:
• Andy Lloyd, National Community Land Trust Network Technical Advisor
• ACT Cumbria and Lancaster Community-led Housing Hub
• Atkinson Building Contractors
• 2030 Architects
• JIW Properties
• LoCal Homes
• Penrith Building Society
• Thomas Armstrong – kit systems
• Ecomotive
• Unity Trust Bank
• Hyde Harrington
• Manning Elliott
• PFK
• Green Footsteps
• Ecological Building Systems
• Eden District Council – Officers from Planning, Building Control and Community-led Housing
And presentations from:
• Charlie Luxton, architectural designer, writer and TV presenter
• ACT Cumbria and Lancaster Community-led Housing Hub
• Patterdale Community Land Trust / Eden Housing Association partnership
• Lancaster Forgebank Co-housing
• Ecomotive, a social enterprise supporting group projects with an emphasis on sustainability and affordability
• Rod Hughes from 2030 Architects
• Rob Jerams from LoCaL Homes, a not-for-profit advanced housing manufacturer, offering high performance, low carbon housing solutions
• Bruce Armstrong-Payne, local self-builder and Planning Consultant
• Michelle Stevens from Penrith Building Society.
*Subject to change
While the event is free, places are limited so registration is a must.
Andy Lloyd is a community housing adviser to the National Community Land Trust Network. He provides technical support to communities and local authorities in the Penrith area, helping to deliver community owned affordable housing projects, such as:
• Lyvennet Community Trust in Crosby Ravensworth
• Keswick Community Housing Trust
• Lune Valley Community Land Trust in Halton, Lancashire
Community-led housing includes self-build, co-housing, co-operative housing, self-help housing and community land trusts (CLTs). This housing enables communities to become active players in their own sustainable development.
Sign up to Eden District Council's Self and Custom Build Register.
EXHIBIT: If your company provides goods and services which may be of interest to self-builders and would like to exhibit at the event please email: andy@communityhousingprojectdevelopment.uk
Find out more about Build your Home, Build your Community event here.
Wyre Forest Community Land Trust is a new community-led housing group, with a launch event on 18 May at Kidderminster Town Hall. Now officially registered with the FCA as a Community Benefit Society, the new group is open to all Wyre Forest residents, with an emphasis on eco homes and energy efficiency.
The launch event will involve group discussions around affordable and attainable housing and is an opportunity for new members to find out more and get information and advice. It's also open to local people interested in self-build projects (via the District's Self-Build Register).
Informatione will be available on:
Volunteering with the CLT
What is a CLT and information on types of Community-led Housing
Community Questionnaire
Self build and affordable self build / low cost modular homes
Cohousing
Affordable homes to rent
Eco homes
The event run on 18 May between 10:30-12:30 at Kidderminster Town Hall, details, and general information is available on the Wyre Forest Community Land Trust website.