Ecodan
partner
Ecodan Air Source Heat Pumps from Mitsubishi Electric are the sustainable choice for Self-Builders, providing all your heating and hot water needs whilst minimising your self-build's carbon footprint.
Ecodan air source heat pumps will reduce your environmental impact, help cut your energy bills and as a self-builder, you will qualify for quarterly payments from the Government's generous Renewable Heat Incentive (RHI) scheme.
An Ecodan air source heat pump sits outside your home and extracts warmth from the outdoor air. It upgrades this renewable heat energy and transfers it inside the home to provide hot water and heating for radiators and / or under floor heating.
It will do this quietly and reliably, all year round, even in sub-zero temperatures down to -25ºC.
• A++ rating helping to minimise your energy costs
• MCS approved and eligible for Government heating grants
• Smartphone app available enabling web control of heating and hot water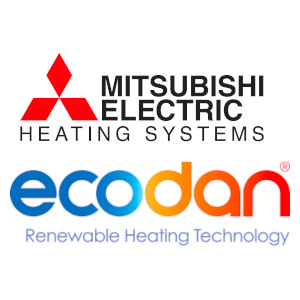 Mitsubishi Electric has introduced high quality products and innovative technologies into the UK for over 35 years. Throughout this, it has maintained its reputation for reliability, powerful solutions and quality service, meeting the needs of today's commercial, industrial and residential markets.
As a market leader in commercial and domestic heat pumps, Mitsubishi Electric is a pioneer in the development of this renewable technology, and has refined this technology to produce Ecodan – one of the most advanced, efficient heating systems on the market.
TV presenter, architect, lecturer and writer, George Clarke is a passionate advocate of sustainable self build construction.
"The way we design, build, heat, power and recycle our homes needs to change, and change quickly, and renewable heating is an important part of our future.
I'm therefore delighted to associate myself with Ecodan, the market-leading brand of heat pumps built here in the UK and which can help reduce energy bills and lower emissions for almost any home."