Following a call for applications earlier in the year, the Right to Build Task Force has awarded five organisations free help in the form of tailored expert advice. This will help them realise their dream as they work towards their goal of delivering a tailored community development.
The award has been made to publicise the role the Right to Build Task Force has in supporting community-led housing groups in their ambitions. Community Land Trust and cohousing groups can often struggle to identify suitable professionals to engage with, who can offer support pitched at the right level and price.
This is where the Task Force is invaluable, as it has a geographic spread of experts from a range of disciplines that can advise about land, planning, training and more, and community-led housing groups are able to access help at a discounted rate.
The five winning groups are:
Alderley Edge Neighbourhood Planning Group – working to include Self-build and Custom Build in its Neighbourhood Plan.
Clachan Cohousing Development Group – working to deliver multi-generational eco-housing in Glasgow (main picture).
Kent Cohousing – a group working towards delivering sustainable, affordable cohousing for all ages.
Still Green Cohousing – a cohousing group for over-50s, working on projects in Milton Keynes and Bicester.
Plymouth Energy Community (PEC) – working to deliver new affordable housing projects.
The winning groups have been awarded free packages of advice, the equivalent of five days' worth of support, which will be tailored to the needs of each group at the stage they are now.
Help the Right to Build Task Force can offer includes,
• Facilitating workshops or training events to help build a better understanding of what Custom and Self Build housing is and how it can be delivered,
• Enabling neighbourhood planning initiatives, such as the preparation of planning policies and proposals and neighbourhood development orders to bring forward serviced building plots,
• Understanding local demand, selecting suitable sites and support in preparing planning applications and planning, and
• Advice on appointing professional services.
Community-led housing is a massive growth area in the UK, as people work to create homes that the market is not delivering. The National Community Land Trust Network reports that there are 290 Community Land Trusts in England and Wales, while UK Cohousing states that there are now 21 built cohousing developments in the UK, with over 50 more working groups.
The Right to Build Task Force is already supporting community-led housing groups working to bring on their own Self Build and Custom Build housing projects, using a range of models and approaches as the sector innovates with customised housing solutions. For example, the Task Force is currently advising the London Older Lesbian Cohousing (LOLC) group, which is working to create an intentional and innovative community of 20-25 homes together with communal living spaces.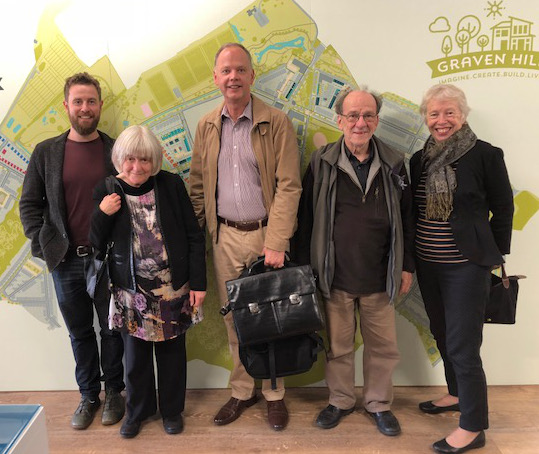 Above: Still Green members exploring options at the Plot Shop in Bicester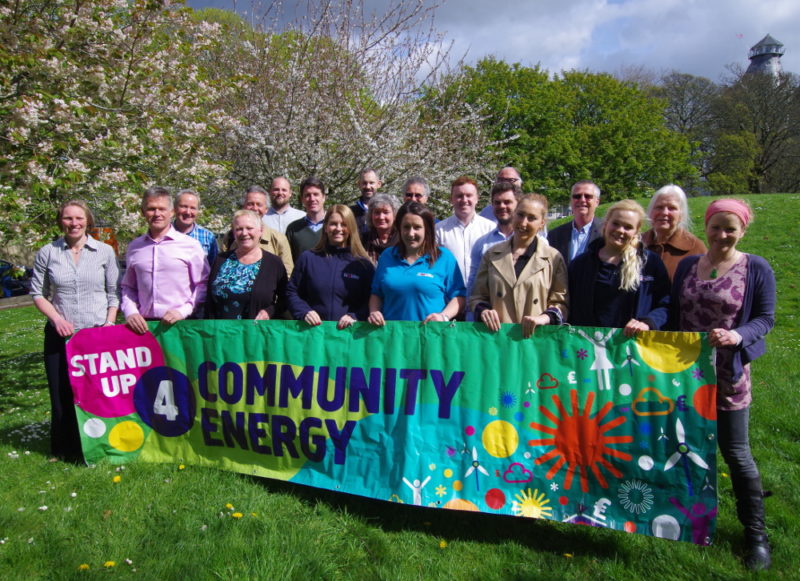 Above: PEC board and team – Plymouth Energy Community aims to use community-led affordable housing to help reduce fuel poverty and carbon emissions.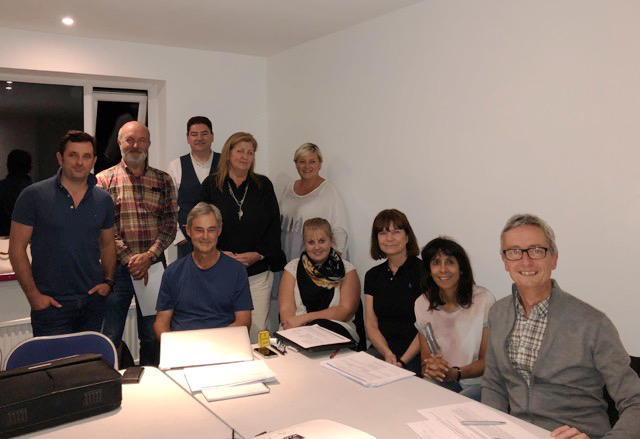 Alderley Edge Neighbourhood Planning Group steering group
Get started as a community-led housing group
Anyone setting up their own community-led housing group should first sign up to the Right to Build registers by visiting the Right to Build Portal (www.righttobuildportal.org).
This ensures that their group is known to their local authority as they can support the search for land. The Right to Build registers are a vital tool as they give local authorities evidence of demand for custom homes locally, helping them to permission sufficient plots for those on the registers.
Both the Community Land Trust Network (www.communitylandtrusts.org.uk) and UK Cohousing (www.cohousing.org.uk) can help with finding existing groups to sign up with, or with developing a new group, while Locality is able to offer help and advice, as well as a grant to help you get started. Many local authorities are keen to engage with community-led housing groups, and there are regional solutions, such as London's new Community-led Housing hub, which can also offer support.
Mario Wolf, Director of the Right to Build Task Force, said, "The Right to Build Task Force is committed to working with more community-led housing groups. Custom or Self Build housing enables communities to build more affordable better designed homes for local people which suit their particular needs. I would encourage all groups who think they could benefit from our help to contact us and urge them to sign up to their local Right to Build registers so that local authorities can take their needs into account when making land available through their plans and strategies."
David Ireland OBE, Director of housing Charity World Habitat said, "Impartial expert advice is one of the most valuable commodities for a community starting out on the journey of developing its own housing. This time limited offer could really spur communities to take control of their own housing needs."
Dr Phil McGeevor, Vice Chair, UK Cohousing Network, said, "We are delighted that a further three cohousing groups are being supported by the Right to Build Task Force. It will assist them in the co-design of their future homes and their vision to create communities that address issues of neighbourliness and loneliness, as well as innovative and sustainable self-build ideas. We hope these will show the way for many other groups building intentional communities that will benefit their local area."
To get help from the Right to Build Task Force, visit its website, the Right to Build Toolkit and fill in an expression of interest form.