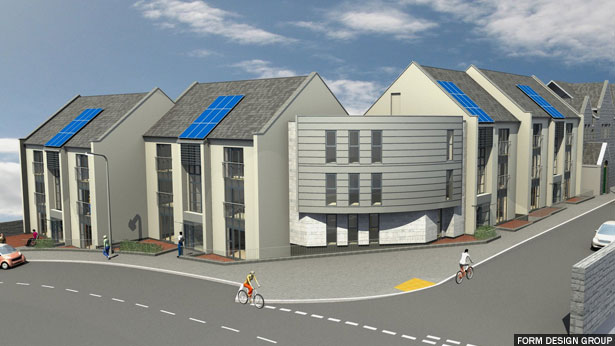 28 January 2016
A project allowing veterans the opportunity to build their own homes in Plymouth is moving a step forward as land for the scheme is officially handed over.
The plot for up to 24 affordable homes for the Nelson project on the former St George's Day Centre at George Place, Millbay, is being transferred from Plymouth City Council to housing association DCH and work is due to start on site next month with contractor Interserve. Included in the scheme will be at least 12 custom build homes for ex-service personnel, who will train and build these homes themselves.
Local armed forces charities were approached to help involve any vulnerable ex-service personnel in Plymouth who need housing and are interested in training and skills to build their own homes and gain future employment. The project is a partnership between DCH, Community Self Build Agency (CSBA) and Plymouth City Council. Funding of £898,200 has been secured from the Homes and Communities Agency and Plymouth City Council will be providing £250,000 capital funding.
The CSBA will coordinate the skills, training, support and mentoring that those taking part will need. Whilst the external design of each home remains fixed, the ex-service personnel have a say on the internal layout, working alongside architects Form Design Group. Then, the veterans get to work alongside the contractor during the build phase, while studying for construction-related qualifications.
Stella Clarke, Chair of the Community Self Build Agency, said: "The aim of the project is to provide homes for veterans and also help overcome some of the barriers they may face when trying to access housing and employment, and make it easier for them to integrate back into the local community."
Councillor Chris Penberthy, Cabinet Member for Cooperatives and Housing for Plymouth City Council, said: "This is a fantastic project and we are absolutely delighted that we are now moving onto the next phase. It is complex and has taken a lot of work and negotiations behind the scenes between all the different agencies to get to this stage but we are confident now that funding has been secured and the contractor has been appointed that the project will now be able to move forward swiftly.
Gareth Jones Development Director for Affordable Housing at DCH said: "We are delighted to be working with our partners on such a flagship scheme for Plymouth, supporting the further regeneration of Plymouth. The Nelson project will provide much needed housing for a wide range of people and will also offer something unique and special, where during the construction period ex-service personnel will have the opportunity to train and build on the scheme supported by the Community Self Build Association. We are proud to be instrumental in bringing forward high quality build and a design which focuses on the wellbeing of residents making it an exemplar project."