Timber frame manufacturer Frame Technologies is running its first self-build event at The National Self Build and Renovation Centre (NSBRC) in Swindon on Friday 11 March 2022, 10am – 4pm.
Free to attend, the event features a range of expert speakers chosen to support aspiring self builders get all the information they need when starting out on their self-build journey.
The event includes a range of sessions, with seminars and pre-booked 1-2-1 sessions. Topics include design, self-build mortgages and renewables, along with real life experiences from two couples who have recently completed their dream homes.
Speakers on the day:
Ruth Reed, The Royal Institute of British Architects' first female president,
David Hilton from Heat & Energy on renewable technology professional,
Tom McSherry from BuildStore – a self-build mortgage expert, and
Simon Middleton from Protek on structural warranties.
All speakers will be available for individual meetings during the event, along with building consultant and architectural technologist, Andrew Last.
First hand knowledge
Frame Technologies' customers who will also be on hand to provide first-hand insight on highs and lows of self-building, including the 2021 Build It Awards winner of the prestigious 'best timber frame home' category.
The winning home, Gryphon House, is a stunning contemporary 5 bed, two-storey house set in a spectacular location in Warwickshire. The Build It Awards judges commended Frame Technologies for the contribution they made to the final result by suggesting design and engineering improvements for a beautifully detailed self-build home (see main pic).
Talking about the event, Simon Orrells, managing director of Frame Technologies said:
"We're incredibly excited to host our inaugural event in Swindon this spring. We work with self-builders across the country to create stunning, bespoke, energy-efficient timber frame homes and we're thrilled to be able to share our knowledge and top tips. The day will be packed with lots of advice and guidance to help prospective self-builders set out on their construction journey, whether they're just applying for planning permission or well into the build process.
"It has never been more important to build sustainably and arguably, building energy-efficient homes is one of the first crucial steps to reaching zero carbon. Timber is the only organic, non-toxic building material with the lowest embodied carbon. Our event will help self-builders understand why timber is significantly better for the environment than building with other materials, without needing to sacrifice on style."
Harvey Fremlin, Managing Director of The NSBRC said:
"The Frame Technologies team has such a good reputation in the self-build industry and Simon has invited some of the most knowledgeable experts to join him at the NSBRC for his event who have many years of experience in renovation and self-build. We're all keen to continue advocating self-build as a mainstream choice for everyone seeking a home of their own.
"Everything from self-build mortgages and structural warranties to how to make your home energy efficient will be covered and this is set to be a fantastic event. We really recommend securing your tickets quickly to avoid disappointment!"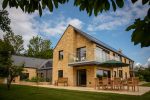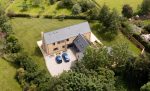 About Frame Technologies
Frame Technologies design, manufacture and install a wide range of timber frame solutions, including its innovative TechVantage™ systems. The systems deliver exceptional, energy efficient buildings, with the capability of exceeding building regulations to deliver Passivhaus performance, if the brief demands it. They are available as full design, supply and erect packages or supply only, and include engineered timber products and roof systems.