The story of the six families who created a eco friendly, affordable Self Build community in a south Devon village is now contained in a book, Self Building Easterways, penned by three of its residents. Full of ideas and suggestions, the book is essential reading for anyone embarking on a community build or interested in setting up their own community-led housing group.
Set up as a Community Interest Company in 2012, Broadhempston Community Land Trust was established to allow local people to develop affordable homes locally, with permission granted by Teignbridge District Council for the six home site Easterways site in 2014 on a on a two acre site.
The Right to Build Toolkit also has an indepth case study on the process for Broadhempston CLT, that gives an overview of the project, but without the reflections and suggestions for improvement that are contained in the book.
Part of the key to the success of the project was the involvement of a project manager to help keep everything on track. This brought essential skills to the site, a valuable contribution on community build where members and volunteers typically have limited building experience.
Core to the affordability of the site was the fact that the land was sold at agricultural values, paired with a simple design and the sweat equity of residents working on the project. Each family committed to a minimum of 20 hours of work per week, across the project as a whole.
Planning permission was established on the basis that it was an exceptions site on the edge of the village, exclusively for affordable homes for local families on modest incomes, and were therefore identified as being in housing need.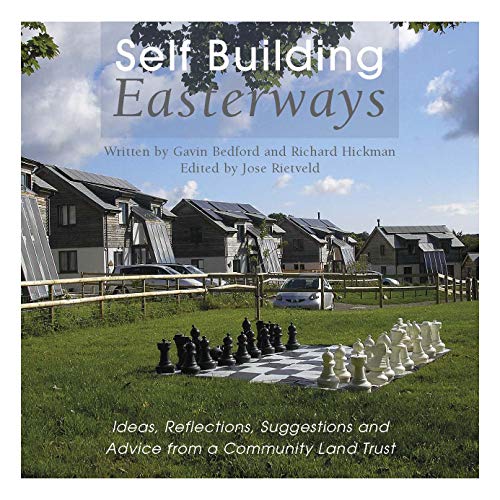 The book is available from Broadhemptson CLT's own website for £11.49, or as an e-book from Amazon for £4.99.
Broadhempston CLT also offer occasional visits to the site for like minded people, giving you an the chance to experience a CLT first hand – details on their website.
Teignbridge District Council has also produced a guide to building in a community: A Guide to Delivering Custom and Self Build Housing Developments in Your Community, which is free to download.