CIL – Community Infrastructure Levy
The Community Infrastructure Levy (CIL) is a planning charge in England and Wales only, originally introduced by the Planning Act of 2008. It is applied by councils when someone secures planning permission for most types of new building. Different councils charge different levels of CIL while some don't charge it at all. Charges vary from £10/m2 to £575/m2.
The tax is paid by the developer and the charging point is the commencement of construction as set out in section 56(4) of the Town and Country Planning Act 1990 – broadly accepted as the point at which some limited works begin on site to implement a planning permission. This includes demolition and other minor groundworks, the digging of trenches, laying of pipes and changes to the use of the land.
Find out more on the Planning Portal.
The money raised by the CIL charge is used to fund a wide range of local infrastructure costs such as flood defences, schools, hospitals and other health and social care facilities, parks, green spaces and leisure centres.
Any new build house, flat or an extension of more than 100 square metres gross internal floor space is likely to incur a CIL charge (where a council has introduced the CIL regime).
Self and Custom Build CIL Exemption
The amended regulations came into force in March 2014 but allowed for a CIL exemption for self builders building either a new dwelling, an annex to an existing dwelling or an extension to an existing dwelling intended to be your principal private residence. While this is good news for Self Builders, there are caveats and the procedure to claim exemption which must be followed to the letter (see diagram below).
Any exemption must be granted prior to the commencement of the development or the full exemption will not be applied. You will usually need to advise the local planning authority before commencement, so be sure to seek agreement to the formal claim for exemption before starting any work on site.
Individuals wishing to claim an exemption must first 'assume liability' for CIL by completing a form, and then apply for the exemption by completing a Transfer of Assumed Liability' form and submitting it to the council (ie. the 'collecting authority') and certifying that their project meets the qualifying criteria by submitting a 'Self Build Exemption Claim Form – Part 1'.
To secure the full exemption you must apply before you have commenced ANY work, and it is essential that the local authority is notified of the intention to commence the development by submitting a 'Commencement Notice' to the council prior to work commencing on site. 
Previously, failure to do this meant the full CIL would be payable, but following lobbying work by NaCSBA, in 2019 amendments were made that allowed for late submission – in which case the the charge will be limited to a 20% surcharge. See paragraph 7.7 of the THE COMMUNITY INFRASTRUCTURE LEVY (AMENDMENT) (ENGLAND)
(No. 2) Regs 2019 for details. This was because many self builders were missing the deadline and were getting landed with huge bills.
On completion they must submit an 'Exemption Claim Form – Part 2' to the council which provides supporting evidence to confirm the project qualifies for relief (this must be done within six months of formal completion of the home).
It's important to note that there is a three-year 'clawback' arrangement, so if your personal circumstances change and the property is sold within the first three years you must notify the council and the full CIL levy becomes payable. Failure to notify the council will result in enforcement action and surcharges become payable.
Also, if any exempted annex is used other than as part of a single dwelling, is let out or sold (unless as part of the main dwelling and to the same purchaser) then the full levy due will be payable.
Timing is critical and the process must be followed precisely to secure the full levy exemption.
The key documents and forms you need can be found on the Planning Portal, together with guidance as to how to apply for a self build exemption:
Self Build Notice of Commencement Form 6
Self Build Exemption Claim Form 7 (Part 1 when making the application, Part 2 on completion)
Self Build Residential Annex Exemption (Form 8)
Self Build Residential Extension Exemption (Form 9)
If buyers are to benefit from the very substantial value of the CIL exemption for custom and self build, developers of serviced plots must apply for a phased planning permission with each plot constituting a separate phase to ensure that commencement on one part of the site does not trigger the application of CIL on the whole development.
Government guidance on CIL
Guidance on the CIL exemption is also set out in Government guidance, noticeably The Planning Portal which states the following: houses, flats, residential annexes and residential extensions which are built by 'self builders' where an exemption has been applied for and obtained, and, in regard to a self build home or a residential annex, a Commencement (of development) Notice served prior to the commencement of the development (see regulations 42A, 42B, 54A, 54B and 67(1A), inserted by the 2014 Regulations)
Find out more about the Government's position.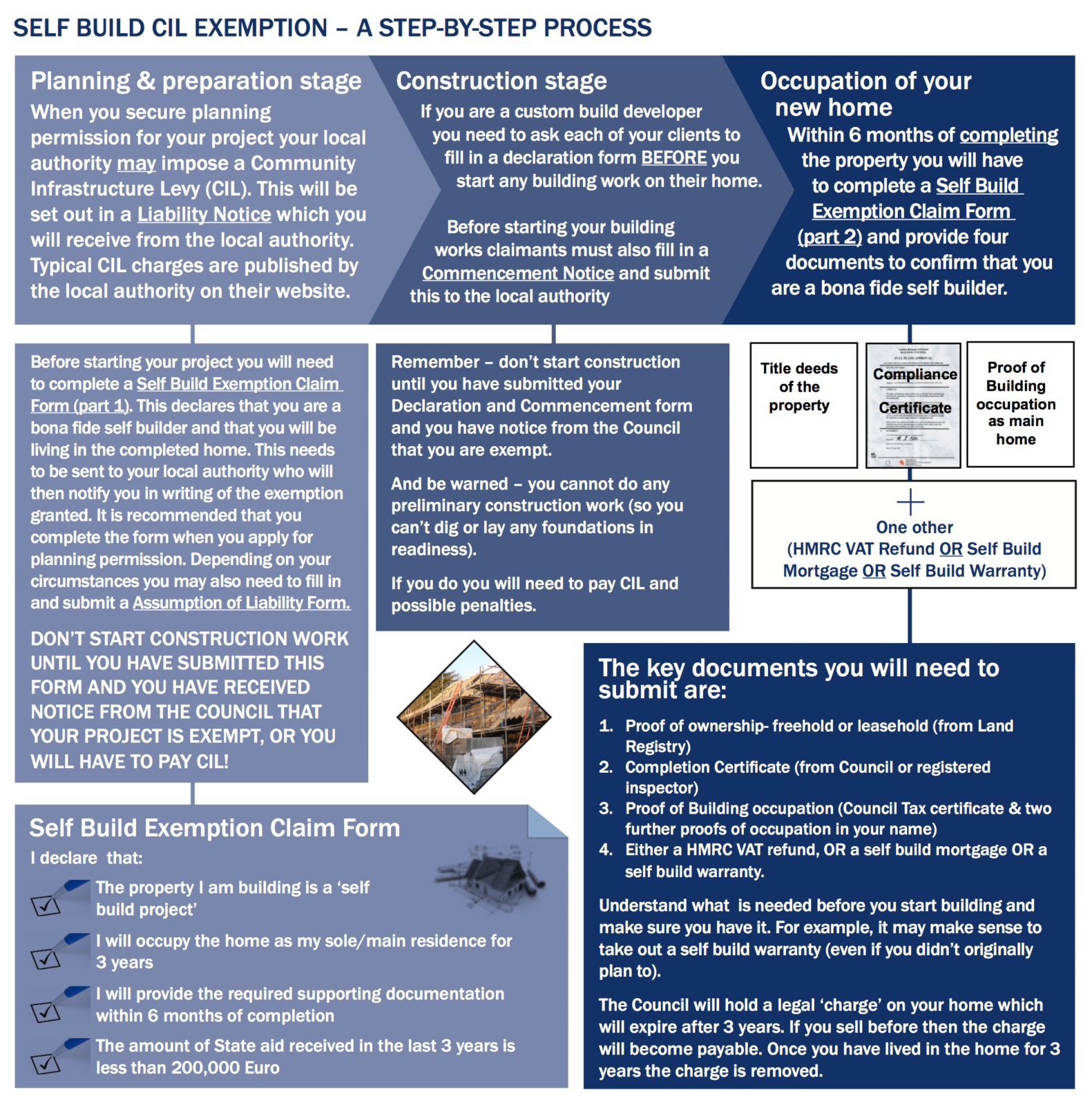 Section 106 planning contributions
Planning contributions are often required of development to balance the impact of development on local infrastructure or the community.
Section 106 payments are the planning contribution requested to support affordable housing in England and Wales. In 2014, Self-builders were declared exempt from S106, but this was successfully challenged in 2015 and deemed unlawful.
The current status is unsure, so contact your local authority and investigate their approach to Section 106 contributions. Some are still exempting, but not all.
Developer contributions can be levied in Scotland under Section 75 or under Section 76 in Northern Ireland.
S106 FAQs
In March 2014 the Government published a consultation on Planning Performance and Planning Contributions. This consultation sought views on changing the assessment criteria on how local planning authority performs and importantly on changing the threshold for Section 106 (S106) contributions for small- to medium-sized developments.
In November 2014 the government published its response highlighting the removal of most Section 106 charges for schemes of 10 units or less, with respect to specific criteria.
This change to planning policy was made to the National Planning Practice Guidance on 28 November 2014. As such, this was a material consideration for all new planning applications.
The 28 November 2014 guidance referred to the exemption from affordable housing contributions, S106 contributions or pooled tariff-style contributions for developments of ten units or less should the total combined floor-space be 1000m² or less. The changes only apply in England; however local authorities must now take the guidance into account from the date of publication. In Areas of Outstanding Natural Beauty or National Parks, local planning authorities may choose apply a lower threshold of five units or less. Where this is the case developments of six-ten units should not be required to provide affordable housing on site.
For qualifying developments the exemption means that affordable housing contributions – either as payments or on-site dwellings – will not be applicable. In addition, tariff-style planning obligations such as CIL or S106 planning obligations will not be applicable where they would contribute to a pooled funding 'pot' intended to fund the provision of general infrastructure in the wider area. However it should be noted that contributions can still be sought for site specific obligations such as infrastructure improvements (e.g. site access or highway improvements) should these been appropriate to the scheme.
If you paid a contribution and built out or are building a scheme then you would be unlikely to claim costs back as the guidance came into force on the 28 November 2014.
Planning obligations can be re-negotiated at any point. If permission has been granted and you have not yet signed your legal agreement then you are able to re-negotiate and this is something that the Local Planning Authority (LPA) should facilitate. In addition, if you have signed the agreement but not started work, the LPA may also agree to a re- negotiation in light of the new guidance. If negotiations should be unsuccessful then another application would be required.
Theoretically, your scheme would need to be designed to be under the unit and floor-space thresholds; but check with your local council's planning office first.
Yes. A number of local authorities have decided to continue to request S106 Affordable Housing Contributions (AHC) while they lobbied for the decision to be reviewed.
However, we have been made aware of successful appeals against such councils looking to apply the S106 levy.
Some examples:
Campaigning for change
NaCSBA has been lobbying on behalf of Self-builders and Custom Builders to ensure that Self-builders are exempt from CIL and around the issue of Section 106 contributions. After a major campaign run by the National Custom & Self Build Association (NaCSBA), the Government has confirmed that self builders (and the clients of custom builders) will be exempt from paying the Community Infrastructure Levy (CIL).
We continue to push the argument for Section 106 exemptions.