Sülzer Freunde, Cologne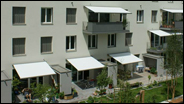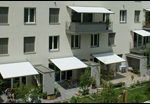 16 homes corresponding to the 'Passivhaus' standard…
Background:
The scheme (roughly translated as 'Sülz Friends') is a group self build project located in Sülz, a borough south-west of the centre of Cologne, on the site of a former orphanage. It consists of 16 homes organised in two apartment blocks built as a 'very low energy' building corresponding to the 'Passivhaus' standard. The scheme also has a strong social focus including a communal garden area around which the buildings are arranged and some shared facilities including a workshop, community room and a guest apartment.
The 6 ha site was scheduled for development by a single contractor, but after further consideration Cologne's planners chose to devote a third of the site to self build groups or 'Baugruppe' schemes. Sülzer Freunde forms one of nine development schemes on the site, and one of six group build projects. The project was delayed at the start due to the city authority's inexperience in creating legal contracts for selling land to such groups.
The group formed primarily from an existing network of friends and was initiated by Klaus Zeller, a group member and architect who heard about the city administration's plans to release plots for group-build development. Such schemes generally adopt one of two forms; either a core group of prospective builders appoint an architect to manage the project, or a project is initiated by an architect or other building professional who then forms a group through open advertising. This often occurs in response to an open competition held by a municipal authority to develop a site.
In Germany, the Baugruppe approach tends to attract families. This can be attributed to the strong desire for home ownership on reaching that stage of life. Households often purchase a home just once when raising a family, in contrast to the aspiration by many to climb the 'property ladder' of home ownership in the UK.
Delivery:
At the outset the group faced competition from eight rival groups to secure one of two building plots at the development site. The selection of the eight participants in the competition phase was based on a detailed 'Declaration of Interests' comprising of an outline design concept, a self build group strategy and evidence of financial security. The declaration had to be submitted by each group within the space of only a few weeks.
Having successfully secured a plot, the next challenge was to establish an organisational structure to handle the different elements of decision-making. Three resident commissions were established to manage the different elements of building construction, legal matters and community issues. Although Klaus Zeller remained the project architect, the group appointed an external project manager to oversee the overall planning and construction process.
The first key task of the construction commission was to try to establish where each household would be located in each building. As too many households favoured an upper floor apartment with access to a roof terrace, a simple 10% premium was applied to these homes and a 10% cost reduction for those on the ground floor. This approach enabled the problem to be amicably resolved among the group.
A second and continuous challenge was to optimise the complexity of the building design in order to keep the cost within the set limit. In this respect group self-builders have to be willing to compromise on the basic layout of their homes, for example in the positioning of bathrooms or kitchens. In order to achieve group cost savings for internal fixtures and fittings, the commission developed a catalogue of options with tariffs for different materials.
The project experienced significant delays. It took a year for the group to receive title deeds of land ownership because the city lawyers had no experience in the process of selling public land to building consortia, and the construction was delayed by three months because of issues with one of the contractors.
The self-organised approach to group build requires dedication and time, although this can be less than a self-managed individual build project. Members of the building construction commission met 67 times with the architect and project manager during the three-year project life.
The design of the central garden space became an unexpected source of friction between households who desired vegetal and visual protection for their garden terraces and others who wished the space to be more open and basically communal. Deadlock ensued and an external landscape designer was brought in to develop a compromise design, in which the ground floor apartments have a degree of secluded garden space but the central area remains open to all residents.
The very low energy concept of the building has raised significant awareness to the building. Each home is equipped with a 'forced' ventilation unit including a heat recovery block. Triple glazing enables large window areas. Moreover the building provides a pioneering mid-size case study for applying insulation-filled massive bricks. This 'mono-bloc' construction technology provides a alternative to composite wall construction with significant insulation packages. After one year in use, the building has proved its very low heat energy consumption. Warm water and heating is provided on a zero-emission basis through solar-thermal panels and a complementary wooden pellet heating unit.
Finally, the building is one of the first in Germany to implement 'Post-Growth-principles' in a building design. The individual building programme has been reduced significantly by the provision of a joint social infrastructure, including a guest apartment, a multi-use play and community room, a workshop and hobby space. This has enabled a reduction of the net dwelling area to 30 m² per person – that is more than 30% below the average in Germany without any compromise in living quality!
Finance:
Construction Costs:-

Net Dwelling Area: 1830 m2
Land Price: €1.56m
Net Construction Costs (excl. VAT), incl. building services and exterior: €2.93m
Total Costs (incl. VAT and all upgrades of proposed standards): €5.9m
Spread of total costs per m² (net dwelling area) (incl. VAT): €2900-3400 m²

Mortgages:-

Mortgage lending options for group self build schemes are limited, even in Germany where this approach has increased significantly in popularity in recent years. This approach requires each household to raise their finance separately, which are then pooled together.
Only two mortgage lenders were prepared to support householders in this scheme. Both the GLS and the Umwelt Bank specialise in supporting projects with high environmental standards and were subsequently willing to finance this scheme. Additionally the scheme benefited from the support of the energy efficiency incentive program of the Federal Credit Bank. This state-supported institution offers discounted rates for low energy buildings.

Funding:-

Due to the model character of the environmental aspects of the scheme it was selected as a flagship project by the Cologne Climate Award. All in all, the group managed to secure public and third-party funding in excess of 100.000€, which finally allowed the implementation of the garden concept, originally planned for a later phase.
In the UK the Custom Build Investment Fund exists to support similar schemes where market support is currently limited, but smaller mutual societies and niche environmental banks may also be willing to support similar schemes.
Cost savings from group-build schemes are typically in the order of 25-40%, compared with comparable developer-led projects.
Timescale:
January 2009 – the self build group takes the decision to submit a 'Declaration of Interest'.
May 2009 – the group won the right to develop a plot in an open competition.
June 2010 –the land is finally purchased from the city. The delay was caused by the city lawyers' inexperience of selling public land to group builders.
June 2011 – planning permission is granted.
November 2011 – construction commenced
February 2013 – first families move in
April 2013 – building construction work is completed.
Learning Points:
Group self build does not necessarily mean 'co-housing' – which implies the sharing of some facilities and a strong social element in living. In this scheme there are some shared communal facilities and a strong social element to the project, but in other projects the group self-build approach has been adopted purely on the pragmatic grounds of achieving a customised home at a reduced cost.
However, strong social relations between residents are a common by-product of group-build schemes, even when all members are strangers at the outset. This is the result of high levels of interaction and common purpose through project development, and perhaps also a reflection of the fact that those willing to commit to this approach are more likely to be neighbourly.
Among the key success factors, homebuilders stressed the fact of establishing a clear and simple organisational structure very early on in the project development phase, allowing shared responsibility, group ownership of the concept and ideas, reduction of workload by being a building commissioner, etc.
Although the potential cost savings (25%+) are significant and the risk of substantial cost overruns can be spread across the group, prospective group members need to be financially secure from the outset to minimise doubts and potential friction within the group.
This approach can appeal to those who are less confident about their ability to take responsibility of an individual self-build project; the collective wisdom of the group can be reassuring.
The economies of scale achieved by a collaborative approach means that group self-build can be an ideal means to delivering high environmental standards in building design.
Although groups tend to form either 'organically' around an existing social network or 'professionally' through initiation by an architect, there are few hard-and-fast rules and the approach that the group will take thereafter will depend on a wide range of factors including project scale, collective values, priorities and overall vision.
Self-group projects lend themselves in a particular way to implement 'post-growth-principles' in an urban context. The joint social commitment necessary for such schemes helps to establish a social infrastructure providing communal area for activities usually requiring space within each individual home. The Cologne project shows that this concept can be extended easily to mobility and storage issues as well.