Low-cost Irish House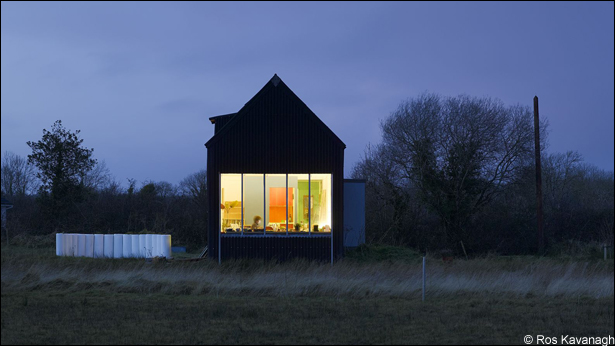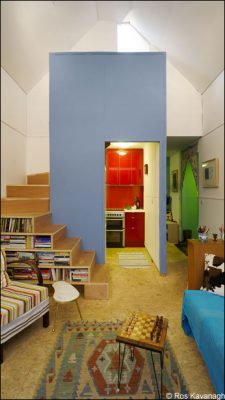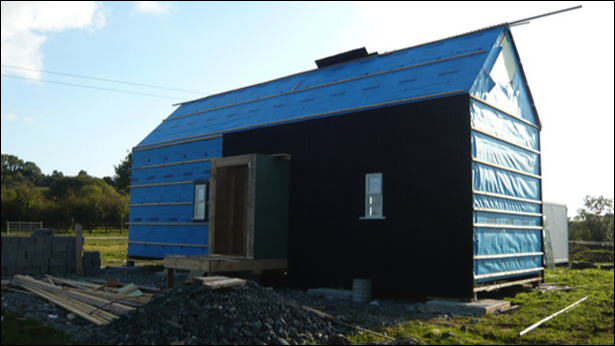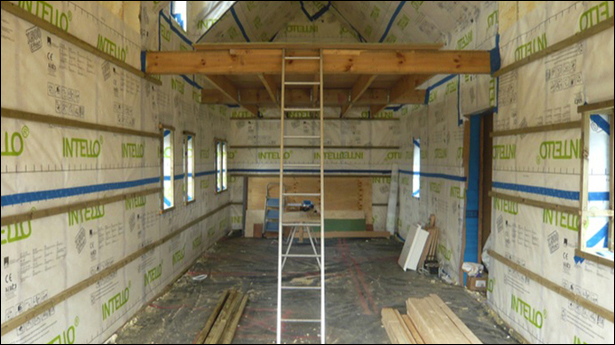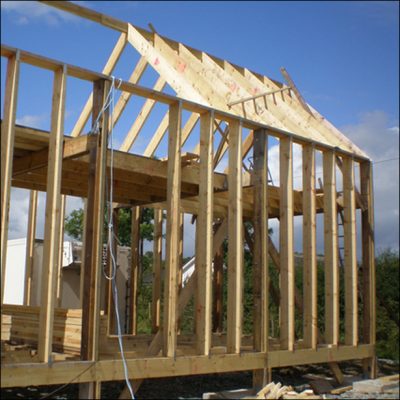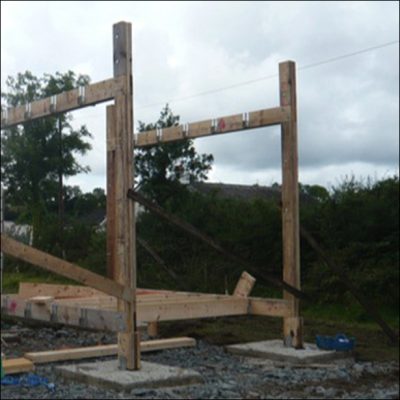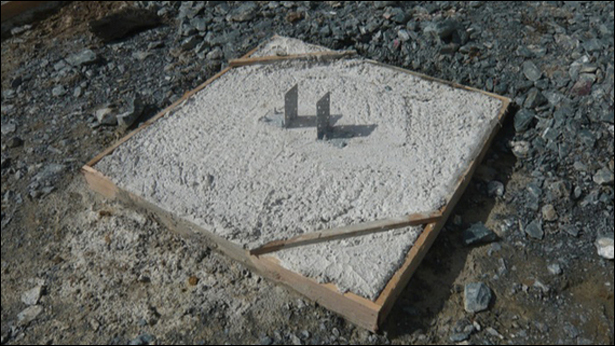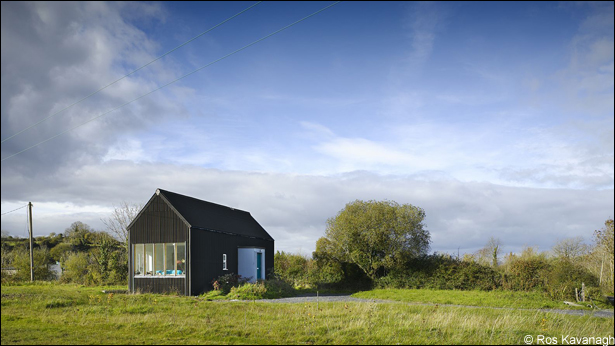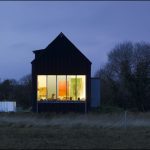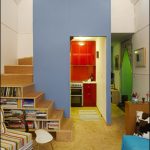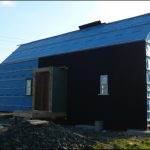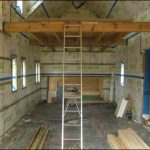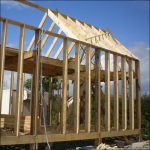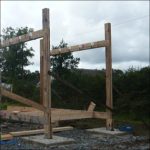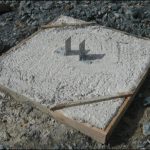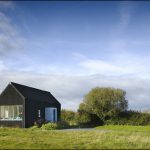 This house was designed and built by Dominic Stevens, an Irish architect, who found himself urgently requiring somewhere to live at a time when he was very short lot of money. He had, in the past, designed and built a number of self built homes for other people, so he set out to devise a very economical, easy-to-construct home for himself.
The plot is about 3/4 acre and is located in County Leitrim, about 100 miles west of Dublin. Building land in this part of the Republic is fairly easy to acquire and – compared to the UK – significantly cheaper.
It's compact, but he's squeezed in one double and two single bedrooms, plus a tiny shower room and a dinky kitchen. He's kept it free of fancy, expensive components (so no flashy windows, trendy kitchens or luxurious bathroom fittings) and its snug (it's well insulated, so its claimed, a 1.5kW electric heater keeps the place habitable).
Many of the design principles used here echo those of Walter Segal, a London architect who developed an innovative approach that was used on about 200 low cost easy-to-build homes constructed in the 1970s and 1980s.
There's a great website that describes Dominic's house in detail, with lots of pictures, plans, diagrams to explain the construction process, and a schedule of materials.
The site already had the equivalent of outline planning permission and Dominic had few problems getting his design approved as he had a track record of designing well regarded single homes.
The design reflects the traditional Irish 'longhouse' in shape and form.
The house sits on pad foundations; so it makes this part of the build easy to prepare and very cost effective. Each of the ten 'pads' consists of concrete 1m x 1m and 50cm deep. The timber frame for the house then sits on top of these pads, raised above them on short stilts.
The frame is a relative breeze to assemble – its essentially three bits of timber bolted together to create a column about 175mm x 132mm (roughly 7″ x 5″). The columns are then linked via similar cross pieces, and a roof structure.
In Dominic's house the frames were 3.95m wide (just under 13 ft) – so the internal space is about 3.5m wide (about 11'6″). He arranged the frames in 3m long bays and bolted four of them together to create a house 12m long (so just under 40′). The house is about 5.9m high to the eaves, so there's just enough headroom for a 'dormer' level in the roof.
There are no 'wet' trades involved in the construction (so no plastering). Internally the house is simply lined with plasterboard and decorated. There is 225mm of insulation in the wall, with panel vent racking sheets fixed to the wall studs outside of this. Then there are some special membranes – an airtight vapour barrier on the inside and a breather membrane (on the outside of the panel vent sheets). Externally, the building is clad in a black corrugated bituminous material called Onduline (it's a product used on agricultural buildings in continental Europe). It's cheap, and (some would say) not very attractive, but it does help the house heat up when the sun is shining – claims Dominic. The windows are triple glazed.
The dimensions of the structure are clever too – for example the external wall is exactly the same height as a standard 2.4m panel, and the wall studs are 600mm wide, so each panel (1.2m wide) can be fitted without any cutting.
The whole building took about 50 days to construct – roughly seven weeks. Most of it can be done by one person, though the raising of the main frames requires a bit of help.
Very little machinery was needed – a JCB was hired to dig the holes for the ten pad foundations and to level the site. Dominic managed to do everything else from a ladder, so no scaffolding was needed – in the UK this might be frowned upon by the Health and Safety police.
Money was tight from the start, so the house was designed and built for the minimum feasible amount – the headline cost was just over £20,000 on materials.
It was also designed to be really easy to build. Dominic and his pals constructed it using around 50 person-days effort.
The home has around 60sqm of accommodation space, so this works out at around £333 per sqm.
In Ireland a suitably qualified professional – like an architect or an engineer – can 'sign off' a building to confirm it meets Building Regulations. An architect chum of Dominic's arranged this for him. This approach provides a lot more 'licence' than the UK Building Regs permit. The Irish regulations are not that dissimilar to those we have to comply with in the UK.
The really clever thing about this house is that it cuts out some of the tricky jobs (plastering), and it is designed around the dimensions of standard products (so that there is hardly any cutting needed) – lots of standard panels (2.4 x 1.2m) simply get screwed straight into place. Think about this, so that your home is easier to build and produces less waste.
As it's been designed from the outset to be extremely cost effective, there are no fancy, expensive fittings. Many self builders in the UK would spend more on their windows or doors than this entire house has cost to build. It makes sense – if you are on a tight budget – to focus on the things that are relatively cheap to build (the basic structure) rather than blow money on expensive gadgets or luxury finishes.
The house is also very flexible – it would be easy to add another 3m bay, or an extension if the family needed more room.
The home is not designed to last forever – realistically it probably has a life expectancy of 30-40 years. Nonetheless, at this price, it still works out as a very inexpensive medium-term home. And in a few years time, when the economic situation may have improved, the whole house could be replaced with something with a longer lifespan.
Be realistic about your skills. As a teenager Dominic got the equivalent of an 'O' level in woodwork, and he reckons he's a fairly practical person. His neighbour, who was a qualified carpenter helped a good bit, too. In Dominic's words: "Be realistic, but don't underestimate yourself".