H+H
partner
H+H manufacture aircrete blocks called Celcon Blocks. Aircrete is a lightweight building material made from cement, lime, water and PFA (Pulverised Fuel Ash).
It combines strength, durability, and thermal efficiency with the ease of use that comes with a lighter material. Aircrete is made from sustainable materials and is 100% recyclable.
Its lightweight properties make it easy to work with and reduce the need for heavy machinery during construction.
Celcon Blocks have excellent thermal insulation properties, helping homes to keep warm in winter and cool in summer, leading to lower energy bills and a more comfortable living space.
Aircrete is fire-resistant, providing an added layer of safety and will not rot or warp. It is resistant to sulfates and the effects of freeze/thaw cycles and cannot be attacked by pests such as termites or vermin.
Aircrete is a great sound insulator, reducing noise pollution.
A home built with aircrete will last for over 150 years.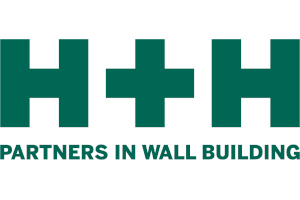 About us
H+H is the UK's largest aircrete manufacturer and the only company in the UK to concentrate exclusively on the manufacture of aircrete products.
We supply products that provide high performance homes guaranteed to last several lifetimes.
You can buy our range of Celcon Blocks from your local builders' merchant. Find your local stockist on our website: https://www.hhcelcon.co.uk/